'A Better Tomorrow' turns the spotlight on climate change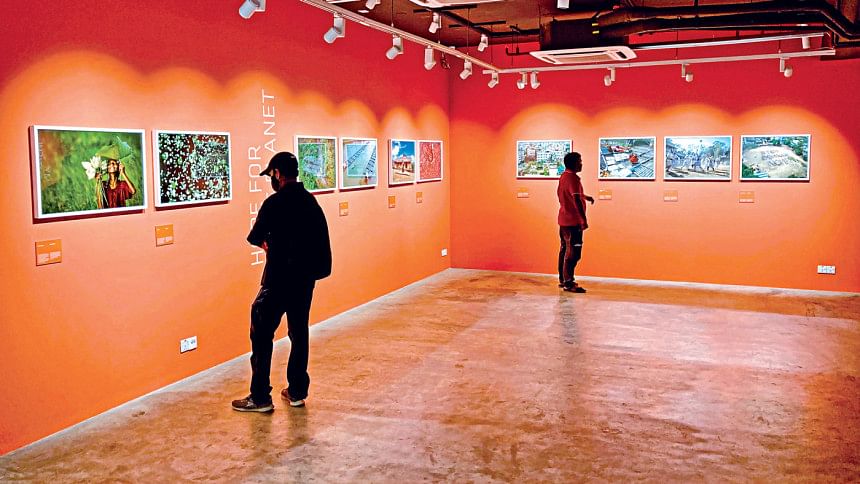 The COP26 Climate Change photography exhibition, "A Better Tomorrow", was inaugurated on November 5 at Drik Gallery in Panthapath, showcasing a collection of 30 photographs, surrounding the various themes of climate change. 
Curated from a competition organised by the British Council, the British High Commission, and the Embassy of Italy, in cooperation with Drik Picture Library Bangladesh, Picture People UK, and Fondazione UniVerde Italy, the photographs aim to spread awareness about local climate change among the youth of Bangladesh through the medium of visual arts.
The competition opened for submission in August under three main categories. It received 2,100 entries, from which 30 finalists were selected for the exhibition by international judges from Bangladesh, the UK and Italy. During the inauguration, Tom Miscioscia, the Director of the British Council, handed over the awards to the winners.
Photographs by Md Amdad Hossain, which won the grand prize, highlights the distressing state of homelessness brought on by frequent floods, river erosion and other natural calamities that force many uprooted families to migrate to the city in the hopes for a better future only to discover no refuge or respite. A similar struggle with the climate crisis is apparent in Ziaul Huque's photograph, which won under the Planet in Crisis category. It showcases the perils of unplanned urbanisation as a mother holds on to her daughter while they wait at the ground floor of a hospital in Chattagram, submerged in floodwaters.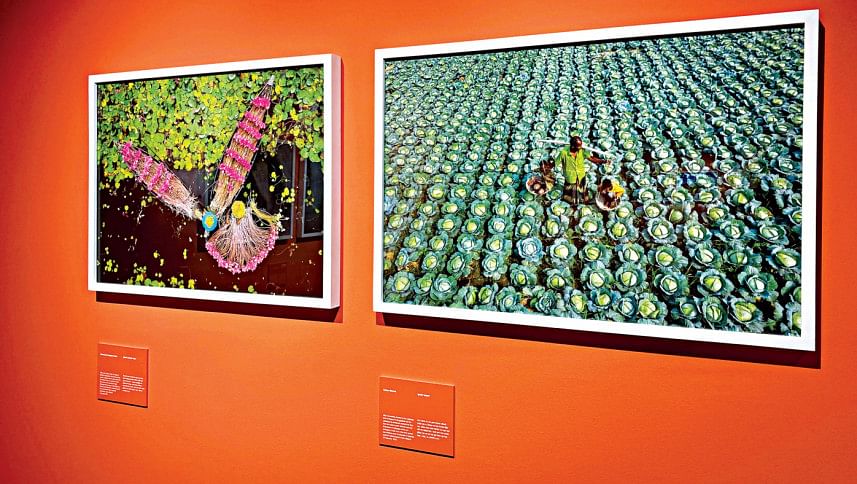 In contrast to these categories, Md Rubayed Hossain's photograph, winner of the My Beautiful Planet category, revels on the beauty of nature yet to be tainted by the effects of climate change as it captures a woman moving through the algae-covered waters on a dinghy in a foggy, winter morning. Moreover, Jannatul Mouwa's photograph, which received an honourable mention for Hope for the Planet category, invites a discussion on different environmental problems.
The aftermath of natural disasters, along with the irrecoverable damage of man-made waste and raw industrial materials on rivers and the aquatic life altogether create a viscous cycle of repetitive destruction, the impact of which falls directly on the lives of the ordinary people, wreaking havoc into their everyday existence.
The exhibition plays a remarkable role in creating awareness about the different threats of climate change, and drives one to wonder about individual actions that contribute to such realities while instigating a desire to collectively mitigate the crises through conscious environmental choices that bring about sustainable solutions.
The winning photographs are being virtually displayed at the British Council Pavilion during the 2021 United Nations Climate Change Conference (COP26) in Glasgow, from October 31 to November 12. The exhibition at Drik Gallery will be open to the public till November 20, 2021, every day from 3 pm to 8 pm.
The author is a student of Political Science, and a freelance journalist. Email: [email protected].