Faces and Figures
Rokeya Sultana's exhibit at Bengal Gallery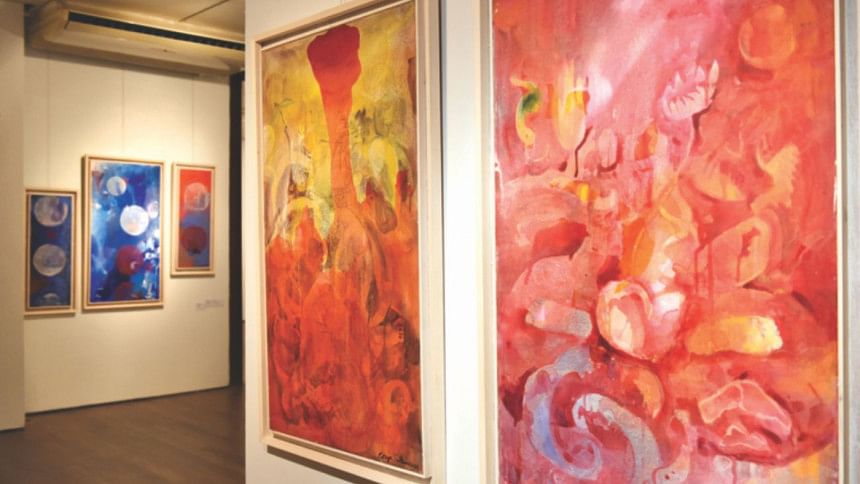 Rokeya Sultana is the recipient of many international grants and awards, including a Fulbright grant. Her self-titled exhibition, "Rokeya', is currently on at the Bengal Gallery of Fine Arts, featuring prints, drawings and paintings. Her specialty is recognised by the lush aquamarines and indigo, flaming crimson and purples. Through her experience of picking up her daughter from school, cooking, and cleaning, with the oppressive traffic jams of Dhaka, she recalled her own mother's challenges.  She felt the joys of the world's mothers. Her series, "Madonna", explores the life of the artist as a young wife, mother, professor and artist. 
Her sufferings with her daughter are soft and sketchy. They are bereft of any emotions. Rokeya's series of Madonna and daughter look like no one, and can be any working mother and her child. The series shows some business, such as haggling over the price of a rickshaw fare. Under a sky thick with clouds she wanders with her daughter—the tender intimate world of mother and daughter. She is shown cosseting her child at the dinner table. This is provoked by the tenderness of her past and universal experience of motherhood. She has the dual role of a saint and a goddess. She has the joy of seeing her daughter grow. We see therefore the life and career and family life in the Madonna series. We see the struggles and responsibilities.
Emotions, a common thread is visible throughout her work. There is also the nature-themed works of 2000s, themed on earth, water and air. These series are marked by tranquility. There are the floating clouds and figures of daily life, with a woman's placidity. After two decades of a woman's responsibilities, this is feasible. The artist indulges in a scene 
of universal empathy.
The exhibition closes tomorrow (December 5).