Ecstatic delineations of Old Dhaka
Shahanoor Mamun's solo exhibition at Galleri Kaya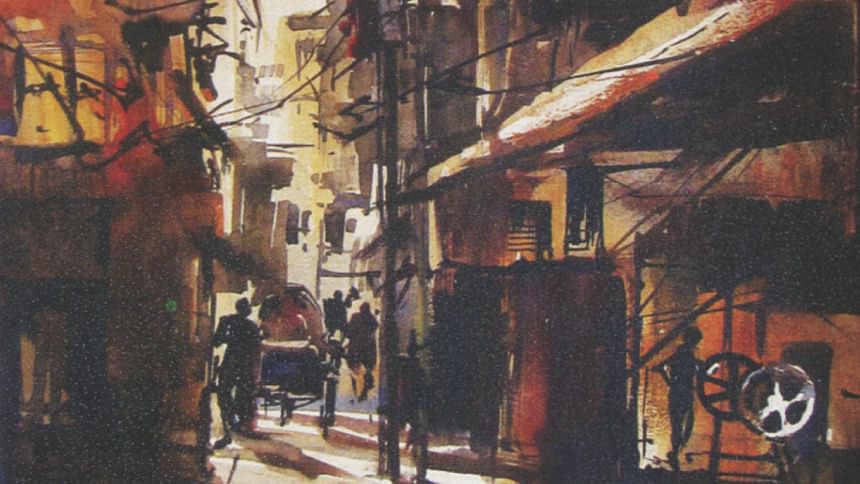 Shahanoor Mamun is a talented and persevering artist. Now his second solo is on at the exhibit room of Galleri Kaya.
 In one of his paintings called "Nostalgia and the flowing life" one sees two people in Old Dhaka. They are in a rickshaw and behind them are more rickshaws. Behind are bars of gold with circles in them. One sees turrets, balconies and parts of houses, steeples and windows. There are more vehicles behind the rickshaws that are making their way on the same narrow road.
In a delineation of Old Dhaka streets in the golden light of the morning we see people going helter skelter – one gets the feel of the place in depth, despite the use of only water colour on paper. There are houses on two sides of a road in focus. There is a huddle of people under umbrellas and crisscrossing of electrical wires and juxtaposition of the electric poles which adds to the beauty and authenticity of the work.
  There is one work with details of the boats in black. The rest are waves in grey depicting the smothering fog. There is one with a single man with water splashing over him. There are bars of colour in the painting--blue white and purple. Another painting has two men bending over and one is bent in the process of assisting them.
We see three boats entering to the harbour. The details of the harbour are exquisite, with sun rays falling on the place. One feels the pulsating rhythm of the people going about their works. One dinghy is empty. The boat with a dozen people is waiting to be unloaded. Half a dozen people are waiting on a smaller adjacent boat. The houses are painted in shades of blue. A fairly good depiction of a clear sky and greyish water is visible too.