Bangabandhu beaming into arts
Group exhibition at Shilpakala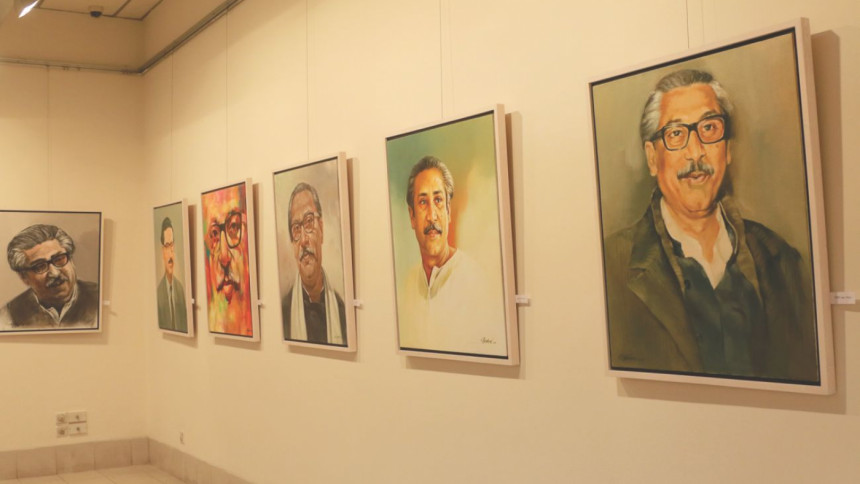 Marking National Mourning Day 2015, Bangladesh Shilpakala Academy (BSA) has chalked out month-long elaborate programmes to observe the occasion. Cultural Affairs Minister Asaduzzaman Noor along with BSA Director General Liaquat Ali Lucky and other officials inaugurated a grand group art exhibition at Gallery 1 of National Art Gallery Plaza on August 14.     
The entire exhibition features 10 portraits of Bangabandhu by country's best 10 potrait artists- Kiriti Ranjan Biswas, Rasel Kanti Das, Mohammad Alaptagin Tushar, Dewan Mizan, Kamaluddin, Sheikh Afzal, Alakesh Ghosh, Abdul Mannan, Ahmed Shamsuddoha and Shahjahan Ahmed Bikash; 103 artworks themed on Bangabandhu and Bangladesh by several renowned artists; 50 collected paintings by BSA and 60 paintings and photographs on Bangabandhu at Gallery 4.
At the exhibition titled "Shilper Aloye Bangabandhu", the Father of the Nation has been showcased on diverse art media in multifarious ways and expressions. Apart from oil, water and acrylic, art lovers will marvel at a big tapestry by Tajul Islam. The work represents a deeply contemplative Bangabandhu. Eminent artist Samarjit Roy Chowdhury immaculately depicts the imagery of Bangabandhu and his cherished Sonar Bangla.
Portraits, paintings, sculptures, video art and installations portrayed by artistes like Rezaul Karim, Nasim Ahmed Nadvi, Naima haque, Nasreen Begum, Atia Islam Any, Syed Hasan Mahmud, Dr. Malay Bala, Nasima Khanam Queenie, Gulshan Hossain, and Amit Nandi focus on Bangabandhu's bold and courageous expressions.
Some depict Bangabandhu's keen eyes and pensive mood laudably while others express Bangabandhu's spirit in his most candid and outspoken moments. Shahjahan Ahmed Bikash portrays the iconic visage of Bangabandhu and family members. The painter has successfully emphasised the sublime character's dynamism. Some of the paintings have a distinct touch of realism and focus on every detail of the architect of our Independence.
The exhibition, opening from 11am to 8pm daily (3-8pm on Fridays), ends on August 31.