Shilpakala Padak 2014 conferred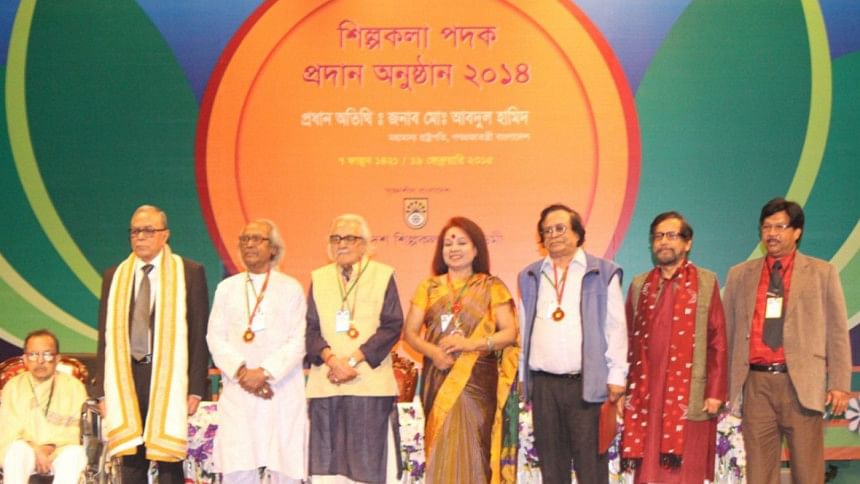 To honour those working tirelessly for the preservation, awareness and development of our rich culture and heritage, Bangladesh Shilpakala Academy (BSA) began honouring artistes and activists who have made significant contribution to the various fields of arts in the country in 2013. The second year of the awards saw seven eminent personalities being presented with the Shilpakala Padak 2014 on Thursday, at BSA's National Theatre Hall auditorium. President Abdul Hamid handed over the awards – which included a medal, a certificate and a cheque of taka 1 lac, to the recipients. 
This year, the honourees are: Ustad Bazlur Rahman Badal (Dance), Pandit Amaresh Roy Chowdhury (Music - Vocal), Pandit Madan Gopal Das (Music – Instrumental), Syed Abdullah Khalid (Fine Arts), Ashraful Alam (Recitation), Lucky Inam (Theatre) and Dr. Shahidul Alam (Photography). 
Cultural Affairs Minister Asaduzzaman Noor was present as special guest at the event, which was chaired by Secretary of the same ministry, Ranjit Kumar Biswas. BSA Director General Liaquat Ali Lucky delivered the welcome address at the programme. 
Meanwhile, to celebrate its 41st anniversary, BSA has chalked out multifaceted three-day programmes beginning February 19. The programmes include discussion and cultural programmes at the newly-build Nandan Mancha and informative exhibition at the Gallery-1 of the National Art Plaza. A special discussion and cultural programme – in participation of various embassies and consulates in Dhaka – featuring music, dance and recitation in various languages will be held at 3pm at the central Shaheed Minar today, followed by programmes at Nandan Mancha later in the evening. 
A film festival featuring films of various countries and languages is also on from February 17-28 at the International Digital Cultural Archive at the National Theatre Hall building of BSA, everyday from 6pm.