'Tagore Blends East and West' launched at BSA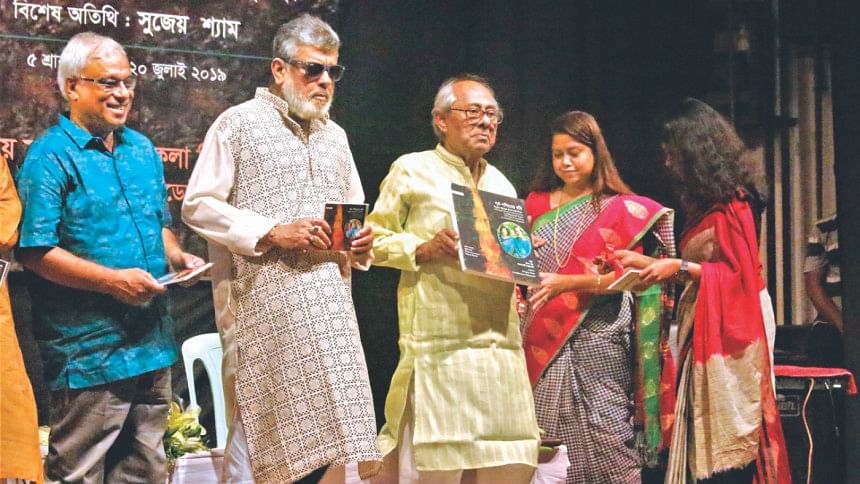 Artistes Swapan Dutta and Anandamayee Majumdar jointly unveiled their latest album titled Tagore Blends East and West, presented by Satoto Limited, during a launching ceremony held recently at the National Music and Dance Auditorium of Bangladesh Shilpakala Academy (BSA). The bilingual album embodies selected songs by Rabindranath Tagore, which were appropriately translated to English by Anandamayee, with the hopes of striking a global chord. The music arrangement for the album was done by Sujeyo Shyam.
The event commenced with a dance performance. Eminent professor Hasan Azizul Haque and music composer Sujeyo Shyam graced the occasion as the chief guest and special guest, respectively. After their welcome speech, Faridur Rahman, Chairman, Satoto Limited addressed the audience. Following their dialogues, the album was launched.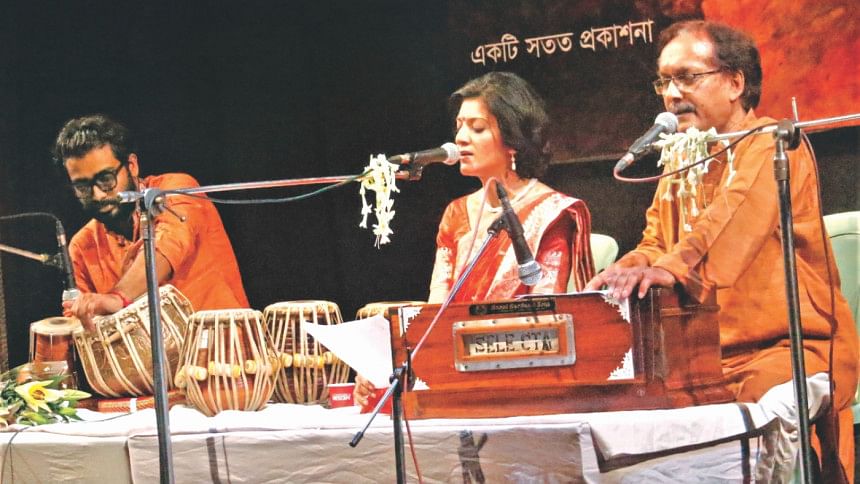 Afterwards, Swapan and Anandamayee presented songs from their album during a joint musical soiree. The unique rendition of the melodious Bangla songs with English amalgamated in harmony, enchanting the attentive audience. Prior to the break, Shamsul Alam Prince, Managing Director, Satoto Limited ended the session with a note of thanks.
Later in the event, guest artiste Sutapa Bhattacharya from West Bengal took to the stage to present an array of tunes. Her symphonic vocals enhanced the intensity of the evening, evident by the frequent round of applause from the entertained audience.
The talented instrumentalists of the programme comprised of Pradip Karmoker on octopad, Apurbo on tabla, Binod Roy on keyboard and Nashir on guitar. The event was emceed by Bhaswar Bandyopadhyay.