From Japan, with love: Japan Fest 2018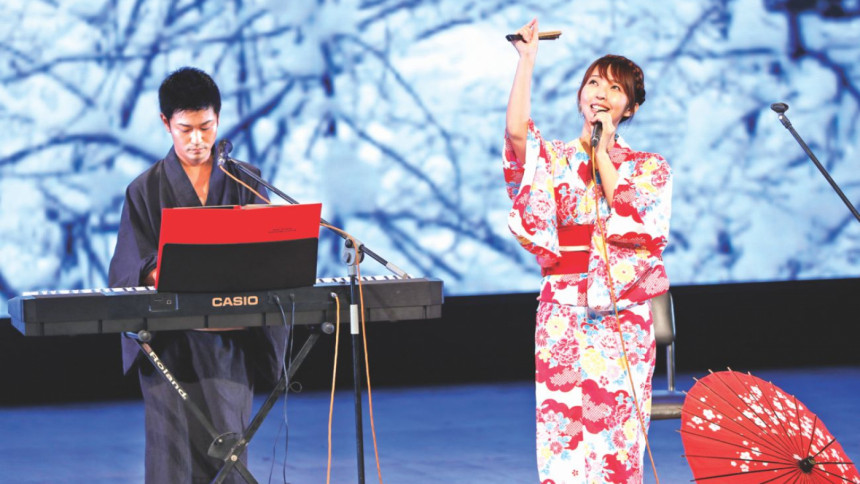 Embracing art, literature, language and more of another country broadens our perspectives and helps us see things differently. On Sunday, the people of Bangladesh and Japan were seen embracing each other's cultures at the Japan Fest 2018 held at Bangladesh Shilpakala Academy.
This festival was orgasined by the Embassy of Japan. Bangladesh and Japan have long enjoyed a cordial relationship, with various Japanese cultural fests organised in the past in Dhaka.
Many stalls by Bangladeshi young individuals sold manga and anime-themed goodies at the event. The excitement around these stalls showed the youth's interest in Japanese culture. Both Japanese and Bangladeshi musicians performed, much to everyone's delight.
Sumie Kaneko, a Japanese Koto and Shamisen (traditional Japanese musical instrument) player mesmerised everyone with her skills.  Bajna Beat, an active Dhaka-based Japanese music group consisting of Shunsuke Mizutani and Mae Watanabe lit up the festival with their energy. While they were performing, pictures of their experiences in Bangladesh were being played as a slideshow behind them. Khayam Sanu Sandhi, a popular Bangladeshi artist, performed a song of friendship which was appreciated by everyone. The highlight of the evening was the friendship duet performed by Bajna Beat and Sandhi.
Rie Okada, a tea specialist, came all the way from Japan to introduce the art of tea ceremony to the people of Bangladesh. Japanese tea ceremony has a rich history of 400 years.                                
The event was supported by Regent Airways, Ajinomoto, Grameen UNIQLO, Honda Bangladesh, Studio Padma, Japanese Commerce & Industry Association in Dhaka, Bangladeshi Ikebana Association, Bangladesh Bonsai Association, ICARUS and the students of the Department of Japanese Language & Culture, and Department of Japanese Studies, University of Dhaka.