An inter-cultural dance treat
Looking forward to the past at Shishu Academy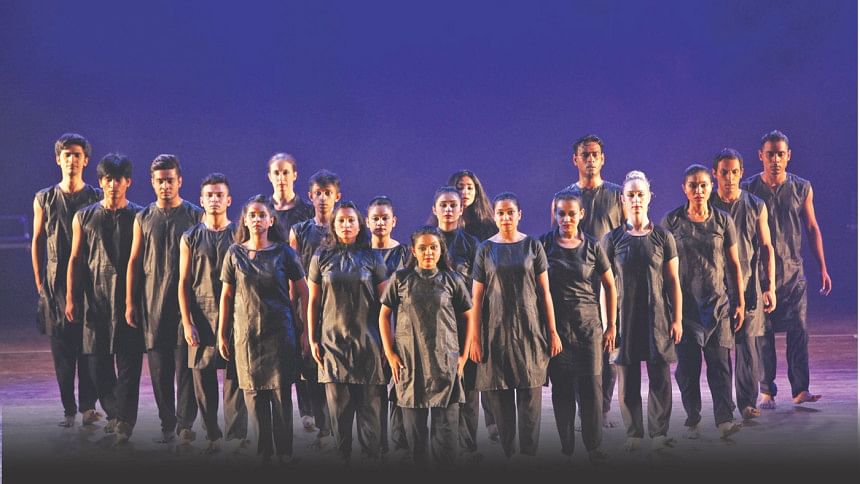 This Thursday Dhaka art aficionados were witness to a scintillating dance-presentation, 'Looking forward to the past', a multi-layered, inter-cultural dance production directed by Donald Byrd, Artistic Director of Spectrum Dance Theater in Seattle; and performed by 17 dancers of Dhaka's foremost dance studio, Shadhona, and Shadou Mintrone, one of the principal dancers of Spectrum.  
The performance was the outcome of a month-long cultural exchange between the American and Bangladeshi dance groups, supported by the American Center of the US Embassy in Dhaka.
The show opened with short welcome addresses by Calvin Hayes, Cultural Officer of the US Embassy, US Ambassador Bernicat and Lubna Marium, Artistic Director of Shadhona. This was followed by an enlightening introduction by Donald Byrd who began by saying that he had arrived in Dhaka with a single question or direction of inquiry in mind: 'What does contemporary dance in Bangladesh look like in the 21st Century?'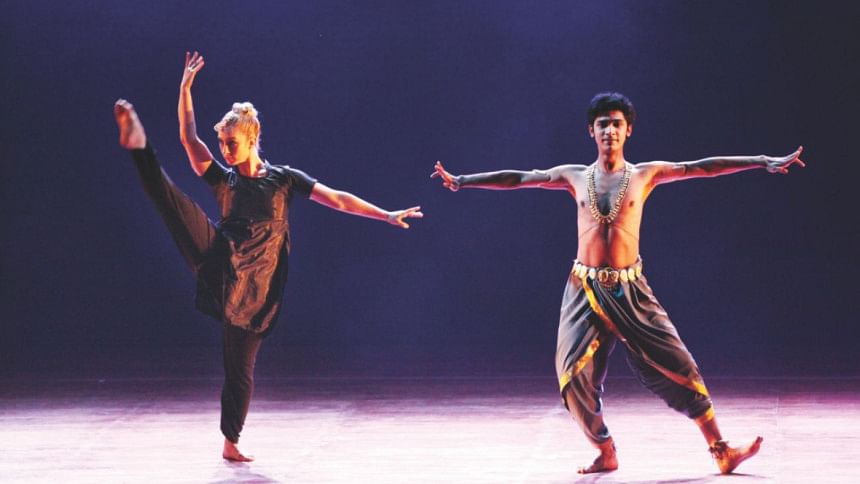 Byrd continued by explaining that during the course of his time in Dhaka and with the participation and collaboration of the dancers from "Shadhona" – A Center for Advancement of South-Asian Culture, and Spectrum Dance Theater's dancer Shadou Mintrone, the dancers delved into the above question. They engaged, through a kind of Socratic Method.  And, as one would expect from this mode of inquiry, they came up not with answers but rather more questions.
As per Donald Byrd's Programme Notes, the production was an experimental; primarily in aesthetics, but was also an experiment in culture hybridity; the result of deep, intense, thrilling, heated and at times emotional investigation and questioning. To those who are aware of the cultural and aesthetic inquiries and experimentations, of more than a century ago, by the Nobel Laureate Poet Tagore, what Donald Byrd and the dancers had been doing in the studio over the past several weeks was very much in alignment with Tagore's work. In fact, Donald Byrd, reiterated, Tagore had been the source of his inspiration and was emblematic to the investigations.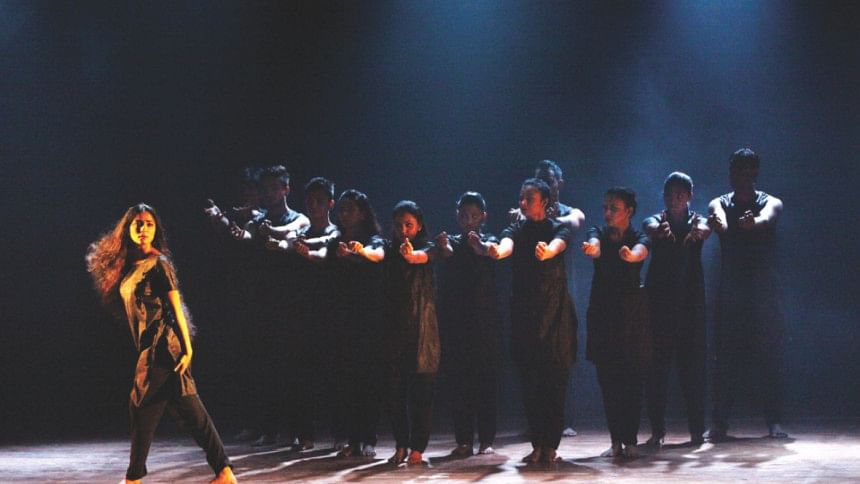 The evening's performance was divided into four parts. The first part of the programme looked into how history informed our "now" and directs our future? It questioned cultural intersections.  The second part of the presentation worked on the 'transformation of meaning', where dance styles represented a story line.  The third part was about abstraction and re-contextualising formalism and making the Classical personal.   The concluding part was an enquiry into dance as a social/civic instrument.  
Using phrases from classical dance forms, both Western and South Asian, devised movements juxtaposed with music from Africa, South-East Asia and India, the dance presentation were truly a new treat for Dhakaiites.  Of course, most impressive was the very well rehearsed and synchronised body movements of each and every member of the dance troupe.  Shadou Mintrone, who has been taking the Bangladeshi dancers through a rigorous routine of body exercises, must be congratulated for this.
All in all, the audience was thrilled by the various ways in which Byrd looked into inter-culturality and presented them through a fusion of dance styles.  It is to be hoped that this experiment continues and comes up with more such productions.