Curtain rises on 9th Int'l Children's Film Festival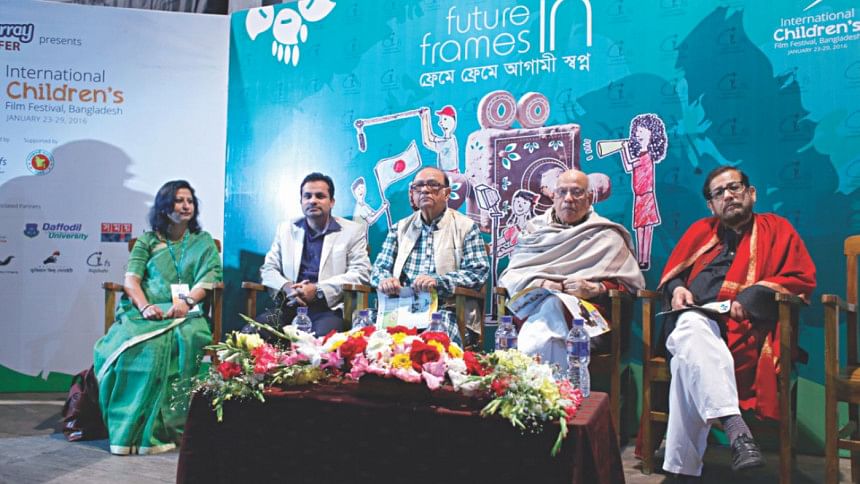 The ninth edition of International Children's Film Festival Bangladesh is currently on at 15 venues in Dhaka, Sylhet and Rajshahi.
The inauguration ceremony of the event was held at Shawkat Osman Auditorium of Central Public Library in the capital on January 23 amid enthusiasm and festivity.
Finance Minister AMA Muhith inaugurated the festival as chief guest while Cultural Affairs Minister Asaduzzaman Noor was the special guest at the event. 
Later, a discussion was held at the main venue. Children's Film Society Bangladesh general secretary Munira Morshed Munni; celebrated cultural personality Syed Hasan Imam; Pran-RFL Group's head of marketing and sales AKM Moinul Islam; festival director Rayeed Morshed; co-director Abir Ferdous and eminent filmmaker Morshedul Islam spoke at the discussion.
Speakers emphasised the importance of film as medium to boost creativity of youngsters and make them better citizens. Rayeed Morshed and co-director Abir Ferdous focused on the features of the event.
Finance Ministry has funded taka 10 lakh for the festival, while Cultural Affairs Ministry and Bangladesh Shilpakala Academy have provided taka three lakh and and one lakh respectively, said the organisers.
They also informed that for the first time, the festival will have buses to pick students from different schools in the capital.
Following the formal inauguration ceremony, German film "My Friend Raffi" was screened.
In addition to the screening of over 150 films, the event also features competitions in a number of categories, a seminar, workshop and more. 
There will be a competition for Bangladeshi children filmmakers where 33 films by Bangladeshi children will be screened. Of these 33 films, five will receive awards. A five-member jury board has been formed comprising children 
and teenagers for the category.  
The festival will run till January 29.