BNSS holds Nazrul Utshab at BSA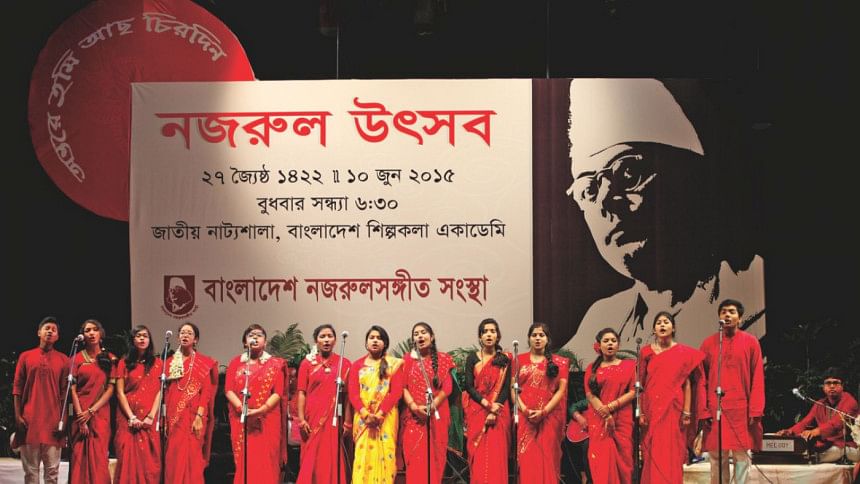 Bangladesh Nazrul Sangeet Sangstha (BNSS) organised Nazrul Utshab marking 116th birth anniversary of the National Poet Kazi Nazrul Islam at National Theatre Hall of Bangladesh Shilpakala Academy on June 10.
The event featured solo and choral rendition of songs, recitation and dance presentations. A number of renowned and promising artistes of BNSS performed a diverse genre of Nazrul Sangeet. Artistes of BNSS set off the musical show with the choral song "Sangha Smarana Tirtha Jatra". Young artistes of the organisation also presented two choruses -- "Joy Houk" and "Rum Jhum Rumujhumu Ke Bajaye." 
President of the organisation Khalid Hossain rendered a monsoon melody "Rimjhim Rim Jhim Jhim" while general secretary of BNSS Khairul Anam Shakil performed a ghazal-ang song "Pashaner Bhangaley Ghum".  
"Our National Poet composed songs of varied genre and created several distinctive raga and taal. Nazrul's kavyageeti and raga-based melodies are very sweet but none can blossom that melody without proper rewaz. I am hopeful about the promising artistes of BNSS who are showing their musical passion and potential with utmost sincerity in every programme of the organisation," said Khairul Anam Shakil.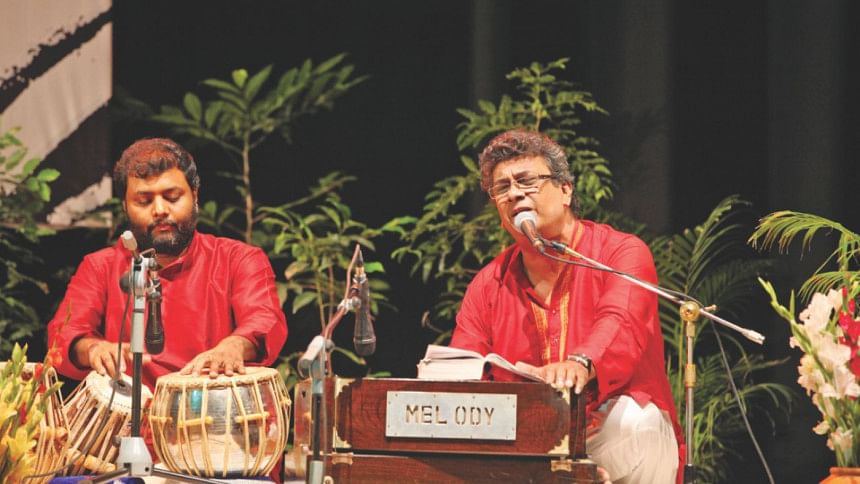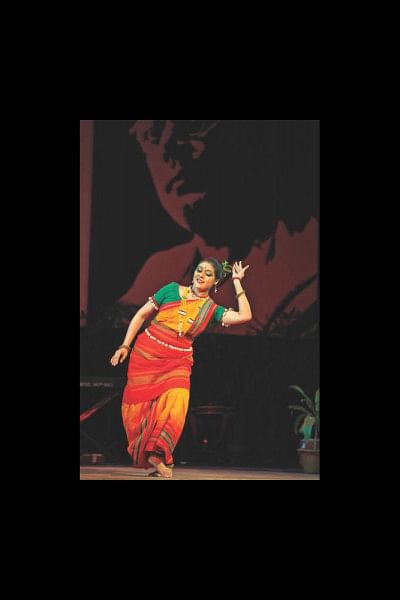 Nahian Durdana Shuchi melodically performed a raga Bageshree-based song "Harano Hiyar Nikunja Poth-e"; Mehfuz rendered "Deshgoura Bijoy Deboraj", based on raga Deshgoura. Set on raga Behag, Mahmudul Hasan nicely rendered a ghazal-ang song "Keno Diley E Kanta" while Afsana Runa presented a Shyama Sangeet "Mohakaler Kuley Eshey." 
Mohit Khan captivated the audience with a thumri-ang song "Piya Swaponey Esho Nirojon-e". Nihar Dey Akash rendered a kirttan "Sakhi Sajaye Rakhlo", Mridula Samadder rendered "Sur-e O Banir Mala", based on raga Pilu, and Sanjay Kabiraj sang "Mor Na Mititey Asha".    
Bhabna director Samina Husain Prema beautifully danced to a pahadi melody "Churir Taal-e Nurir Mala". Choreographed by Tamanna Rahman, several artistes of Nritym presented a dance set on the song "Ami Jaar Nupurer Chhondo" at the event. Elocutionist Seema Islam recited parts of an epic poem "Kamal Pasha" at the event. Noted singers -- Suman Mazumdar and Bizon Chandra Mistry performed solos really very well 
The performances of promising artistes Maksudur Rahman Mohit Khan, Nihar Dey Akash and Nahian Durdana Shuchi were highly praiseworthy. The festival wrapped up with a performance of choral song "Chanchalo Shyamolo Elo Gogoney", followed by a rendition of the National Anthem.