Eric Church, Chris Stapleton salute John Lennon in NY City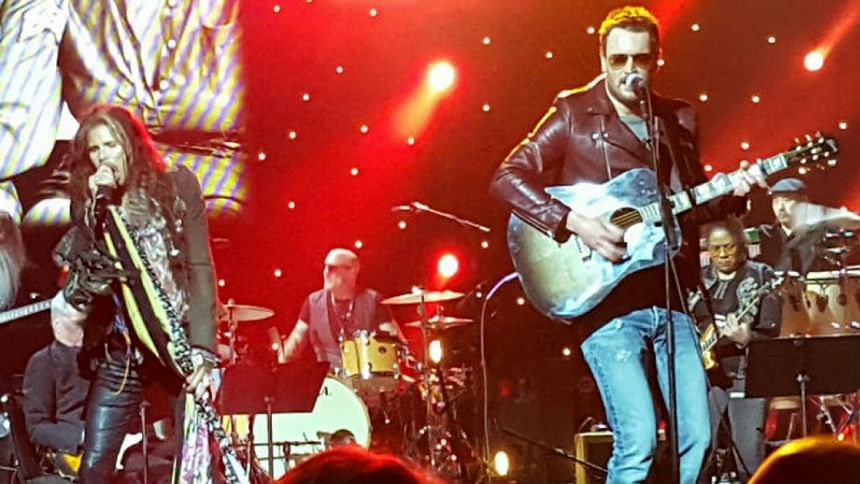 Stars from a variety of genres -- from Willie Nelson and Eric Church, to Steven Tyler and John Fogerty, to hip-hop group The Roots and Sheryl Crow -- gathered in New York City Saturday night to tape the upcoming AMC special Imagine: John Lennon 75th Birthday Concert. 
While the late Beatles legend would have been 75 in October, the show's creator says there was another, more necessary reason for staging the concert at this point in history, reports wincountry.com.
"With all the craziness going on in the world today, we thought, more relevant than ever is John's message, his voice, his music," executive producer Keith Wortman told reporters on the red carpet.  "And so we felt, birthday or no birthday, it was an important thing for us to do."
Sheryl Crow described Lennon as a "brave and loving soul," adding, "I wish he was here."  Making reference to Lennon's classic "Imagine," which seems to ring true today more than ever, she commented, "You think it's really simple, and yet it's a really sophisticated song with a very sophisticated message. And we saw it being used in Paris recently and it's just a song that will not go away."
The country stars on the bill turned in some great performances, including Willie's understated but powerful "Imagine," Kris Kristofferson and rock guitarist Tom Morello teaming up for "Working Class Hero," Eric Church's rendition of "Mind Games" and his duet with Steven Tyler on "Revolution," and Chris Stapleton's version of "Don't Let Me Down" with Sheryl Crow and The Killers' Brandon Flowers.  Chris, Willie and Kris also sang "You've Got to Hide Your Love Away."
The rock band Spoon, rock legend Peter Frampton, Latin star Juanes , pop singer Aloe Blacc and Train's Pat Monahan were also on the bill, and Ringo Starr and Paul McCartney both sent videotaped messages.  Ringo's message also included onstage footage of him performing a song Lennon wrote for him: "I'm the Greatest," according to the wincountry.com.
Imagine: John Lennon 75th Birthday Concert, hosted by Kevin Bacon , airs on AMC December 19 at 9:00pm ET/PT.   Here's a list of who sang what:
John Fogerty -- "Give Peace a Chance," "In My Life" Peter Frampton -- "Norwegian Wood" Juanes -- "Woman" Aloe Blacc -- "Steel and Glass," "Watching the Wheels" Sheryl Crow -- "A Hard Day's Night" Kris Kristofferson, Tom Morello w/harmonica player Mickey Raphael -- "Working Class Hero" The Killers' Brandon Flowers, Chris Stapleton and Sheryl Crow -- "Don't Let Me Down" Chris Stapleton, Willie Nelson, Kris Kristofferson -- "You've Got to Hide Your Love Away" The Roots -- "Mother" Spoon -- "Hey Bulldog," "Cold Turkey" Willie Nelson -- "Imagine" Brandon Flowers -- "Instant Karma" Train's Pat Monahan -- "Jealous Guy" Eric Church -- "Mind Games" Tom Morello w/the NYC Freedom Choir -- "Power to the People" Steven Tyler -- Come Together Steven Tyler & Eric Church -- "Revolution" Sheryl Crow, Peter Frampton & Aloe Blacc -- "Happy Xmas (War Is Over)" All Star Finale -- "All You Need Is Love".