Eid gifts: An array of gift options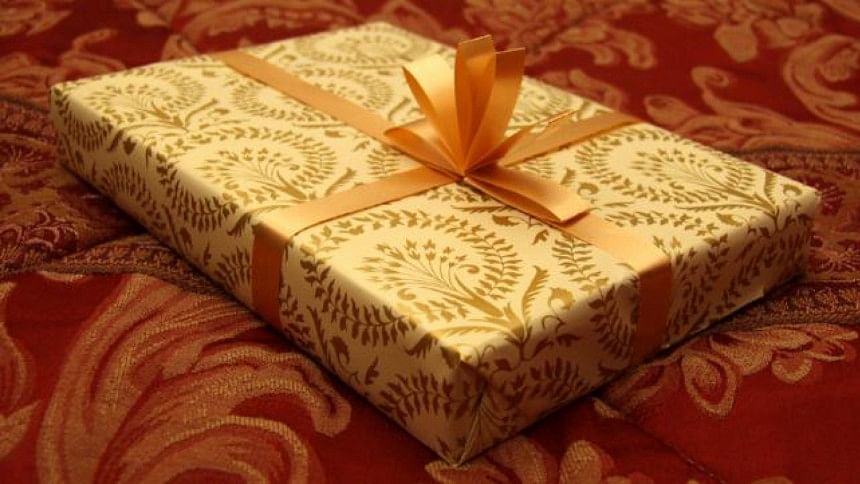 Sharis and suits make for popular Eid gifts. If one is affluent, little pieces of jewellery will do the trick, while perfumes and cosmetics are also dear to many. Going in for ornate quilted rugs for best friends is a pleasant gesture too. 
For those on a tight budget, home-made halwa or microwave- oven cooked fat-free shami kebabs may please friends and family. Also welcome on Eid, are cooked meals such as shepherd's pie or some trifle made from jelly and fruit. Some friends of Persian origin love to put a lot of almonds and currants in shemai, a dessert relished by many.
A short trip to Cox's Bazaar, or to Sylhet doesn't mean a drastic dip into the family savings and appears a kind gesture. Giving cuisine books or even handing an uncle a set of books on the two World Wars for Eid is thoughtful as are sets of pens and pencils. Also welcome are caged mynahs, a pair of rabbits or even potted cactus.
One doesn't necessarily have to give a shari for Eid. A bottle of branded eau de cologne will do just as well. Similarly, one doesn't have to part with a load of money to win the heart of a dear one -- a small object like a handmade doll, made from bits of fabrics and some left-over wool is welcome.
A home-made fruit cake or a small, elegantly wrapped gift will do for the occasion of Eid. A boneless hilsa, cooked under the pressure cooker and eaten for days, is just as welcome. Pots of achar (pickles), chutney or jam can be useful gifts. Similarly, paper lanterns and a set of beads-- neatly arranged in a cute gold and silver box, collected from left-over perfumes from overseas -- can be ideal.
Popping in to friend's houses to taste biryani or hapshi halwa or even coconut barfi and gajrela spells fun and frolic, so does delicious alu-puri.
Yes, Eid is for prayers. But it adds a touch of joie de vivre to visit family and friends, and engage in some harmless gossip.