Bipul's "Journey With Wreckage-2" at AFD
Bipul Shah, who works with rickshaws, broken cars, human figures moving from light to darkness, uses soft pastel colours in artworks that feature in his latest exhibition, "Journey With Wreckage-2". The artist's eighth solo exhibit is currently on at the La Galerie of the Alliance Francaise de Dhaka (AFD).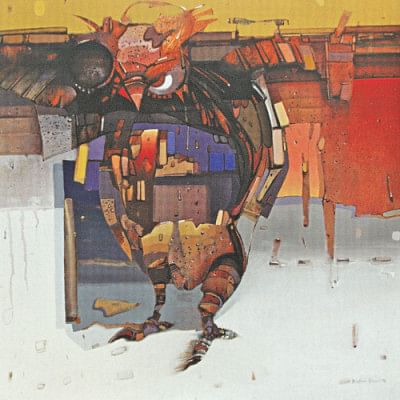 Broken windows, rotting and weather-beaten walls, moth-eaten pieces of wood -- the subjects of Bipol Shah's art work seem like vehicles which express and bring out the consciousness as well as state of reality. The artist thinks that human ambitions are backfiring, and they are the result of man's greatest achievement.  
In one work, the eyes of an owl are popping out. They appear sinister and harmful. In another, people run around in wild abandon. They are armed with bows and arrows or spears. They make the subject of going to war an everyday matter. The elephants seem out of some book of legends where war is everyday happening. The artworks display the duality of grace and rivalry with nightmarish objects, physical shapes and forms. Thus we see a brave journey with the beauty of nature, with the surrounding forms.
His artworks display duality of grace, rivalry and strange chiaroscuro of dream and reality as well as nightmare. For Shah the figures are symbolic. These broken walls and broken cares are objects that he comes across in life and 
form a reason for living.
The exhibition runs till March 25.