Celebrating the Bengal tigers through art
Self-taught artist Nazir Hossain is popularly known as 'Tiger Nazir', for his remarkable contribution to folk art, and paintings of tigers. He mainly works with the traditional medium of art, 'Potchitro', or scroll painting. Bantora Kun the tiger, a mascot representing Bangladesh, was launched in 2015. It has been making its rounds in Bangladesh-Japan business circuits. It was an outcome of years of mediation on the part of Nazir, whose paintings centering on tiger motifs led to the three-dimensional model. In a recent conversation with The Daily Star, the artist talks about how he developed his career, and more.
How does your work comment on current social and political issues?
I believe that tigers are symbols of victory, and so, they are the heroes of my art. During the colonial era, many British men killed tigers in the Sundarbans. Even today, poachers continue to kill them for their medicinal value. If there are no tigers, there will be no Sundarbans, as these killings are creating an imbalance in nature. It is the duty of every nation to work together to protect tigers.
Bangladesh is geographically blessed with six seasons, as well as various water bodies and landscapes. When we traded muslin thousands of years ago, we were rich. We can restore our financial stability by preserving our culture and heritage. I intend to do my part through paintings to showcase the richness of our country's culture across the world.
How did you develop your career as an artist?
Since childhood, I was not very fond of studying, but was rather interested in drawing and painting. I used to gather news clippings from Shilpakala Academy, and read about renowned artists. I knew from the beginning of my career that I wanted to paint tigers.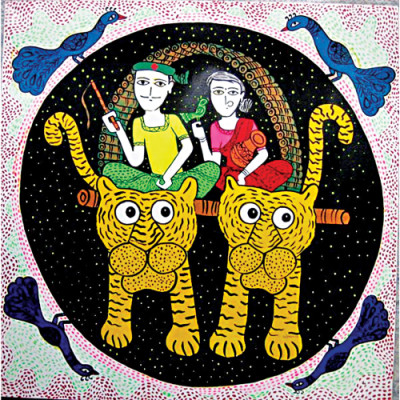 Can you tell us about your exhibition at EMK Centre that was held a few days back?
The EMK Centre hosted a virtual exhibition on July 29, celebrating International Tiger Day. I represented Bangladesh with 40 paintings to raise awareness about the protection of tigers. It was my 52nd exhibition, and I painted 30,000 tigers in total. I also celebrated the day at home by painting on the wall in front of my house in Dinajpur, which was broadcast live.
How do you navigate the art world?
As an artist in Bangladesh, I have observed that people generally do not appreciate the occupation. They are also not pleased to learn that I have not studied at Charukola. However, I believe that our educational system has limited us to only a few career paths. One cannot ignore art, as it is present everywhere. I have been to 50 schools to convey this message, and encourage students to pursue art as a career. I have also volunteered during occasions like Pohela Boishakh and Mongol Shobhajatra, where the money raised through my paintings were donated to preserve the legacy of folk art.
The author is a freelance journalist. Email: farah.kabir1@g.bracu.ac.bd.