Beautification with Henna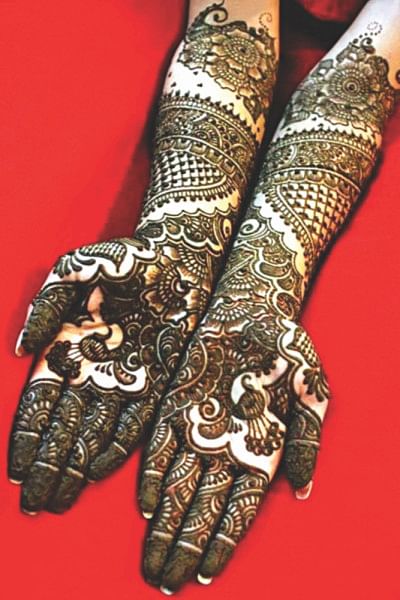 What with Eid approaching, people are going helter skelter to touch-up their hair and hands with "mehdi"--both to look their best and keep with an old tradition of Bangladesh.
Along with the ground henna, one puts coffee or tea, and sometimes curd and lime juice to make the henna" paste richer in colour.
The henna has to be carefully applied to the palms and fingers. Some even decorate their arms and back of their hands with henna. The designs are traditionally floral.
There is always a rush at beauty parlours at Eid to get hands and hair coloured with henna.
Among the wealthy Babylonians and Assyrians, henna reigned supreme in the courts. In the subcontinent, it is a part of every celebration, especially during the two Eids, and weddings. The henna paste is made from leaves and water, and perhaps a bit of sugar, to deepen the colour. It is applied with a narrow bit of stick on the finger nails and palms. The floral and geometric designs are in the shapes of circle, lines and dots. Along with music and rich food, it is an integral part of celebrations in our country.
After the leaves are plucked, it is ground. The flower, tendrils and paisley patterns are then formed on the palm, wrist and hands.
Henna is sold as a paste in cellophane cones in super markets. It is even imported sometimes. Henna is a part of everyday toiletries. Women use it to add lustre to their tresses.
During Eid, even men are not immune to the attractions of henna.