Investment to be raised to 31.9pc of GDP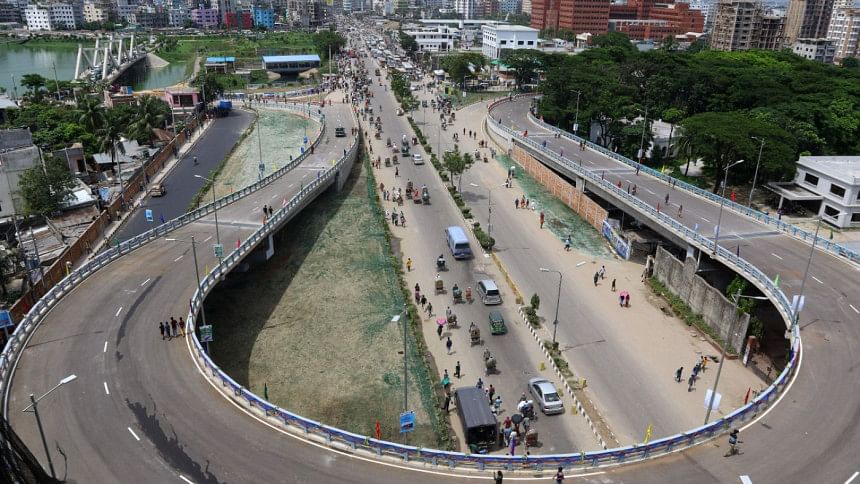 The government wants to increase the investment ratio by 1.6 percentage points to take the total investment at 31.9 percent of the GDP in the next fiscal year, which the private sector considers possible if they are given necessary support.
Of the total investment, the finance minister proposes to increase the private sector investment to 23.3 percent from projected 23.01 percent and public investment to 8.6 percent of the GDP.
Private investment remains almost stagnant and has been hovering around 23 percent over the years due to bottlenecks in infrastructures and perennial energy crisis in industrial units.
If the government wants to achieve more than 8 percent economic growth per annum and be a middle-income country by 2021, it will need to create a business-friendly environment and different facilities for the businesses, said Abul Kasem Khan, president of Dhaka Chamber of Commerce and Industry.
The government must ensure supply of gas to the industrial units on a priority basis to attract more investment -- both domestic and foreign, Khan added.
The government should also establish special economic zones as soon as possible as the price of land is very high and there is a scarcity of industrial land, he observed.
Projects like construction of LNG terminals, power plants, Padma bridge and development of port and other big ones should be implemented as soon as possible to attract more investment, he said.
Shafiul Islam Mohiuddin, president of the Federation of Bangladesh Chambers of Commerce and Industry, also echoed Khan's views.
He suggested the prices of electricity, gas and other utilities as well as government policies be stable as frequent fluctuation in these discourages the investors. The government has been establishing economic zones for long, but it should also give some stimulus for the investors for an interim period in the next five years until completion of the zones, he added. Against this backdrop, the government has proposed some strategies to boost the sluggish investment inflow and employment generation.
The government has already created the Bangladesh Investment Development Authority (BIDA) by dissolving the previous privatisation commission and board of investment.
The BIDA has been assigned to introduce One Stop Service and fully process investment proposals in nine months of application. Such initiatives are likely to improve the country's position in the Doing Business rank.
Presently, Bangladesh ranks 176th in the Doing Business index. The BIDA has already formulated an action plan to move Bangladesh's rank within 100 in the next five years.  The government has so far approved establishment of 22 economic zones, while construction of 10 zones has already started. In addition, locations have been selected for 59 economic zones, while Bangladesh Economic Zones Authority has approved establishment of another 76.
"We are planning to inaugurate the development work of another 10 economic zones in 2017-18 fiscal. In the medium term, 12 economic zones will go into operation where goods and services worth $5 billion will be produced and 2 lakh jobs will be created," Finance Minister AMA Muhith said yesterday. Apart from the economic zones, the government has been working to bring reforms in the public private partnership (PPP) to encourage private sector investment in construction of public infrastructures.
Currently, 45 PPP projects are under implementation where the share of private investment is about $14 billion. Of these projects, loan agreements have been signed for nine projects, while 13 projects are at procurement stage.
Besides, the government established Bangladesh Infrastructure Finance Fund Limited in 2011 to finance physical infrastructures. This Fund has so far provided financing of Tk 2,113 crore to 26 PPP projects. "We have plans to invest around Tk 3,809 crore from this fund in 20 more projects in 2017 and 2018," Muhith said.
Growth stimulating 10 large projects have been brought under fast track monitoring and steps have been taken to accelerate their implementation. "We will continue to ensure financing of these projects on a priority basis and monitor their implementation closely," Muhith added.
The government is expecting to import LNG and supply the gas by 2018. Installation of coal-based power plants in Rampal, Matarbari and Payra is going on, while installation of power plants in private sector is being encouraged.
"Furthermore, we have taken initiatives to install four power plants in Maheshkhali with financial supports from Malaysia, South Korea and Singapore."