3 killed as train rams bus in city
3 killed as train rams bus in city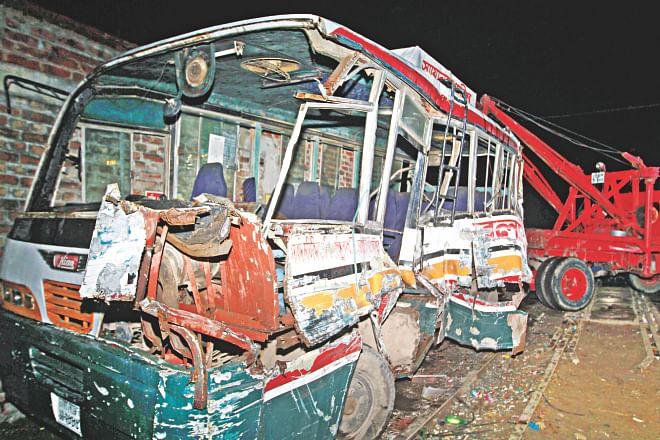 At least three people were killed and 13 others injured last night, as a train hit a bus that got onto a railway track travelling on the wrong side of the road at TT Para level crossing in the capital's Kamalapur area.
All the dead were passengers of the bus. Of them, one was identified as Nazmus Samad Nazu, 25, wife of KM Obaidul, sub-editor of Bangla daily Janakantha. The couple was returning to their Moghbazar home from Maniknagar area.
Identity of the other two, aged between 30 and 35, could not be known immediately.
The Gazipur-bound Balaka Paribahan bus, carrying around 25 passengers, reached the level crossing, less than 200 yards off Kamalapur railway station, shortly after 10:00pm, said witnesses and police.
All vehicles came to a halt and lined up on both sides of the crossing as the gateman lowered the bars on both sides.
"Instead of queuing up, the bus took the wrong side of the road that was empty," said Mohammad Arif, driver of a human hauler, which was in the queue at the crossing.
It was raining at that time. As the bus tried to cross the railway track hurriedly, the train hit the vehicle in the middle and dragged it about 15 yards, he said.
"The passengers started screaming and asked the driver to stop. But he didn't," said Shah Ali, a passenger of the bus, who suffered minor injuries.
"Within seconds, we heard a big bang," he said.
Some of the bus passengers alleged that the gateman didn't lower the barrier.
Locals pulled some passengers out of the mangled bus.
Two passengers of the bus died on the spot while Nazu was declared dead after she was taken to Dhaka Medical College Hospital.
Four train passengers also suffered injuries. One of them, Al Amin, was admitted to National Institute of Traumatology and Rehabilitation in critical condition.
Abdul Mazid, officer-in-charge of Dhaka Railway Police Station, held the bus driver responsible for the accident.
The gateman lowered the bars. But the driver ignored it and tried to cross the railway track hurriedly, he said.
The OC said they couldn't find the driver or the helper. He was also unsure whether they were among the dead.
Police seized the bus.
The gateman could not be found at the crossing.
Eight injured bus passengers were taken to the DMCH and five others to a local hospital.