Silver jubilee special
E-Governance and Bangladesh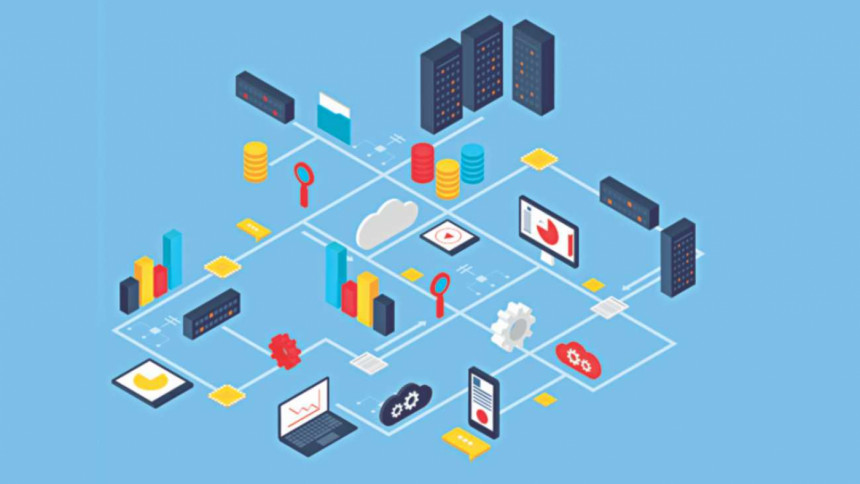 Electronic-governance (e-governance in short) involves the use of Information and Communication Technology (ICT) and its numerous applications by the government for the provision of information and e-services (that is services by electronic means) to the citizens of the country. Broadly speaking, e-governance can be referred to as the uses and applications of ICT in public administration to conduct processes to effectively manage data and information to enhance public service delivery for empowerment of the citizens. Digital developments of recent years like online services, big data, social media, mobile apps, cloud computing etc. now influence people and the government tremendously.
Use of e-governance can make public administration fast and effective, provide better services, and respond to the demands of transparency and accountability. It can help the government to go green by effective management of natural resources aiding sustainability to environment. E-governance stimulates economic growth and promotes social inclusion of disabled and vulnerable sections of society. E-governance can provide benefits in the form of new employment, better health, better education, knowledge sharing, skills developments and capacity building for sustainable development. Quick and fast e-services eliminate middlemen and save both time and money. Without such online services, our cities and towns would have turned into more difficult places to live and the transport services would have been impossible to manage.
This short article highlights difference between e-governance and e-government presents our achievements in ICT and e-governance and examines our status in global perspective and suggests steps to be taken for improvement of global status of Bangladesh in e-governance and e-government.
E-Governance and e-government
-governance deals with the board spectrum of the relation and networking in a government for uses and applications of ICT. E-governance defines and assesses the impact of technology on administration of a government and the relations between government offices and communication of the government with different segments of society. E-governance encompasses steps and actions of government agencies to develop and administer with a view to ensure implementation of e-government services to the public.
On the other hand, e-government (short for electronic government) is actually a narrower discipline dealing with the development of online services to the citizens. Examples of e-government services are e-tax, e-transportation, e-health and the like. E-government is also termed as e-go, Internet government, digital government, online government, connected government by different authors and agencies. E-government encompasses online interactions between citizens and government (C2G), between government and agencies (G2G), between government and citizens (G2C), between government and employees (G2E), between government and business (G2B) etc. Basically e-government refers to the utilisation of ICT including web-based communications to enhance speed, efficiency and effectiveness of service delivery by the government to the citizens of different sections of society
Our achievements
The slogan of "Digital Bangladesh" of the Government of Bangladesh has special significance for e-governance for national development. Digital Bangladesh with Vision 2021 is a big impetus for the use of digital technology for e-governance in the country. In spite of several bottlenecks and limitations, works are in progress for realisation of e-governance in all areas of administration. Many e-government projects have already been completed and a big number of projects are under progress. The nation, with well over 120 million mobile subscribers and 43 million Internet subscribers, enjoys the fruits of e-governance in numerous areas of activities. The ultimate objective is to make more and more e-services available to the people with increased digitalisation.
Popular examples of available e-services are: registration for admission to academic institutions, publication of results of examinations, registration for jobs abroad, registration for pilgrimage, delivery of official forms, online submission of tax returns, online tendering, online banking and many more. SMS services for lodging complaints to police stations, online bill payments for utility services, instant communication with persons working abroad, and e-passports are examples of more e-services. 
Telemedicine services, videoconferencing for the treatment of diseases, and video conferencing for administrative activities are special examples of e-services available for rural Bangladesh. Setting up of nearly five thousand Union Information Service Canters is a great boost for e-service delivery, especially for rural areas. Turning eight thousand village post offices and approximately five hundred upazila post offices into e-centres and the introduction of mobile money order and postal cash cards are significant achievements in the recent past. Union Information Centres, District Information Cells, National Information Cell are also revolutionary additions for e-services for the citizens. There are many more developments in the line. Deputy Commissioner Offices in districts and UNO offices in upazilas provide a large number of e-services to rural clients.
E-Government Development Index
E-government Development Index (EGDI) of United Nations (UN) is a composite indicator or measure of the capacity of a government to use ICT for delivery of services to the citizens. EGDI is useful for government officials, researchers, policy makers, civil society and the private sectors etc. to gain deeper understanding of relative position of a country for delivery of inclusive and accountable services to the citizens in general.
UN publishes EGDI, every two years, as a result of survey; which provides a snapshot with relative rankings of developments of e-government of the member countries. The survey provides relevant information for the policy makers and government departments in shaping e-government programs for development activities. EGDI is based on assessment of online presence by assessing the national websites and e-government policies and strategies for delivery of government services. The assessments rate the performance in e-government of countries relative to one another and not in an absolute basis.
Mathematically, the EGDI is a weighted average of three normalised scores on three important dimensions (or components). They are: online service component, telecommunication infrastructure component and human capital component. The index for each of them indicates in itself a composite measure which is accounted independently (UN E-Government Survey 2014, https//publicadministration.un.org/egovkb/Data-Center).
Online service component: Online service component mainly focuses on integrated online services delivery, use of e-government to provide information and services to citizen on environment related issue, e-infrastructure and its role for bridging the digital divide for disadvantaged and vulnerable groups such as the poor, the disabled, women, children and youth, elderly citizens, minority groups with emphasis on 'open government data' e-procumbent, e-participation and mobile government etc.
Telecommunication infrastructure component: This component is an average of five indicators. They are: estimated Internet users per 100 inhabitants, number of fixed telephone lines per 100 inhabitants, number of mobile subscribers per 100 inhabitants, number of wireless broadband subscribers per 100 inhabitants and number of fixed broadband subscribers per 100 inhabitants. It is observed that in the 2014 survey report, special emphasis is given on broadband communication services. ITU (International Telecommunication Union) is the primary source of data in the cases mentioned above.
Human capital component: For calculation of human capital component, it was stressed that young people should be able to receive high-quality education from early childhood to post-primary schooling, including not only formal education but also life skills and vocational education and training. Four indicators for human capital component are: adult literacy, gross enrolment ratio, expected years of schooling and mean years of schooling.
Bangladesh in global ranking
It is useful to assess the status of e-government in Bangladesh in global perspective. As mentioned earlier, every two years the UN publishes the e-government survey with ranking of e-government developments of the member countries.  EGDI is the basis of measuring the status of e-government of the countries.
In spite of mentionable achievements in the recent past in the use of ICT for governance and expansion of e-service delivery to the citizens, it will be worthwhile to examine our position in a global perspective. This can be explained by the benchmarking indexes of responsible international organisations like UN, World Economic Forum, and ITU.
EGDI of UN evaluates the impact of ICT on the status of e-government of a country including delivery of electronic services to its citizens. Table 1 shows Bangladesh's position (out of 193 countries) in EGDI as well as those for its neighbouring countries. Online service component, telecommunication infrastructure component, and human capital component are also shown.
According to the UN survey report of 2014, Bangladesh (EGDI score 0.2757) is ranked 148th among 193 countries of the world. However, Bangladesh moved two steps forward from its previous position of 150 according to 2012 survey. In the SAARC region, Bangladesh is fifth after Sri Lanka (score 0.5418), Maldives (score 0.4813), India (score 0.3834) and Bhutan (score 0.2829). Bhutan, with score of 0.2829, made a mentionable progress in e-government by moving forward by 9 steps from its previous positions (152 in 2012).
Sri Lanka with world ranking of 74 topped the list in SAARC region by outstripping Maldives having a rank of 94 in 2014. Up until 2014, the government of Sri Lanka made substantial efforts to develop its online portals which offer 108 e-services for citizens, 51 e-services for businesses, 10 non-residence related e-services, also mobile and SMS service have also been tremendously expanded.
According to the Survey of UN published in 2014, the top ten countries (with score out of 1) are: Republic of Korea (score 0.9462), Australia (score 0.9103), Singapore (score 0.9076), France (0.8938), Netherlands (score 0.8897), Japan (score 0.8874), United States of America (score 0.8748), United Kingdom (Score 0.8695), New Zealand (score 0.8644) and Finland (score 0.8449). The ten countries with lowest EGDI score are: Democratic Republic of Congo (0.1551), Sierra Leone (0.1329), Central African Republic (0.1257), Papua New Guinea (0.1203), Chad (0.1076), Guinea (0.0954), Niger (0.0946), Eritrea (0.0908) and Somalia (0.0139 with lowest rank 193.
The UN categories the member countries on the basis of GNI of the member countries and it is useful to observe the average scores of high income, upper middle-income, lower middle income and low-income groups of countries as given bellow.
The 2014 report is based on the survey, when Bangladesh was included in the list of low-income group. It is to be noted that Bangladesh, with GNI of over USD 1300, is now listed in the lower middle-income group and the 2014 report does not reflect our achievements and progress up until now.
New devices and systems
A noteworthy trend in ICT is that numerous devices and services with new and updated technologies are rapidly replacing the older ones. New technologies for the near future include 3D printing, thumb printing, increased smartphone storage, expanded use of IPv6, and broadband services for consumers, cloud computing, real-time speech transaction, wearable devices, cyber security, smart cities, Internet of Things (IoT) etc. New trends, techniques, devices and systems are going to massively involve online activities affecting our lifestyle.
More and more smart machines and processes will be required for decision-making in administration, and they will impact our lifestyle and the jobs of decision-makers in civil services significantly. All types of jobs, including business and administration, will be digitised. We in Bangladesh will be forced to use and adapt new technologies and will require expertise in new technologies like cloud computing, 3D printing, Big Data, gaming, animation, outsourcing, and the like.
Internet services require radical improvement in terms of speed. Starting from e-commerce, the Internet is used for numerous applications and the higher speed for Internet services is of great significance for e-services resulting in rapid economic growth. Most nations of the world now give special emphasis on the improvement of internet speeds. Average internet speed of users is above 10 Mbps in many countries like South Korea, Hong Kong, Japan, and Singapore etc.
It is encouraging that the ICT Division of the Ministry of Posts, Telecommunications and Information Technology has undertaken all-out efforts for the development of ICT human capacity through countrywide training. Some examples of these include Learning and Earning, Training for Mobile Apps, Leveraging ICT for Growth, and ITES Foundation Skills. Special emphasis is given to ICT education up to pre-university levels. Ambitious projects like development of the National ICT Infrastructure for Bangladesh Government (Info Sarkar), National Data Centre and IT Parks will bring about radical improvements in e-services and e-governance in immediate future.
Way ahead
We have mentionable progress in ICT considering our previous status. But keeping in mind our current rank and status in comparison with other countries and the rapid development of ICT, the journey ahead for improving our status of e-services and e-governance will not be smooth. Each new technology requires new skills and training. Human capital is a key factor to develop and adapt innovative ideas and technologies. Quality ICT education as well as ICT-based education from the primary to tertiary level along with the orientation of general mass in ICT and e-services should receive top priority.
Owing to cheap rate of mobile charges (second lowest in the world), mobile government services such as information and notification by SMS, mobile banking and similar other mobile services are of special significance to Bangladesh and extensive use of mobile services can take us far ahead in e-governance in Bangladesh.
With insufficient infrastructure and lack of long term e-government planning, Bangladesh will lose out on the crucial benefits of e-government in making public administration cost-effective, efficient, citizen-centric, transparent and accountable and thereby delaying poverty elimination and sustainable development.
Bangladesh needs inclusive e-participation policy, broad ranging e-services, extensive open government data portals, extensive local contents in Bangla, expansion of Internet access in remote areas, extensive e-ticketing for transports, overcoming digital divides between different sections of society, strategy for reducing national and local government paper works. Also required are further expansion of electronic transactions between government agencies, businesses and other areas.
Elimination of the digital divide between rural and urban areas and between other sections of society is essential to implement and expand e-governance and to improve global status. A peaceful political environment is essential for intellectual, social, cultural and economic development. Time and time again, the nation's dream for Vision 2021 with e-services has been shattered by the turbulent political situation. The country is urgently in need of peaceful and tranquil political environment for the development of all sectors, including e-services and e-governance.
The author is Emeritus Professor of Daffodil International University, Dhaka