Sheela Devi: Tale of a Woman Freedom Fighter
We first met Sheela Devi [a pseudonym] on May 11, 1997. It was not easy to persuade her to tell us about her experiences in 1971.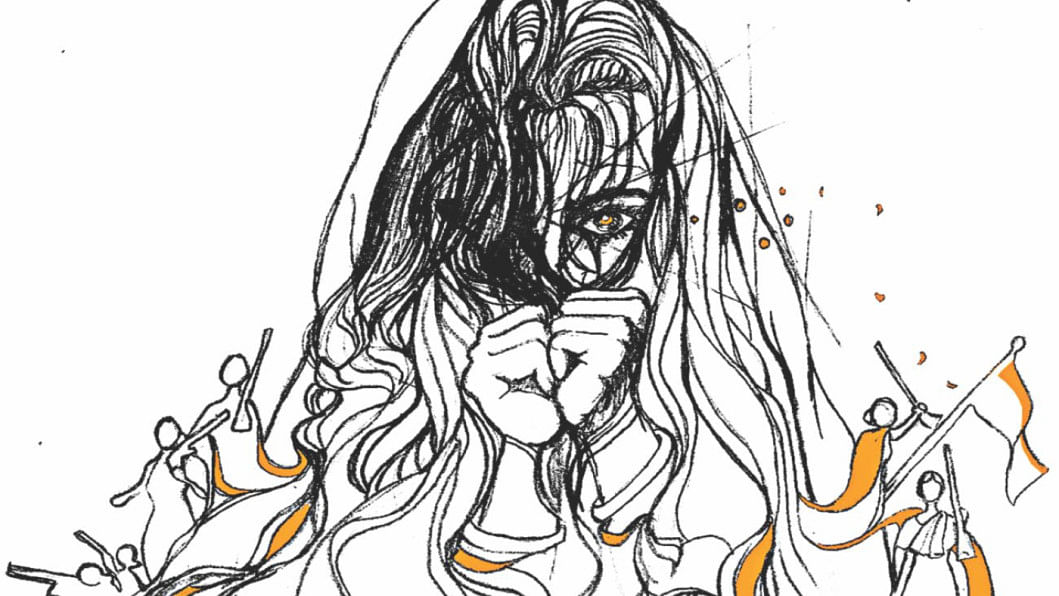 We first met Sheela Devi [a pseudonym] on May 11, 1997. It was not easy to persuade her to tell us about her experiences in 1971. It was only after a great deal of persuasion that Sheela finally agreed to meet us and tell us her story. However, even after agreeing to the interview, she refused to let us record what she said. Accordingly, we were obliged to sit down every evening and write out what we remembered from our visit.
Sheela was a moody woman. In a good mood she would talk at length, in a bad mood she would not say a word. Sometimes she would flare up without the slightest provocation. She was paranoid, always afraid of eavesdroppers overhearing what she told us. She would say there were spies everywhere, enemies all around her. At such times she would clam up and we could make no progress. Sheela's narrative was disjointed and she would move randomly from one incident to another. She would often talk about unrelated things. Those who knew Sheela believed that she was not quite right in the head.
Sheela could sew well, so people gave her a lot of tailoring to do. There were often people in her house. This created a problem because, when there were other people around, Sheela would refuse to speak about the Liberation War or about 1971. On several occasions we had to return frustrated from our visit.
Here is Sheela's story, put together from the disjointed fragments of information that she gave us over a period of three months.
"I belong to a Brahmin family ... We were four sisters and two brothers. One brother and one sister are dead. Like most other Brahmin families, our family was also fairly conservative.
"My father was an allopathic doctor. We were fairly well off, and I had a pleasant childhood. We brothers and sisters used to sing and dance. We used to have great fun together.
"In 1971 I was to appear for the Matriculation examination. At the time I was friendly with a Muslim boy. He was also a freedom fighter. I don't want to tell you his name—you will understand why after you hear my story.
"In April 1971 a distant maternal uncle of mine got me involved in the war, despite the vehement objections of my family. I could draw very well. And the man I loved was also a freedom fighter. That is why I also wanted to fight in the war. In the beginning, my work was to prepare food for the freedom fighters and to carry messages back and forth. Two of my friends were also involved in this work.
"Sometime in June or July, I started to work in the mukti joddha camps, drawing maps for the freedom fighters. Our task was to draw maps of places where the freedom fighters would be carrying out their operations. Before the start of any operation we girls would visit the place and check it out carefully. We would also point out the houses of razakars to the freedom fighters ... My friends and I would stay in the freedom fighter's camp. This was in May. One of us would cook; I would draw maps. Afterwards we would go around with the freedom fighters, showing them the houses of razakars.
"The Pakistani army had set up two camps in our area. In the meantime, Sher-e-Bangla Fazlul Haq's son had joined the Pakistanis. As a result there was no military action on Chakhar. I was very courageous. Along with the freedom fighters I would go close to the Pakistani camp. The Pakistanis had cleared the forested areas and had chopped down the guava trees.
"I continued to participate in the fighting. In the midst of this I suffered a great tragedy. [After saying this Sheela Devi was silent for some time.] I will not be able to tell you what it was. I will never tell anyone about it, never.
"After the war ended, I did not return home but tried to see the man I loved. I met him and I spoke to him. I asked him to marry me. He said, 'I have just returned from the war. And, moreover, my family will not accept you.' The sky seemed to fall on me. I took shelter in the house of a friend.
"After a couple of months I left for India. My relations were reluctant to give me shelter knowing what had happened to me. [She never once used the word "rape," referring to her experience as durghatana, accident or misfortune.] I stayed in the home of one of my acquaintances and took a sewing course. I returned to Bangladesh briefly for two months, staying with my friend, to appear in the Matriculation examination. I returned home finally in 1974. No one from my family had even looked for me. They were angry with me because I was friendly with a Muslim boy. My misfortune had alienated them from me even more. They believed that I was in India.
"In 1974, I returned to Bangladesh. This time I was quite alone. I tried to see my lover again, even though he had rejected me once. He told me he had joined the Shorbohara Party. He told me to join as well and advised me to sacrifice myself for the people. I listened to him. Before joining the Shorbohara Party, I passed the Intermediate examination.
"In 1975, after the assassination of Sheikh Mujib, charges were brought against the two of us under the Arms Act. He was arrested. A warrant of arrest was also issued for me. Freedom fighters were intimidated and tortured. Towards the end of the year, I managed to flee and come to Dhaka. It was a very bad time. People were afraid of each other. No one knew whom to trust. Can you imagine this situation? Unless you have had experiences like mine, you will never understand.
"I had no relations in Dhaka, but a stranger befriended me. The woman I introduced as my aunt is not really my aunt, but a woman who gave me shelter. This woman, who became like a mother to me, looked after me for seven or eight years. I used to do sewing in her house as well.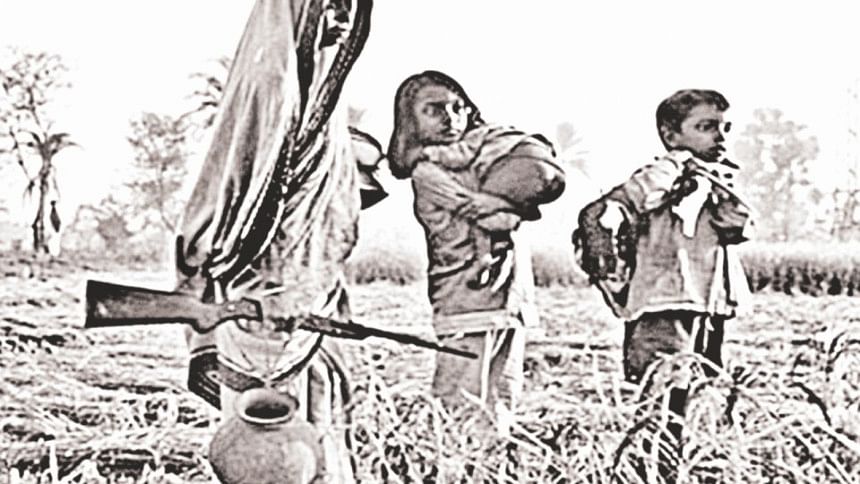 "I approached Faizul Haq to help lift the charges against us. He was then a minister under President Ziaur Rahman. In 1971, he had sided with the Pakistanis. Nevertheless, in my desperation, I was forced to seek his aid. He managed to vacate the charges and I was released from jail.
"I was still staying in my aunt's house when I went to meet him [the man she loved]. He was grateful that I had been able to arrange his release and agreed to marry me. I was overjoyed, thinking that my life would change for the better. But a couple of months after our marriage, he took me back to my aunt's house. His family was pressurising him to give me up. I had given him all the money I had saved through my sewing. I had converted to Islam. Because I wanted his family to accept me, I had even learned to read the Quran. But his family refused to accept me. He came two or three times to Dhaka after that, but he did not take me back with him." Continuing her story, Sheela said that she had taken up her present job in 1977. "After I started working, I rented an accommodation. But I was unable to stay there. I moved to the house of my friend Jyotsna's father [a pseudonym].
I stayed there for several years because I felt afraid to stay alone. I used to imagine that people were following me. I tried to go back to my husband, but he beat me twice and threw me out of the house. Still, from time to time, he would come and ask me for money. He got married again.
"I was staying at my aunt's place at the time. Even after his second marriage, I tried to go back to him a couple of times, but every time he beat me. In 1985, I left my aunt's place and moved into staff quarters. At that time my younger brother, who had gone to India, came to stay with me. He was the only one of my family who had kept in touch with me. Nowadays he stays with me. For these 25 years after liberation, I have tried to commit suicide but I haven't succeeded.
"When people ask me about 1971, all I say is that I was a freedom fighter. I do not want to remember anything else. I am still very afraid. In the middle of the night, I continue to wake up in fear. Anyone else in my place, would have died long ago.
 "I didn't have any children. But I tell people that I had a son who died. If I hadn't said this, people would have thought that I was bad, inauspicious. Women who live alone arouse curiosity and gossip.
"I am not in touch with my relations. At the beginning I had no connection with them at all. At present I meet them occasionally, but I am closer to those who gave me shelter when I was in trouble. One of my sisters got married after the war. Another sister got married a short while later. I didn't attend the marriage of either.
"In 1985, my younger brother returned to Bangladesh. In fact, I had sent him a letter when he was in Kolkata. After that we kept in touch. It was through him that I was able to contact the rest of my family.
"One of my uncles stays in India. Of course he is not really related to me. I took shelter in his house for some time. He did a lot for me. Sometimes strangers are better than one's relations. He still sends me clothes and other gifts from India. After the war was over, my own relations refused to take me back. Can you imagine that I was all alone in Kolkata? That was when uncle gave me shelter. He still keeps in touch with me. Acquaintances have been closer to me than my real family. After my brother died, I did not go to meet my sister-in-law. I do not like her. I didn't even go when my sister died."
We met Sheela Devi's younger brother. We learned that he had spent some time in India. In 1985 he had returned to Bangladesh and since then had been staying with his sister. He told us, "Occasionally, Didi gets very upset. On these occasions she behaves quite abnormally and talks somewhat disjointedly. The Liberation War has affected her badly."
He told us that Sheela had sat for the Matriculation examination in 1971. At that time she could sing and dance very well. She could also draw. After the war she stopped singing and dancing. He said, "Former, President Abdur Rahman Biswas had invited me to sing at a function. I declined the invitation. Thinking about it now, I believe I made a mistake. Everyone took some advantage or the other. We suffered so much during the war. My sister's life turned upside-down. Is it wrong for us to take some benefits?"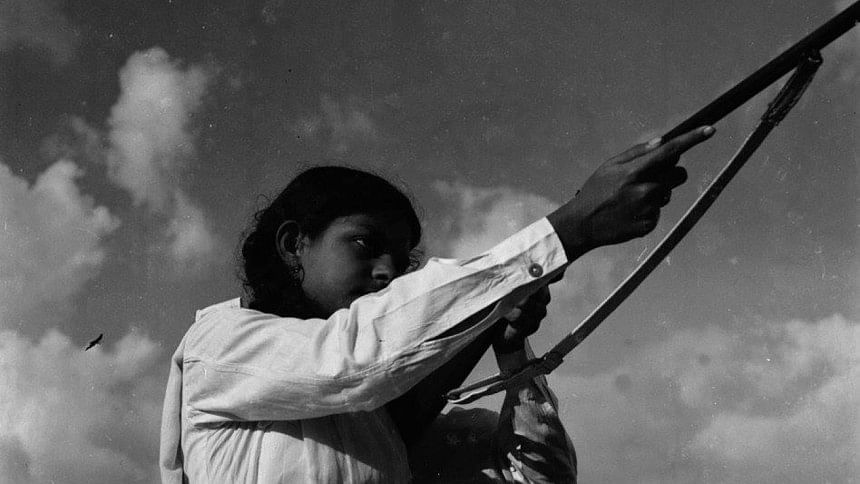 Sheela Devi had three sisters and two brothers. One brother had died some time ago, and a sister had died shortly after getting married. Sheela's mother died on February 18, 1984; her father died later that year, on December 16. Talking to us, Sheela Devi said, "My family now consists of just this one brother. I don't have much contact with my sisters. I don't want to go back home."
From time to time, Sheela Devi would look terrified and start talking to some invisible person. She would say things like, "No, no, you will not go anywhere alone. There are enemies all around us. I don't trust anyone. If people hear you talking about the war, if they see the two of us conversing together, both you and I will be in trouble." At other times she would say, "I am going to take revenge twice: against the Pakistani army and against my husband." At other times she would say, "I think everyone is a razakar." Once a certain gentleman came to visit her. Pointing to him, Sheela Devi whispered in our ears, "He is a university teacher but belongs to the Jamaat. He is a razakar. Didn't I tell you that we are surrounded by enemies? He comes to my brother to learn singing. This is a pretext, to ensure his own safety."
When we had first met him, Sheela's brother had told us about a young freedom fighter from their area who had been killed. He wanted to keep alive his memory. While we were talking, Sheela Devi listened to use with her head bowed. She didn't join in the conversation. However, when someone said that even people who had not fought in the war were eager to get certificates that they had been freedom fighters, Sheela Devi suddenly raised her head. "Who is a freedom fighter?" Agitatedly, she added. "I too am a freedom fighter."
During the course of our conversation, we discovered that in March 1997, Nari Pragati Sangha had given a reception to women freedom fighters. Sheela Devi hadn't gone. She said, "I have some problems, so I don't go to these functions."
Sheela did not like to talk about what had happened to her. She explained, "I do not want to remember the war, I have nightmares when I try to sleep. And to whom will I say these things? I feel everyone is an enemy," She added, "I am afraid of nightmares, very afraid."
Sheela refused to provide any information about others. For example, she didn't tell us anything about the woman she called Khala. All she said was, "One day I'll take you it Khala's house." She didn't want to give us here husband's name. She also did not volunteer information about her child who had died, and about whom we had learned from other sources. When we asked her about her child, she denied that she had had a child.
Sheela tended to introduce people as relations. At the most difficult time of her life, Sheela had had to live without the support of her family. The only what she had been able to survive was by creating relationships, through the kindness of others. At present too she lives alone, and it is with the help of these relationships that she manages to survive. This was her legacy of 1971. The Liberation War changed her life, uprooted her from her moorings, her relations, her society, her religion. In a fact, it alienated her from the world around her. Hurt, stubborn, angry, Sheela Devi is fighting still. The 1971 was is not over for Sheela Devi.
This is an extract from a chapter of the same name in Rising from the Ashes: Women's Narratives of 1971 translated by Niaz Zaman, published by The University Press Limited
(UPL) (2013). Reproduced with permission from the publisher.