Team Bangladesh wins four bronze medals at Int'l Economics Olympiad
International Economics Olympiad (IEO) is an annual competition for high school students that intends to stimulate their interest in the field of economics, business, and finance through a creative problem-solving approach.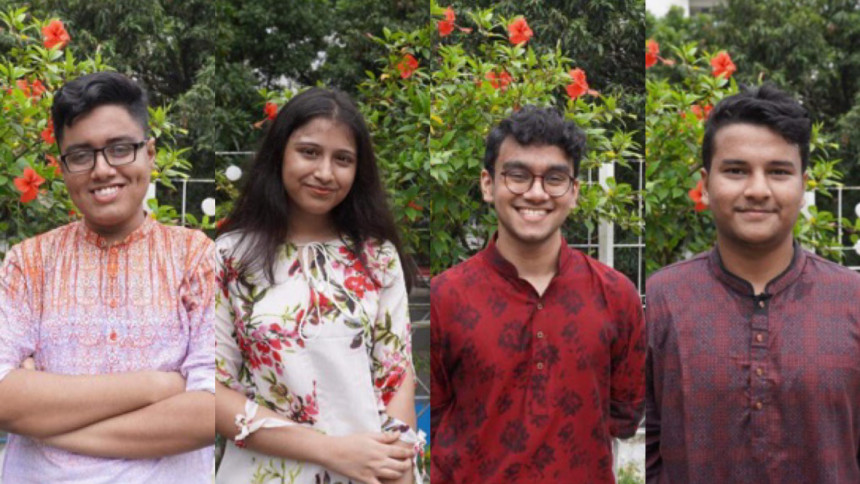 This year, the competition, hosted by Latvia, was organised virtually. Team Bangladesh bagged four bronze medals. The winners are Farhan Mashrur from Mastermind, Samreen Sarwar from Playpen, and Prachurjo Das and Masrur Tehzib from Scholastica.
IEO consists of a financial literacy game, an economics exam and a business case. The literacy game consists of a character who has to grow their capital and income over a period of time using financial tools of buying shares, bonds, and indices. "The economics questions were primarily based on theories taught in two books; The Economy by CORE, and Principles of Economics by Gregory Mankiw," Masrur shared. Organisers also tested the participants' understanding of microeconomics and macroeconomics and focussed on mathematical proficiency and general knowledge based on real-life economic issues.
Lastly, the business case was a team event where participants were provided with 24 hours to solve a real-world business problem and present plausible solutions. "The competition was conducted on the website of the University of Latvia, under a proctored session that monitored the audio, video, and screen of each participant. For the business case presentation, our team gathered at The Westin, Dhaka," Prachurjo shared. The presentation was completed through a Zoom meeting where team leaders from other countries acted as the international jury.
After completing the initial registration from Bangladesh Economics Olympiad's Facebook page, the participants sat for the MCQ round on Protijog.com. Among hundreds of participants from all over Bangladesh, the top 30 were shortlisted for the theory round. This resulted in the selection of the top 24 candidates who attended the National Economics Camp. "Post camp, we had to sit for a challenging selection exam which consisted of MCQs, open questions, and a business case that we had to solve individually within 24 hours," Prachurjo added. The top 5 performers from this exam were chosen to represent Bangladesh at the event. 
The results were announced during a closing ceremony conducted via a Zoom webinar. It was also broadcast live on the IEO Facebook page. Representing Bangladesh has been a privilege for the team and they are pleased with their performance. "It was challenging to compete with around 200 meritorious students from more than 40 countries but we were expecting a good result, given the efforts we had put in," Samreen asserted.
The virtual Olympiad restricted the movement of the participants, but the organisers arranged ice-breakers, virtual meals, and guest lectures to keep the participants engaged while allowing them to relax after hectic exam sessions. "We could not meet our competitors in person, but we all connected through different social media platforms. This was a new and unique experience," Farhan concluded.
The author is a medical student and a freelance journalist who likes reading, scribbling, and blogging. Email: mislammonamee@gmail.com.