SUST unrest: Decision after talks with students
Dipu Moni says after meeting teachers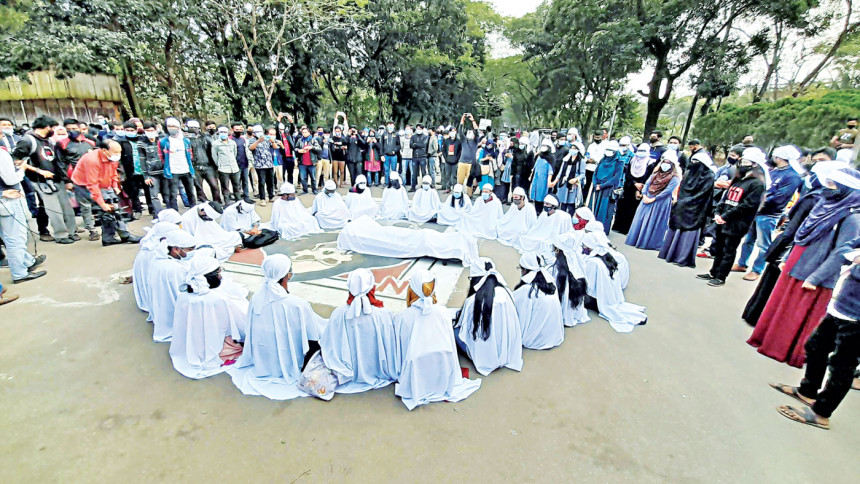 After meeting a five-member delegation of Sust teachers, Education Minister Dipu Moni last night said the issue at the university in Sylhet would be resolved through discussions with students.
"The door for talks with students is always open. Following the meeting, I felt that there might be some others, apart from the teachers, involved in the issue," she told a press briefing at her residence on the capital's Hare Road. 
"I can't say clearly, but there might be some instigation from someone or there might be another dimension of this issue," she also said.
Earlier in the afternoon, some 200 Sust students marched silently through campus wearing white shrouds, marking 72 hours since a group of them began their fast unto death.
The students have been demonstrating for the resignation of VC Farid Uddin Ahmed for days.
"Our friends are continuing the hunger strike… If someone wants to hold on to his position at the cost of the lives of 23 fasting students, he doesn't have human values. We appeal to the president and the prime minister to take immediate action to save the lives of our fellow students," a student spokesperson said before they began marching on the campus of Shahjalal University of Science and Technology.
The fasting students have been given intravenous rehydration and nutrition supplements. Sixteen of them were hospitalised as of yesterday afternoon. They have not broken their fast.
Twenty-four students began the strike at 2:50pm on Wednesday. One of them had to leave after his father had a heart attack, hearing that his son started a fast unto death.
On January 13, a group of resident students began demonstrating, alleging that their provost, Zafrin Ahmed Liza, misbehaved with a student who called her to report bad food and other issues.
The protest gained momentum after police fired rubber bullets and threw sound grenades in a clash that left over 30 students injured on Sunday evening.
During the meeting yesterday at Dipu Moni's residence, UGC Chairman Prof Kazi Shahidullah, Sust Teachers' Association President Prof Tulshi Kumar Das, General Secretary Prof Muhibul Alam, Physical Science Faculty Dean Prof Rashed Talukder, Applied Science Faculty Dean Prof Ariful Islam and Business Faculty Dean Prof Dr Khairul Islam were present.
The education minister also said the police action on students and harassment of teachers should be investigated.
In response to the minister's call for discussion, the demonstrating students said they wanted to sit for the discussion without any further delay as those on hunger strike were suffering.
"No matter what, we want the VC to step down. If needed, all of us will join the hunger strike," a spokesperson for the students said during a briefing.