Separatists against truce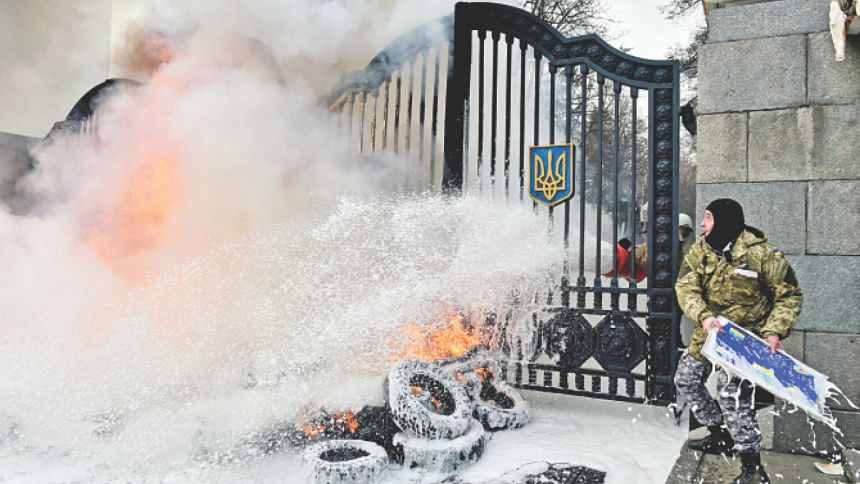 Pro-Russian separatists vowed yesterday to mobilise up to 100,000 fighters for their latest east Ukraine offensive as the US mulled sending weapons to Kiev's out-gunned forces after the latest truce bid collapsed.
The ambitious pledge to dramatically escalate a nine-month conflict that has already left at least 5,100 people dead came as the rebels battled to encircle beleaguered transport hub Debaltseve.
"There will be general mobilisation in the (separatist) Donetsk People's Republic in 10 days' time, we plan on mobilising up to 100,000 men," rebel leader Alexander Zakharchenko told the separatist news agency DAN.
The surge in fighting comes as Washington and NATO's military commander appear to be moving towards supplying arms to Ukrainian forces, The New York Times reported Sunday.
President Barack Obama's administration was reviewing whether to provide "lethal assistance", in addition to non-lethal aid such as body armour and medical equipment which it already supplies to Kiev, it said.
US Secretary of State John Kerry is set to jet into Kiev on Thursday to pledge Washington's support during talks with President Petro Poroshenko and Prime Minister Arseniy Yatsenyuk.
Western governments and Ukraine have accused Russia of sending regular troops and arms to bolster the rebels and spearhead the latest offensive -- claims Moscow has repeatedly denied.
French President Francois Hollande, German Chancellor Angela Merkel and Ukrainian President Petro Poroshenko, speaking by phone on Sunday, expressed their regret for "the failure of the talks" in the Belarussian capital Minsk.
The three leaders again called for "an immediate ceasefire", according to the French presidency.
Mediators and Ukrainian representatives accused the separatists of scuppering Saturday's truce talks despite growing international pressure to end a surge in violence in recent days.
The Organization for Security and Cooperation in Europe (OSCE), which is involved in the talks along with Russia, said that rebel negotiators in Minsk "were not even prepared to discuss implementation of a ceasefire and withdrawal of heavy weapons".
Instead the insurgent representatives called for a total revision of an earlier Kremlin-backed peace plan signed in September that has formed the basis for all negotiations, the OSCE said in a statement.
The rebels say they now want to redraw the demarcation line between the two sides to include gains they have made since ripping up a shaky truce and pushing into Ukrainian territory.