Climate change is supporting growth of invasive alien plants in Nepal
Study suggests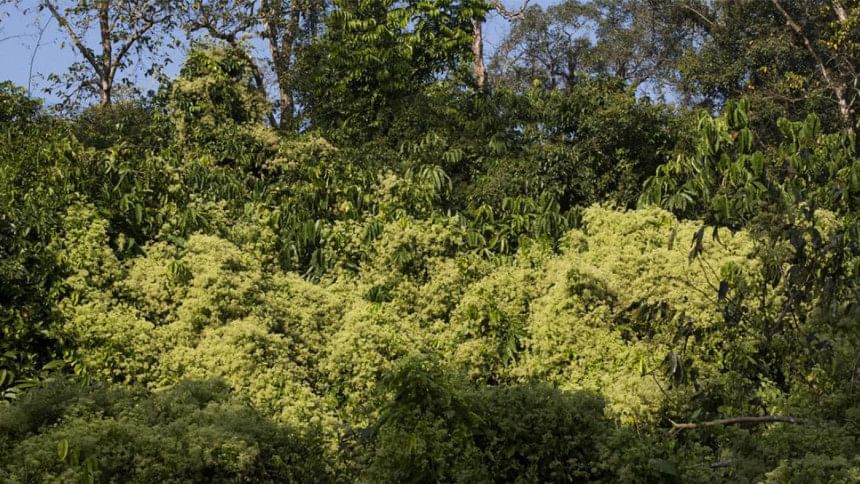 Climate change is not just disrupting weather patterns, it is also supporting the growth of invasive alien plants in Nepal, according to a recent study.
The study, 'Climate change amplifies plant invasion hotspots in Nepal', published in the journal, Diversity and Distributions, states that climate change poses a 'risk of biological invasion' by increasing areas friendly to invasive alien plants (IAPs).
Nepal is already one of the most vulnerable countries in terms of the impacts of climate change.
The research article—jointly authored by Uttam Babu Shrestha, a research fellow with the Institute for Life Sciences and the Environment, University of Southern Queensland, and Bharat Babu Shrestha, associate professor at the Central Department of Botany, Tribhuvan University—concludes that the distribution of both native and invasive plant species is likely to change in the near future and that change can be attributed to climate change. 
IAPs are one of the biggest threats to biodiversity, as they cause adverse impacts on native plants and the overall ecosystem.
Scientists say these impacts are often "immense and irreversible".
"These invasive alien plants have negative impacts on biodiversity, agriculture, human health and the overall economy," Uttam Babu told the Post. "Invasive alien species are one of the major drivers of native biodiversity loss globally."
For the study, the researchers had studied 24 out of 26 identified invasive alien plants in Nepal and calculated their status under current and future climates.
The results showed that the climatically suitable regions for 75 percent of these invasive species will expand. 
"Nepal has diverse climatic conditions, which means any species introduced here can easily thrive, adapt and prosper," said Uttam Babu. "Our results show that climate change will open up new suitable habitats for IAPs here in Nepal."
For instance, a maximum increase in suitable area was predicted by 923 percent for Pistia stratiotes, commonly known as water lettuce, whereas the maximum decrease in suitable areas was only by 36 percent for Oxalis latifolia, purple wood sorrel. 
So far, 179 alien plant species have been identified in Nepal, but not all of them are invasive.
According to Uttam Babu, alien species are introduced, whereas invasive species are non-native species that cause harm to native species.
The research predicts that the future of invasion hotspots for IAPs will expand towards high elevation mountainous regions because of massive transformation in land use due to development of infrastructure and expansion of tourism and trade.
According to another report by Bharat Babu Shrestha, the co-researcher, there is already a high concentration of IAPs in the southern parts of the country, including the Tarai, the Siwalik and Mid Hills with tropical to subtropical climates. These IAPs have caused wildlife habitat degradation, among other consequences
A separate study has said Mikania micrantha, first reported in 1963, was responsible for 44 percent of the habitat degradation of the one-horned rhino in Chitwan National Park by suppressing the growth of grasses and preventing the regeneration of trees. 
"The impacts of IAPs like water hyacinth, or jalakumbhi, in Phewa Lake and mikania in Chitwan National Park are tangible. They have impacted the ecosystems and native flora and fauna, but controlling and eradicating them will require money and resources," said Uttam Babu.
Copyright: The Kathmandu Post/ Asia News Network (ANN)