Colombia's president, Farc announce justice deal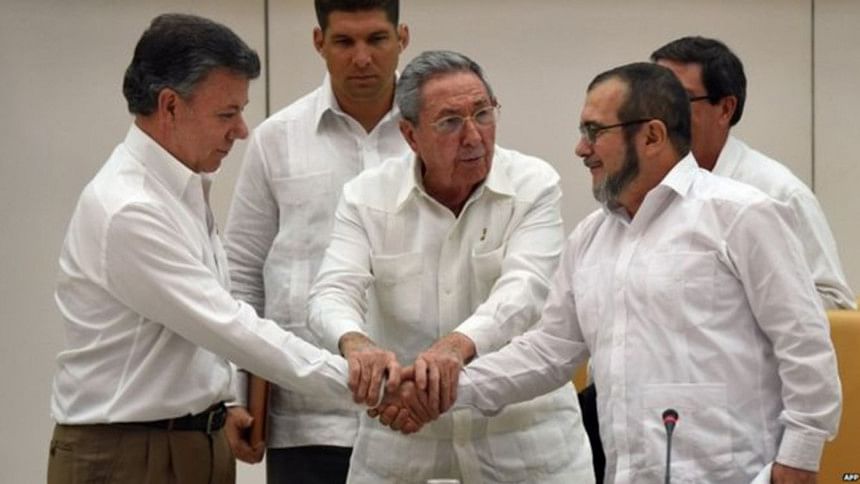 Colombia's president and the leader of the Farc rebel group have announced a deal on setting up special courts to try crimes committed during more than five decades of conflict.
They also announced the creation of a truth commission and an amnesty law.
President Juan Manuel Santos and Rodrigo Londono, known as Timoleon Jimenez or Timochenko, met in Havana.
The agreement is seen as a major breakthrough after nearly three years of peace talks hosted by Cuba.
"The time for peace has arrived," said Santos.
The Colombian leader said he had agreed with Timochenko that a final peace accord would be signed within six months.
"On 23 March 2016 we will be bidding farewell to the longest-running conflict of the Americas," he said.
Under the deal signed on Wednesday combatants will be covered by an amnesty law, except those who have committed war crimes and human-rights violations.
Negotiators from the government and the Farc, Colombia's largest rebel group, have already reached agreement on land reform, political participation and illegal drugs.
Timochenko renewed calls for the government to agree to a truce during the negotiations to allows "the transformation of the Farc in a legal political party".
Many analysts considered transitional justice the thorniest issue under discussion.
Cuban President Raul Castro said peace was closer than ever. "We have advanced much further than ever before," he said. "I'm sure the obstacles will be conquered."
Some Colombians had expressed their frustration with the slow pace of the talks, as no major agreement had been reached since June 2014.
A deadly rebel attack which left 11 soldiers dead in April led to an escalation of hostilities that threatened to derail the peace process.