'3 Bangladeshis among 89 militants in Philippines'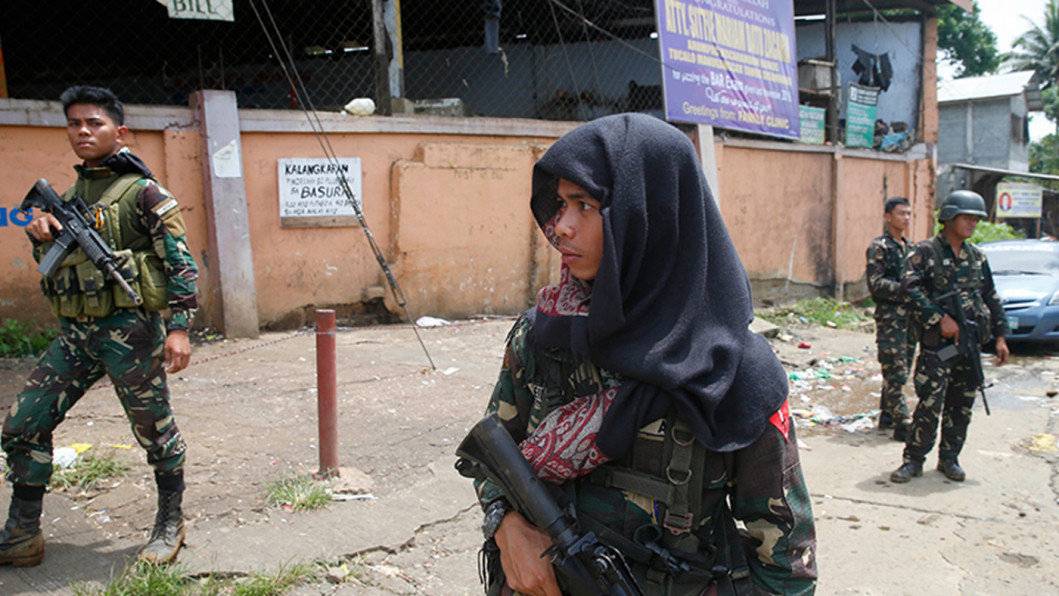 Philippine security forces claimed to have identified three Bangladeshi nationals among the 89 suspected Islamist militants who holed up in southern town Mindanao since May 23.
A police intelligence report obtained by Kyodo News shows the suspected militants include 28 Indonesians, 26 Pakistanis, 21 Malaysians, four Arabs, three Bangladeshis, one Singaporean and one Indian-Singaporean. The nationalities of the other five foreigners were not identified, reports The Philippine Star.
The Philippine English daily quoting Kyodo News, a Japan-based news agency, said the information was revealed by Philippine officials during a meeting with Indonesian and Malaysian counterparts in Manila last Thursday.
According to the report, at least 89 "suspected foreign fighters" are in various parts of Mindanao including Marawi City, the area attacked by Islamic State-inspired Maute terrorists last May 23, the newspaper added.
Philippine security forces, however, are verifying information about the alleged presence of the suspected terrorists in Mindanao, said Presidential Spokesman Ernesto Abella today.
It is possible that the foreigners entered the Philippines through the southern backdoor, where the point of entry is Mindanao via Indonesia or Malaysia, he added.
"Authorities are still validating the report that 89 suspected foreign fighters are in Mindanao," Abella said in a statement.
At least eight of the terrorists killed during encounters in Marawi were foreign fighters. 
Of the slain foreign militants, two were Saudis, two were Malaysians, two were Indonesians, one was a Yemeni and one was a Chechen, according to the country's Defense Secretary Delfin Lorenzana.
The militants in Indonesia and Philippines were encouraged by series of terror attacks in Bangladesh from early 2013 to last year's July 1 Gulshan cafe attack and they wanted to follow the model of the attacks in their home countries, according to a recent report of Indonesia-based Institute for Policy Analysis of Conflict (IPAC).
Southeast Asian groups, like Jemaah Islamiyah in Indonesia and Abu Sayyaf in the Philippines, find it easier to connect with Bangladeshi network through stints with IS fighters in Syria and Iraq and solidarity initiatives for Rohingyas in Myanmar and also through a few overseas workers and students who develop sympathies for global terror groups, the 13-page report states.
Links between Bangladeshi and Southeast Asian extremists appear to be growing amid increasing population movements across the region, it adds.
READ MORE: New axis of terror in Southeast Asia
But efforts to recruit Bangladeshis for the ISIS jihad in Mindanao have largely failed but this could change, says the IPAC report.
At the same time, the emergence of a new Rohingya armed rebellion on the Bangladesh-Myanmar border in October 2016 raised questions about whether might lead in the future to possible collaboration between Bangladeshi and Southeast Asian extremists in defence of Myanmar's Muslims, it further reads.