51 held in Thailand for 'human trafficking'
30 still being sought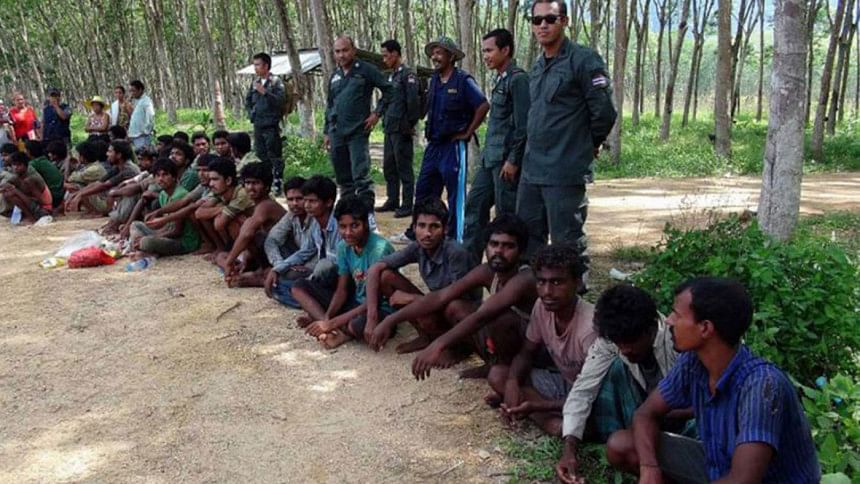 Arrest warrants have been issued for four more suspects allegedly involved in trafficking of migrants from Bangladesh and Myanmar, police said yesterday.
Region 9 Police deputy commander Pol Maj-General Putthichat Ekachan said the four new arrest warrants brought the total to 81. Some 51 suspects have been arrested, while 30 were still at large.
He said police were hunting the remaining suspects in Songkhla, Satun and Ranong.

Putthichat said police yesterday brought 12
Rohingya
migrants to identify sites believed to be camps where they were detained and asked to identify which suspects manned the camps where they were held.
The police also took pictures of various camps to show to some suspects who confessed to human trafficking charges, to identify which camp they worked at.
Songkhla Provincial Police deputy chief Pol Col Treewit Sripapa said 12 Rohingya migrants were brought to Glass Mountain in Songkhla's Sadao district.
He said the migrants remembered the route and led police to their camps. They told police details about each camp.
Meanwhile, a Thai national who allegedly owned a boat recently found by the Myanmar navy crammed with more than 200 migrants has been arrested, Myanmar's state media said yesterday.
The 53-year-old man was detained in the country's biggest city, Yangon, the Global New Light of Myanmar reported, adding that his capture was made after authorities exchanged "information with Thai police".
The paper said the man operated under a handful of Myanmar aliases, but his Thai name was Naingnut Patunsantun and he came from Ranong province in Thailand.
"He was said to have contacted human trafficking gangs in Bangladesh and trafficked people into Thailand and Malaysia," the report said.
The report did not say when the arrest was made or what the man was charged with.
Last week Myanmar's navy discovered more than 200 bare-chested men in the hull of a wooden, Thai-registered fishing vessel.
It was the first rescue the navy made since Myanmar came under increasing pressure to stem the exodus of persecuted Rohingya Muslims from its shores after a Thai crackdown on the lucrative regional smuggling trade left thousands of desperate migrants stranded on land and sea after gangs abandoned them.
Thousands of Rohingya from Myanmar as well as Bangladeshi economic migrants have been attempting perilous boat journeys organised by people-smugglers to Southeast Asia.
Malaysia is a favourite destination. Migrants often travelled to Thailand by boat, then overland to northern Malaysia.
On Friday, a second vessel with more than 700 migrants was found by Myanmar's navy in the Irrawaddy delta region.
-The Nation/Asia News Network