Suspects named after US mass shooting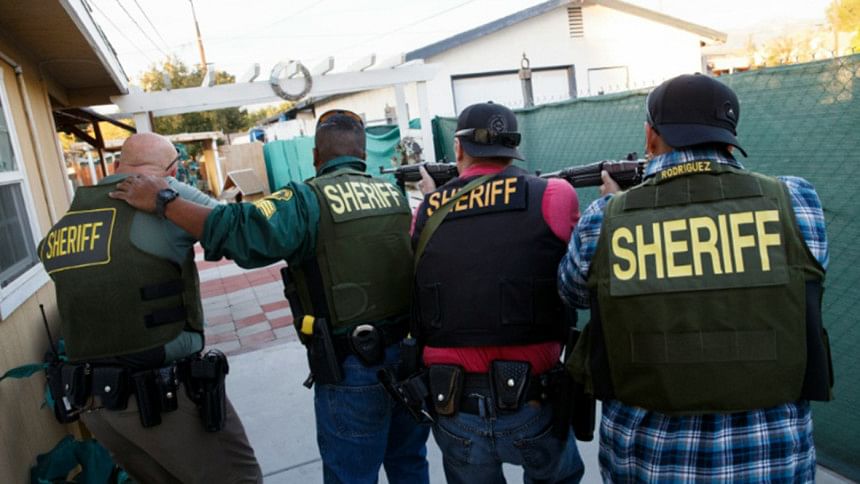 Police in California have named two suspects killed after a mass shooting which left 14 people dead at a social services centre.
The man and woman, Syed Rizwan Farook, 28, and Tashfeen Malik, 27, were killed in an exchange of fire with police.
Farook had been a county employee for five years, San Bernadino Police Chief Jarrod Burguan said.
The attack took place at an office event on Wednesday. None of the victims has been identified.
The incident marks the deadliest mass shooting in the US since 26 people were killed at a school in Newtown, Connecticut in 2012.
The Inland Regional Center in San Bernadino specializes in helping adults with disabilities and mental health problems, but the shooting appeared to be unrelated to the patients.
Burguan, who said another 17 people were wounded, said police were "reasonably confident" that there were just two shooters.
Both suspects were killed in their vehicle after a shoot-out with police involving 20 officers. A tip-off had earlier led police to a house in nearby Redlands.
The dead man and woman were believed to be a couple, the police chief said. They were armed with assault rifles and semi-automatic handguns and wore military-style clothing.
One police officer was injured, but his injuries are not life threatening.
Three possible explosive devices were found at the Inland Regional Center, where the shooting took place.
 Burguan said that Farook had left the event - which was possibly a holiday party for employees or a meeting - "under some circumstances that were described as angry," and returned with Malik.
Earlier, the FBI said it was not ruling out the possibility of terrorism but the situation was still being investigated.
San Bernardino is a city of about 200,000 people, 60 miles (100 km) east of Los Angeles.
At the scene: James Cook, BBC News, Los Angeles correspondent
As darkness fell, San Bernardino felt more like a warzone than a city in California. For much of the day the air had been alive with the sound of sirens, helicopters and, at times, gunfire.
Outside the social services centre where the shooting began, the wounded were treated on a street which resembled a field hospital.
Suddenly paramilitary-style police, explosives experts and ambulances took off in a wail of noise. They were racing to the scene of a gun battle with the suspects.
For this city, it has been a day of panic and chaos, as people struggle to cope with America's worst mass shooting in three years. By one measure though, there has been more than one mass shooting on average every day this year.
In that respect this was just another day in the United States of America.
At around 11:00 local time (19:00 GMT) on Wednesday, the shooting began at the social services centre. Hundreds of people were evacuated as police officers swept through the massive complex and into the residential area.
Others locked themselves in rooms waiting for police to arrive.
"People shot. In the office waiting for cops. Pray for us. I am locked in an office," Terry Petit's daughter texted him from inside the centre.
The attack took place in a conference area where the San Bernardino County Department of Public Health was holding a social event, said Maybeth Field, the centre's president.
Farook, who was born in the US, worked for the county as an environmental health specialist, police said. They had no information on whether he had a criminal record, nor further details on Malik.
Colleagues told the Los Angeles Times that Farook had travelled to Saudi Arabia and returned with a new wife. The couple had a young baby, they said.
The mass shooting comes just days after three people were killed at a Colorado Planned Parenthood clinic.
US President Barack Obama said in response to the shooting: "One thing we do know is that we have a pattern of mass shootings in this country that has no parallel anywhere in the world.
"There are some steps that we could take, not to eliminate all incidents, but to make sure they happen less frequently."