BEE Global: Empowering your global education journey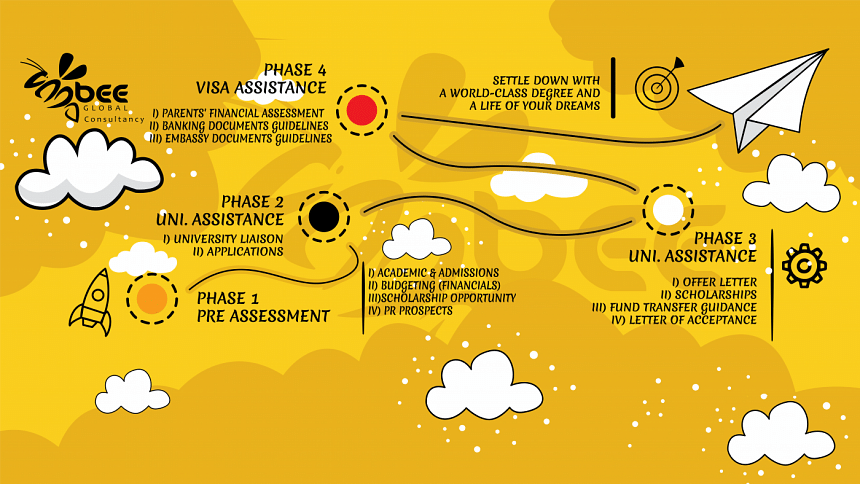 BEE Global Consultancy, a sister concern of BEE Global, was established in 2014. Since then, BEE ventured into addressing the higher education needs of students looking to study abroad.
The Daily Star recently spoke with Nusrat Jahan, Chairperson of BEE Global, and Afsana Ratri Mishu, Chief Business Officer of BEE Global, to delve into how BEE Global facilitates students in applying for higher education abroad through its extensive array of educational programs.
Can you please give a brief description of BEE Global Consultancy for our readers?
Nusrat Jahan: At BEE Global Consultancy, we offer a wide range of study abroad programs in popular destinations such as Australia, Canada, the USA, and the UK. Whether students are looking to pursue a Bachelor's, Master's, Diploma, or PhD program, our team of experts can assist them every step of the way.
We understand that finances can be a concern for many students, which is why we collaborate with a wide range of institutions offering affordable programs with superior quality and academic atmosphere.
Additionally, we provide scholarship opportunities to make studying abroad more accessible and turn students' dreams of studying abroad into reality. We offer assistance with IELTS preparation and visa applications, ensuring a smooth transition to their new student life.
Our goal is to make studying abroad accessible and enjoyable for every student. We are committed to helping students achieve their academic and career goals through our comprehensive study abroad programs, expert guidance, and unwavering support.
We are fully prepared to offer the best possible experience for our students and are excited to assist students on this life-changing journey as international scholars.
We provide full transparency in our services, allowing students to easily update their profiles at every step. We create a supportive family environment for students throughout their entire journey, ensuring that no apprehension or fear affects this critical juncture in their lives and careers. We meticulously assess each file at every stage, minimising the risk of visa rejection. Our commitment to utmost transparency and clear communication with clients is unwavering.
What makes your agency stand out from the rest?
Nusrat Jahan: Our agency's hallmark is maintaining absolute transparency and factual communication with students. BEE Global Consultancy is revolutionising the student support and counselling realm through its innovative approach, emphasising real-time updates, transparency, and holistic solutions. We take pride in transparent communication. We recognize the significance of accurate information in decision-making processes. By offering clear and factual insights, students can rely on the advice they receive, cultivating confidence in their choices.
What potential hurdles could students encounter?
Afsana Ratri Mishu: Education and higher studies are transformative events in anyone's life. Each student must make a resolute decision aligning with their academic background, aspirations, future goals, and affordability from a financial standpoint. Each student is distinct and necessitates tailored solutions tailored to their circumstances. The most significant challenge lies in selecting the right country, institution, and program.
A major hurdle is students' limited knowledge of foreign education. Frequently, they form opinions based on feedback from peers, seniors, and relatives studying abroad, which significantly narrows down their options.
An expert counsellor can guide aspiring students toward the program that best suits them. The second challenge revolves around visa documentation. In many cases, visa documents, particularly financial records of sponsors, lack proper presentation. While many families have substantial net worth, the absence of a desired presentation order diminishes the visa success rate.
Lastly, many students view higher education as a path to permanent residency. While this aspiration is reasonable, students often lack a clear understanding of the actual circumstances of various regions, PR prospects, post-study work permits, and more. It's vital to recognize that global conditions change swiftly. PR opportunities in certain regions evolve every 2 to 3 years, making forward-looking goal-setting imperative for students. At BEE Global, we encourage students to actively engage in every phase of the process, enabling them to make informed and logical choices.
Do you have any special message for students aspiring to study abroad?
Afsana Ratri Mishu: Your journey as a student is our journey as well. From the moment you decide to study abroad to the day you set foot on your chosen campus, we stand by your side. Our comprehensive counselling solutions ensure that no detail goes unnoticed.
Remember, the challenges you encounter are stepping stones toward your success. Each obstacle you overcome builds resilience and character, moulding you into a more robust and capable individual.
As you prepare to spread your wings and explore new horizons, remember that BEE Global Consultancy is here to offer unwavering support, pragmatic solutions, and a guiding hand. Your dreams fuel our inspiration, and we are thrilled to accompany you on this transformative journey.