To Washington's glee, Ukraine war hits Turkiye's military ambitions
But it's Moscow and Kyiv who are paying the price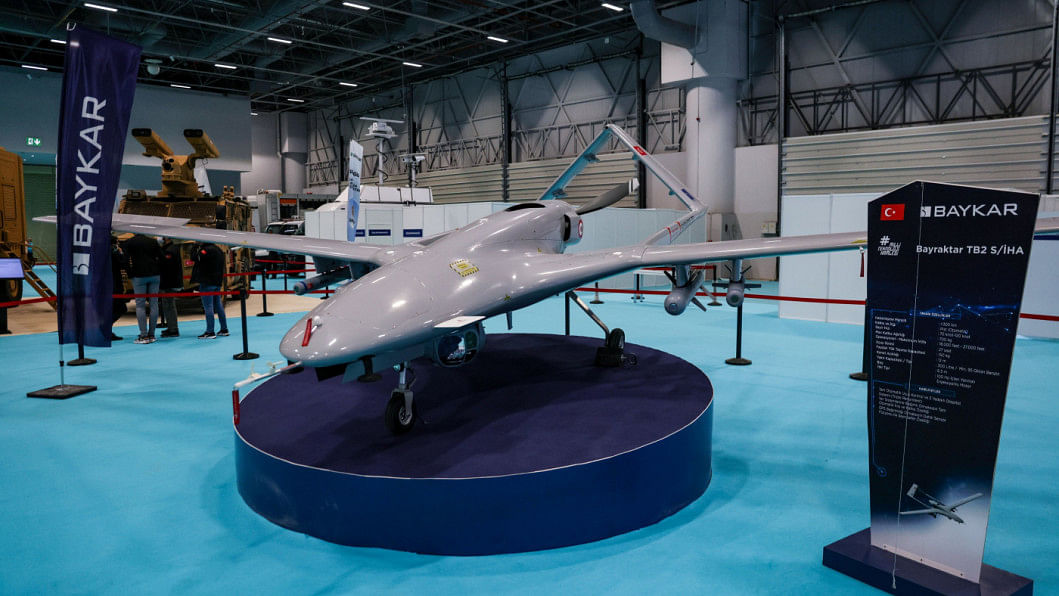 For the last few years, Turkiye has been Nato's unruly kid.
Since 2014, it has been allowing Islamic jihadists to cross the Turkish borders to slip into Syria and join Islamic State (IS). Ankara launched three offensives into Syria against Syrian Kurdish fighters, a US ally. It also helped Iran evade American sanctions by channelling funds through Turkish banks. In 2017, it purchased the Russian S-400 missile defence system. Last year, Ankara announced its plan to buy more of the same from Moscow.
Then came Putin's Ukraine invasion in February. Nato and the EU took Ukraine's side. But Turkiye declined to fall into Washington's line and continued its balancing act between Russia and Ukraine.
But there are bigger issues. First, it is improving its defence manufacturing capacity by developing indigenous technologies and reducing dependence on the US. Second, it is supplying military equipment to others.
The last decade has witnessed a spectacular boom in Turkiye's defence industry. Between 2015 and 2019, its arms import has dropped by a whopping 48 percent, compared to the preceding five-year period. Previously, 70 percent of Turkiye's military hardware was imported, which has now reduced to 30 percent. The arms industry's size has grown from USD 1 billion in 2002 to USD 11 billion in 2020, of which USD 3 billion were exports. Bangladesh is among one of Turkiye's major arms buyers.
The reputation of Turkiye's drones has reached a proverbial status after its phenomenal successes at various battlefields. In February 2020, in a clash with the Syrian army and its allies in Idlib, Turkish drones incapacitated Russian-made Syrian defence systems. It then launched a "drone blitz" to destroy Syrian tanks and infantry. From April to June in 2020, Turkiye and Russia took opposing sides in Libya's factional war. Turkish Bayraktar drones halted General Khalifa Haftar's Russian-backed forces from advancing towards the capital Tripoli, changing the balance of power. In September 2020, Azerbaijan brought Armenia to its knees with drone attacks against its air defences, tanks, and troop concentration. In the ongoing Ukraine war, Turkish drones have destroyed significant Russian targets.
No wonder drones are one of the most sought-after Turkish items on the international arms market. More than 10 countries, including Pakistan, Qatar and Poland, have already signed deals to buy it, with many others showing interest. But these drones and other equipment's dependence on Western technologies could easily jeopardise Turkish grand plans.
The Foundation for Defense of Democracies (FDD), a Washington, DC-based non-profit foreign policy research institute, published a report in March highlighting Turkiye's critical dependence on foreign technology – mostly American – for advanced engines. This is, of course, the case as a Forbes magazine report elaborates.
The Turkish Navy has indigenously built multipurpose frigates and corvettes, increasing its size and strength. However, only 60 percent of its production is local; the rest depends on foreign technology. Turkiye's T129 ATAK, a twin-engine all-weather attack helicopter, is based on America's Agusta A129 Mangusta platform with Turkish-made avionics and weapons. The much-publicised home-grown Altay main battle tank needs foreign engines, which Germany and France had earlier declined to supply. Subsequently, two Korean manufacturers, Doosan Infracore and SNT Dynamics, came to its rescue.
But the US or any other source country could easily throw a spanner in the works. In March last year, it blocked a deal to sell Pakistan a fleet of 30 T129s for USD 1.5 billion because the helicopters contained US-built engine parts. Previously, Canada suspended sensor supply for the TB-2, and Rotax (Austrian subsidiary of Canada's Bombardier) declined to deliver engines.
Acutely aware of its shortcomings, Ankara wants to eliminate all dependency on foreign suppliers for its defence industry by 2023. But considering the current situation, that may not be possible even by the end of the decade. It has, however, found a convenient solution in Ukraine, a republic of the former Soviet Union.
Soviet strategy was to spread its defence industry over the vast country to reduce its vulnerability to military strikes. Ukraine was the repository of many sophisticated naval and aviation technologies, including advanced aircraft engine plants and associated research facilities. After the fall of the Soviet Union in 1991, Ukraine inherited all those and was willing to offer services to anyone willing to pay.
Ankara has negotiated with several Ukrainian aerospace firms, such as Motor Sich, Ukroboronprom, and Ivchenko-Progress. Motor Sich has agreed to build a local factory for manufacturing Turkiye's Bayraktar TB2 Combat UAVs with its own engines. It will also provide engines to Turkish Airspace Industries' (TAI) ATAK II helicopters. Ivchenko-Progress has agreed with Baykar Defence, a leading Turkish UAV manufacturer, to provide AI-25 engines for its Combat Unmanned Aerial System. Ukraine has become a key element in Turkiye's defence grand plan.
But all that could change depending on how the Ukraine war unfolds. The Kremlin is well aware of the symbiotic relationship between Ukraine and Turkiye. It's hardly surprising that it will target Ukraine's defence plants. A Foreign Policy report confirms that Russia has destroyed several defence establishments in Ukraine, including an anti-ship missile facility near Kyiv, the Malyshev tank factory in Kharkiv, and heavy industrial complexes in the cities of Kharkiv, Mariupol, and Mykolaiv.
But the same attacks are also serving Washington's purpose, regardless of the war's outcome. A Russian victory would make Turkish defence ambitions difficult. But even if Russia fails, the significantly damaged Ukraine's defence capabilities won't have much remaining to offer. Either way, Washington wins.
Dr Sayeed Ahmed is a consulting engineer and the CEO of Bayside Analytix, a technology-focused strategy and management consulting organisation.