Murad's mind-numbing misogyny
Is forced resignation enough punishment for a member of cabinet who issues rape threats?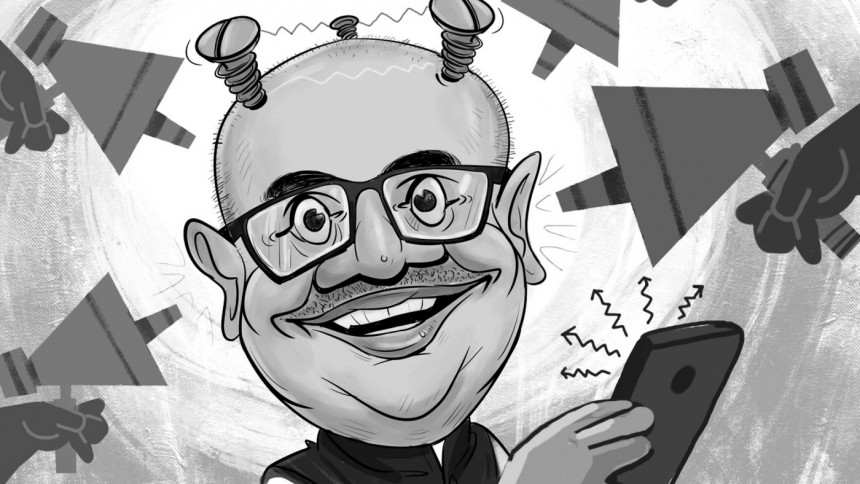 State Minister for Information and Broadcasting Murad Hassan has been made to resign from his post, at the specific instructions of the prime minister of Bangladesh, and women across the country who have been following the recent developments in this regard have breathed a collective sigh of relief. We are grateful to the PM for her swift and decisive actions, demonstrating that there is no place in her cabinet for members who make such vile and misogynistic comments in public spaces and brazenly display a total lack of respect for women, without even a second thought to what the consequences may be.
For anyone not clued into the recent controversy, a quick recap. The first video of the ex-minister that was widely circulated on social media, about six days ago, consisted of him hosting an event where he calls a model onto stage and goes on to comment on her "zero figure". His failed attempts to be witty are met with scattered laughter and the woman in question becomes increasingly uncomfortable, at one point visibly recoiling as he advances towards her—not the sort of behaviour that anyone would expect from a member of cabinet, but also not the sort of behaviour that we expected one to get fired for, because men in this country have done so much worse.
The second video surfaced a day later, where he brings up the granddaughter of the leader of BNP and calls her a slut, among other things, and also questions the paternity of the opposition leader's son. (These might not be the sort of words one expects to read in a reputed newspaper. Then again, they are also not words that one expects to hear from the mouth of a cabinet member). His comments become more and more vile, while the interview host, who runs a Facebook page called NahidRains Pictures, eggs him on and sniggers at every disgusting comment—although he has now done a full 360 and changed his tune, even going so far as to congratulate the government for not tolerating Murad's "arrogance and obscenity". At one point, Murad brags about how obscene he really can be, saying if he gets started, he can make your eardrums burst with his language. A strange sort of brag from a member of parliament.
As expected, the country's feminist organisations immediately took a stand and condemned Murad's comments. In their press release, Naripokkho asked, "how can a public representative and a member of cabinet not only make such misogynistic and racist comments, but also take pride in them?" And although we fully shared in their astonishment, many of us did wonder—would this be enough to land him in trouble? In a country where an MP can stand up in parliament, in the very seat of our democracy, and argue that scanty clothes and too much liberation is the reason behind women being raped—where a judge can imply that rape victims who consent to drinking, dancing and partying are also consenting to being raped—would a state minister be reprimanded for his offensive and misogynistic comments? Or would this be laughed off and accepted as one of those "boys will be boys" (read: men will be toxic and misogynistic with impunity) situations?
It is now clear that the final nail in Murad's coffin was the release of a phone conversation with two film actors, the contents of which are impossible to repeat here, except to clarify that what he said, without a doubt, counts as a threat of sexual violence. As this voice clip made the rounds from Monday, criticism of this controversial public figure increased and spread like wildfire as we all continued to discuss—how can this not move party leaders to act? Will this finally spell the end for Murad Hassan?
Once again, we applaud the government for setting our fears to rest. In this instance, we must personally commend the prime minister, since the initial comment from the Road Transport and Bridges Minister Obaidul Quader, of how Murad's views were "personal" and did not represent the party or the government, filled us with dismay. Yet, only a few hours later, after a conversation with the PM, he disclosed to reporters that Murad Hassan has been asked to resign from the cabinet.
However, we feel compelled to ask, especially given the initial lack of outrage from the only party representative commenting on the issue—is this enough punishment for Murad Hassan? When criticism of his comments began to mount, Murad's first reaction to the press was that there is "no question" of him issuing an apology. This is not only after he had been found making vulgar and sexist personal comments about the opposition leader and her family, using the sort of language and rhetoric that has no place in the political spaces of any decent society, regardless of how charged and competitive those spaces may be. This is after he had been caught threatening to abduct an actress after she had refused his advances, by employing members of the law enforcement and intelligence agencies. This is a public representative, whose job is to work for the people of this country—threatening to use the forces who are there to protect the same people he is meant to work for, in order to drag a woman to his bed to be raped. This is a member of parliament, claiming that he is able to abuse his power to the extent of using the arms of the country's justice system to commit a violent crime against a citizen of this country.
Will this same man be allowed to stand up in parliament and speak for us? What does this tell us about the leaders of this country, and about the sanctity of our legislative assembly? Does that mean more men like Murad will be allowed to represent us, or worse, that they already do? And if that is the case, if we really have policymakers who are willing to sit in the same house with men like Murad—who are okay with political representatives who cannot even treat women as human beings, let alone treat them with respect—how can we ever expect to achieve our rights as equal citizens of this country?
I would also like to point out that while Murad Hassan was making violent and misogynistic comments online, he was doing so with the pictures of the prime minister and the Father of the Nation in the background. We must remember that he is not only a representative of the government, but of a party whose roots go back to the very creation of this country. At a time when Bangladesh is celebrating Bangabandhu's birth centenary and the 50th anniversary of liberation, what does this say about us as a nation if a man like Murad continues to be a member of Bangabandhu's party?
Shuprova Tasneem is a member of the editorial team at The Daily Star.
Her Twitter handle is @ShuprovaTasneem