Climate anxiety and the rights of future generations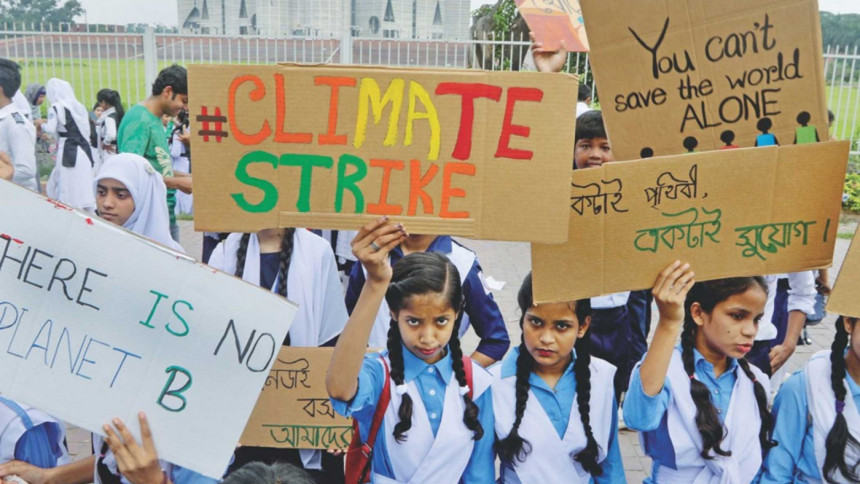 I was around 10 when I first heard about the idea of, as it was then known, global warming and how Bangladesh will one day go underwater as sea levels rise. I was told I don't need to worry about it, because it wouldn't happen for many, many years. I don't know if that particularly allayed my fears. 50 years seems like a lot at that age, but it's still well within your lifetime. When you're 10, that's a scary thought. When you're 26, it's almost paralysing.
A recent survey of 10,000 young people around the world suggests that I'm not alone in feeling this way. At least 60 percent of people reported that they were "very worried" or "extremely worried" about climate change. Only 5 percent reported that they were not worried. Sixty-eight percent of respondents said the thought of climate change made them feel "sad" and "afraid", while 63 percent said it made them "anxious" and 58 percent "angry". The largest proportion of worried young respondents were from the Philippines, India and Brazil—developing countries already grappling with the adverse effects of climate change. This study validates a phrase that has increasingly entered the popular lexicon and one you will see pop up a lot more in the coming years: "climate anxiety."
Climate anxiety has become a catch-all term used to describe emotions including anger, worry and insecurity stemming from an awareness of a warming planet, increasing natural disasters and extreme phenomena, as well as the future consequences of climate change. For many young people growing up now, the effects of climate change are no longer something that could happen many, many years from now; it is extremely real, already happening and is something will only get worse during their lifetimes.
After all, why wouldn't children be anxious? For many, a changing climate world is all they have ever known. Bangladesh, as one of the most vulnerable countries in the world, knows this all too well. The children of coastal regions in Bangladesh have lived through a plethora of climatic and natural disaster related problems already. Bombarded by tropical cyclones that cause yearly loss of life, livelihood and property, many in these regions are robbed of their childhoods. Then think of the regular flooding, land erosion, reductions in groundwater and encroaching salinity that have plagued many in rural areas across the country. And when faced with such frequent traumatic devastation, how are children expected to cope? Can they really lead normal lives, go to school, play with their friends and grow up as functional members of their community when there is such uncertainty and insecurity in their lives? In addition, the loss of traditional livelihoods in these areas has led many to abandon their lands and move to cities for employment and income. Those that stay, risk losing their homes and compromising their health, and often find themselves increasingly losing income too, as fish disappear and lands become less arable. The effects of poverty on mental health have long been established and correlated—it is not farfetched to consider the same for climate change.
The discourse around climate change has undergone a marked shift within the last half a decade or so. The phrasing around impacts has gone from "possible" to "already happening", from the future to the immediate. It is no longer even referred to as climate change in many cases, but rather as climate crisis, climate emergency and climate catastrophe. Much of this shift is due to the relentless activism of young people around the world, who have mobilised to demand urgent and decisive climate action from governments.
Children are one of the least-spoken-about, politically marginalised groups of people. Especially in Bangladesh, there is a cultural air of dismissiveness toward the concerns of children. It is seen as disrespectful for them to challenge their elders. Yet the children of today are the ones who will be alive to see the devastation of climate change unfold. And increasingly, these are voices that must be heard and amplified if climate action is to preserve a functional biosphere for their future.
The rights of future generations is a murky concept, even within the international human rights framework. By its nature, much of the human rights law is reactive—a violation must occur before it can be tried. Climate change, thus, often becomes hard to bring under conventional jurisprudence—the effects, although increasingly visible, are still often projected, and attributing blame for emissions becomes difficult due to its transboundary consequences, as emissions from one country affect others on the other side of the world. However, there is increasing momentum to take on these legal challenges.
The precautionary principle is a concept that is being pushed in the human rights framework as it relates to environmental laws and especially when it comes to the duties of states to future generations. As defined in a draft memorandum prepared by the Yale Law School, it is defined as the principle that, "States have an obligation to take steps to reduce or eliminate threats to the protection of fundamental human rights even if the degree of threat is uncertain." In the same document, it is said of the duty to future generations: "Obligations to future generations are implicit in customary and conventional international human rights law. States have a duty to respect the rights of future generations by taking immediate measures to prevent climate change and to address its consequences."
While these concepts are still developing in international human rights law, they have a long history of being implicit and acknowledged. Even in Bangladesh, these duties are recognised and reflected in Article 18A of the Constitution, which states that: "The State shall endeavour to protect and improve the environment and to preserve and safeguard the natural resources, biodiversity, wetlands, forests and wildlife for the present and future citizens." As acknowledged elsewhere, climate change presents an unprecedented threat to human rights around the world, and this concerns the future generations as it can negatively impact their most fundamental rights including, but certainly not limited to, the right to health, right to a healthy environment and most importantly, their right to life.
While it may seem almost a luxury to consider the welfare of those who have not yet been born when faced with the already catastrophic effects of climate change—in the form of extreme weather events, climate-induced migration and rising temperatures and sea levels—the reality is, increasingly, children are being born into a dysfunctional and terrifying new world. Thousands of cases have been filed over the last half a decade on arguments of intergenerational equity and the rights of future generations, and the legal framework around these concepts will only be enriched and developed quickly through those actions. As mentioned earlier, climate change has not only been ravaging the lives of young people materially, but it has contributed to an epidemic of anxiety among them as well.
For the millions of young people who are already here, and for the countless ones that will arrive in the coming years, these developments are of paramount importance. Those who may not be alive to see the devastation of a worsening climate owe it to those who will, to do everything in their power to prevent and prepare for our new reality.
Bareesh Chowdhury works at the Bangladesh Environmental Lawyers Association.
His Twitter handle is: @brshhc