Abdul Gaffar Chowdhury: His journey towards 'immortality' began at 17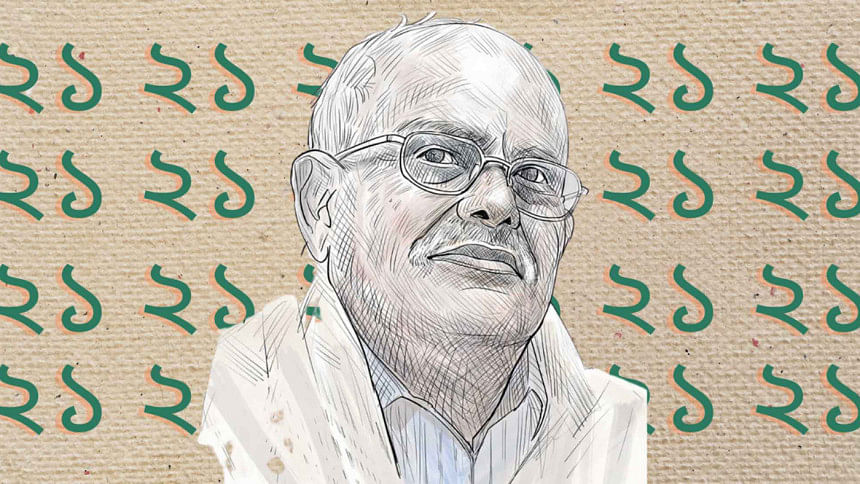 On February 21, 1952, police opened fire upon the Bangali population that sought their birthright—a right to use their own mother language. A boy of 17, and a Dhaka College HSC student at the time, Abdul Gaffar Chowdhury had rushed to the hospital to visit the injured.
In the OPD of Dhaka Medical College, he came across the decapitated corpse of language martyr Rafiq. The adolescent Abdul Gaffar felt waves of strong mourning; it was as if he had lost his own brother. This sorrow is what is incarnated in the timeless verses of "Amar bhaiyer rokte rangano Ekushey February."
Around the same time, this poem ended up in a manifesto; published through a clandestine meeting that took place in the capital's Gendaria area. Initially, in 1953, the poem was given a tune by Abdul Latif. In that same year, the song was performed for the first time at the Brittania Hall in Gulistan, during the inauguration ceremony of the recently elected Student Union of Dhaka College. 
In March of that year, the poem was published in "Ekushey February," a historic collection edited by Hasan Hafizur Rahman. Later on, it was again given a tune by Altaf Mahmud. This tune was used for the first time when the song was performed during 1954's probhat ferry.
Since then, every year on February 21, countless Bangladeshis have sung this timeless tune while attending the probhat ferry to pay their respects to the martyrs of the Language Movement—a practice that has now spread worldwide. Later on, this song was voted the third best Bangla song in history during an audience poll by BBC Bangla.
Many consider the Language Movement to have been the first step towards the eventual struggle for freedom in Bangladesh. And Abdul Gaffar Chowdhury, who actively took part in each and every step of the Bangali nation's struggle for freedom, including the Language Movement, is said to be an ardent witness to the different twists and turns in the nation's history.
This renowned journalist and the founder-executive editor of the first registered newspaper of independent Bangladesh (established through Mujibnagar government) "Joy Bangla," passed away in a hospital in London on May 19, 2022, at the age of 88.
Even though he had lived in London since 1974, Abdul Gaffar's pen never ceased to uphold the spirit of our Liberation War and secularity. Despite being a non-residential Bangladeshi, he continued writing commentary pieces on politics and various other contemporary topics for national dailies. He also wrote poetry, novels, stories, dramas, memoirs and articles.
Abdul Gaffar's write-ups were especially popular amongst the country's politically-conscious readers during the entirety of the 1980s, when the dictatorial government of General Ershad was in power.
This is how he became a household name in Bangladeshi media, and within the country's cultural, political, and intellectual spheres.
However, there is no doubt that Abdul Gaffar will be remembered most vividly for penning the timeless song that has immortalised the memories of our language struggle. Whenever and wherever this song is pronounced, speakers of the Bangla language will be reminded of him.
As lyricist Gazi Mazharul Anwar has said, "As long as Bangladesh exists, this song will exist alongside it." He adds, "This (song) had unveiled new ideological standards. (Abdul Gaffar) had fulfilled our need of the hour—which was to retaliate—through his song."
Abdul Gaffar Chowdhury was born in Ulania under Mehendigonj thana on September 12, 1934. Despite being a zamindar, his father, Wahed Reza Chowdhury, was more prominently known as a freedom fighter and a member of the All-India Congress' Working Committee within British-ruled India. He had even worked as a secretary to the then Congress minister, Motilal Nehru.
Abdul Gaffar graduated from Dhaka University in 1958. In 1950, during his student life, he joined the Daily Insaaf newspaper. Later on, he took charge of Mohammad Nasiruddin's monthly Saugat. He became the assistant editor of Daily Ittefaq in 1956. Two years later, he took charge of Tofazzal Hossain Manik Miah's political magazine, "Chabuk."
Afterwards, Abdul Gaffar worked for the Daily Azad, the Monthly Mohammadi, Daily Jihad and eventually became editor of the weekly Shonar Bangla in 1963. As the spokesperson for the six-point movement, he published the Daily Awaaz in 1966. He returned to Daily Azad in 1967, and subsequently re-joined Daily Ittefaq in 1969. After Manik Miah's passing, he joined the Daily Purbodesh.
Post-liberation, in 1974, he went to London with his family in order to acquire treatment for his ailing wife. There, he released a magazine named "Notun Din." He continued wielding the pen in both Bangla and English languages.
For senior journalist Abed Khan, Abdul Gaffar was the "heart" of the spirit of our Liberation War and non-sectarian beliefs. According to him, Abdul Gaffar was the "most reliable" pillar of Bangladesh's history, the history of the Liberation War and the political movements of Bangladesh.
Many literary critics also opined that, if Abdul Gaffar had focused more on literature instead of politics and column writing, Bangla literature would have become much more enriched.
Professor Abul Quasem Fazlul Hoq was the convener for the "Rastrobhasha Bangla Rokkha Committee," formed against the backdrop of the Language Movement in 1952. According to him, "Ekushey February is our path, it's the people's path of struggle. Abdul Gaffar walked this path through his writing about Bangalis and the spirit of being a Bangali. He could have achieved fame solely as an author. However, penning the Language Movement anthem took him and his oeuvre to an unparalleled height."
Abdul Gaffar received recognition for his work in the form of the Bangla Academy award (1967), Ekushey Padak, UNESCO literature prize and the Shadhinota Padak (2009). He also received countless other prizes and awards throughout his life.
In 2014, while collecting the Sohel Samad Memorial Prize in Bangladesh Press Institute's auditorium, Abdul Gaffar had lamented about the commercialised nature of contemporary journalism. The legend had reminisced about the "ideology-based" journalism of his time.
It is undeniable, thus, that not only in the context of Bangladeshi journalism or of contemporary history, but whenever or wherever the indestructible tune of Ekushey February—mired in the memories of martyred Bangalis—is repeated, it will also be accompanied by the remembrance of the indelible Abdul Gaffar Chowdhury.
Mamunur Rashid is a journalist at The Daily Star.