Continued hike in rice prices unacceptable
Government must find a way to reduce prices and suffering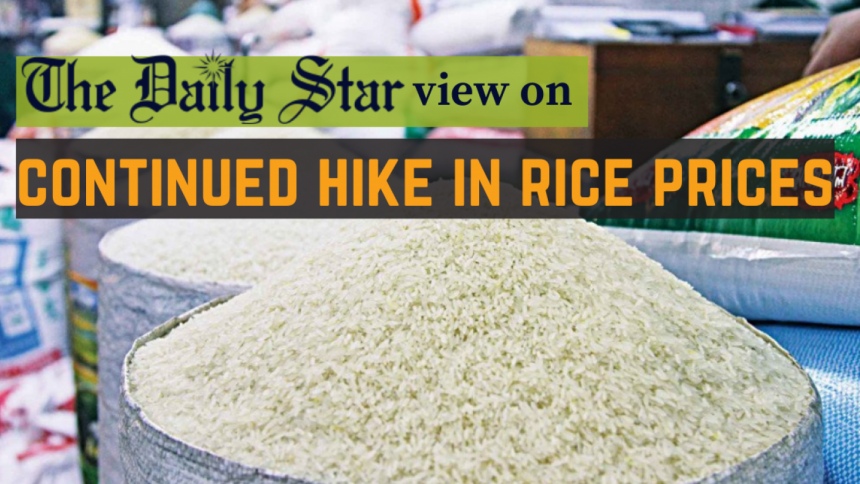 It is alarming that rice prices continue to show an upward trend, piling pressure on customers who are already struggling to cope with the increase in cost of living and the prices of almost all food and non-food items. The hike in rice prices comes against a backdrop of heightened uncertainty caused by recent flooding, especially in the rice-growing north-western region, as well as a government move to lower customs tariffs on the import of rice, which was supposed to reduce prices.
A look at the latest market price chart reveals that the price of paddy (fine grain) went up by up to 7 percent to Tk 1,400-1,450 per maund from a couple of days ago in some north-western districts. The prices of medium and coarse paddy also increased. In Dhaka, retailers on Sunday sold fine grain rice at Tk 64-80 per kg, an increase of 3.6 percent from a week ago. The question is, how long before measures taken by the government will actually start to have an impact?
There is apparently a correlation, strange as it may seem, between the hike in paddy prices and the government decision on Thursday to more than halve the tariffs on rice import. Instead of reducing the price, it actually caused a hike as traders claimed that even the reduced rice import cost would not be lower than the current market price. There is a demand for removing the import duty to contain prices. Even if that is not entertained, it may take some time for the tariff cuts to positively impact the market as importers are yet to start the process of importing from India. Other issues like low yield and crop losses in flood-hit areas and pre-existing market realities may also continue to be at play.
Meanwhile, the prices of petrol and gas have been rising since before Ramadan. Though prices of edible oil are coming down a little at the moment, it will not provide much relief if staples remain pricey. There is no denying that food prices need to be kept within the capacity of people, with subsidies if necessary, to ensure peace and order. That hasn't played very well for us yet, especially with the inflation rising to an eight-year high in May.
All this calls for decisive actions to bring down rice prices in any way possible. The government must fast-track rice import under the new arrangement and must address other destabilising factors to reduce market volatility.