'Never threaten an Iranian!': How one diplomat's outburst blew up
The weather is sultry and tempers are fraying during tense negotiations over Iran's nuclear programme - one particularly testy exchange sparked a rash of social media messages and memes.
Diplomats from Western powers, Russia and Iran have been meeting for weeks in Vienna to try to reach a deal, and progress seems to be slow. Although happening behind closed doors, the talks haven't always remained calm and diplomatic. According to reports earlier this week, during one heated exchange Iranian Foreign Minister Mohammad Javad Zarif shouted at his opposite numbers: "Never threaten an Iranian!"
A report on the incident by Iran's conservative Mehr News Agency was quickly picked up by other media both inside and outside the country and soon the hashtag #NeverThreatenAnIranian was trending on Twitter, with more than 5,000 mentions of the English version of the phrase and a rash of memes spreading on social media.
One of the most popular photos portrayed Zarif as the Incredible Hulk: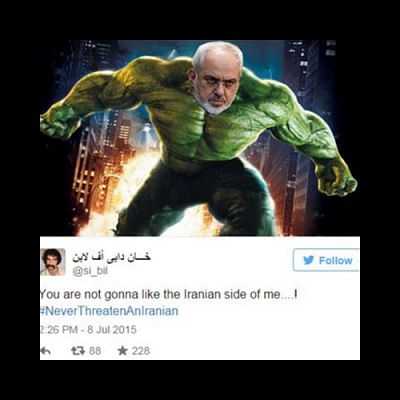 Many users expressed support for Zarif and the Iranian negotiating team, such as this message from a journalist in Tehran:
However some opponents of the Iranian government posted pictures apparently from violent crackdowns on protests in 2009, to make the point that some Iranians feel threatened by the authorities.
Meanwhile in Vienna, the talks continue, and another deadline was set for Friday. Key sticking points include international inspections of Iran's non-nuclear sites, sanctions, and how compliance will be verified.