Feature
As pandemic fatigue sets in, experts warn of danger lurking around
When the first Covid-19 cases started appearing in the country in March, an unprecedented state of panic and paranoia had settled in among most people. While many ignored the health advisories and confidently continued to disregard the dangers of the virus, most city dwellers were swift to hoard on masks, sanitisers, groceries, and braced themselves for a brief countrywide lockdown.
8 months later, the coronavirus situation looks more menacing than ever with 4,41,159 cases of infections and 6,306 deaths across the country, as of 19 November 2020. And with no foreseeable end to the pandemic in sight, people have already started to become weary of the restrictions.
The complete lockdown at the beginning of April had forced a large number of people into becoming completely jobless. Many were forced to uproot their entire lives in the city and shift elsewhere. When the lockdown was partially, and then completely lifted a few months later, these people had no choice but to resume their businesses and flock to the streets again.
But even for those who could afford to stay in and had the option to, the prolonged state of restriction became tiring. Nadia Jahan, a recent graduate from the University of Dhaka, says, "When the coronavirus first started sweeping the country and we went into lockdown, we were fully staying in. Groceries were being ordered online and produces were vigorously wiped down or washed, along with our hands. But my parents quickly grew tired of this routine and now, they just don't care that much and only do the bare minimum."
With weariness settling in, even the most cautious ones are slowly starting to visit restaurants, cafes and tourist destinations as they open up to public gatherings. While dangers still loom large, frustration from a seemingly never-ending pandemic is driving people to take up small cautious risks.
Sabira Mehrin, founder of Wander Woman--a women only travel group--said, "We slowly and cautiously began our trips with end to end health precautions and WHO driven guidelines from November 2020. Based on months of observation and discussion internally and externally, we took the bold step after declining hundreds of requests from the community to arrange trips as people got frustrated from lockdown."
"We noticed that tourism needed to survive and hence, hospitality management across the country has commenced. Keeping pace with the scenario, finally we just started our tour operations," she added.
Dr Iftekhar Rajib, a Psychotherapist at Ahoban Foundation thinks that fatigue from prolonged lockdown, general lack of awareness and herd mentality is to blame for the unnecessary risks most people are undertaking by venturing out to tours, meetups and other sorts of public gatherings.
"People are becoming more relaxed as days go by. They can only continue the strict set of routines for so long when there's no hope of the pandemic ending any soon. When they see that others are going about their days and staying unaffected, they think - 'if they can, why can't I?'- and that's a mistake we shouldn't be making. I think people should've been more scared," said he.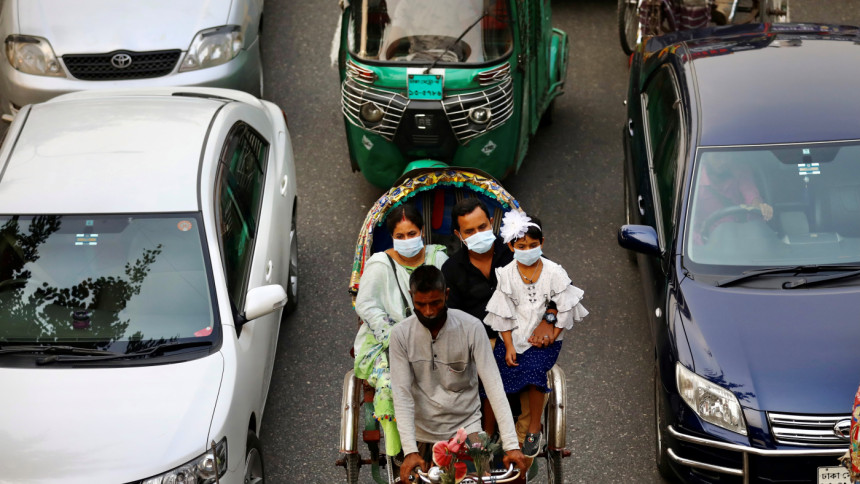 He advises people to stay in as much as possible and ramp-up in house activities like gardening, spending time with families and so on to avoid fatigue settling in.
"People should have gotten used to the work-from-home routine by now and it shouldn't be that difficult. People should stay home as long as their situation permits it," Dr Iftekhar said.
Despite knowing the risks, as people start resuming their normal lives and as winter brings with it a new set of concerns, a call-back to the beginning days of the pandemic seems timely.
Dr Aseer Intisar, a Medical Officer at Anwar Khan Modern Medical College and Hospital recounts his days at the beginning of March and April. "I was on duty when the admission was commenced and it took only four to five hours to fill all the seats of our Covid unit. I worked 12 hours per day for 10 days at a stretch and had to attend no less than 50 patients per shift. I used to come across two to three patients on an average per shift, who were brought in dead. According to their relatives, all of them had died of fever and breathing difficulty but could not get the Covid test done or get admitted to any hospital," said he.
"A few of them breathed their last right in front of my eyes. I can never forget the look in the eyes of a young adult in his thirties while I watched him die undiagnosed because of prolonged lack of oxygen. The despair, the helplessness I felt that night haunts me to this very day," he continued.
Although the situation has improved significantly in the hospitals since those days as fewer Covid patients are coming in, Dr Aseer thinks that there's no significant sign of a drop in the number of Covid patients in reality. "Nowadays, many people are taking treatment at home while consulting with their doctors at private chambers and that is the reason the patient-load on hospital beds has fallen," he said.
Addressing the concerns regarding the effect of cold weather, Dr Aseer said, "The fall of temperature and humidity makes a person more vulnerable to respiratory infections and worsens chronic lung diseases like asthma. So, it is quite logical to assume that manifestation of Covid and extent of lung infection may be more severe in winter."
But will winter really have a significant effect on the Covid situation? The government, at least, fears a second wave and has ramped up screenings at Hazrat Shahjalal International Airport, where, on an average, 4000 passengers are landing every day. A mandatory 14 days-quarantine period is also being imposed on anyone returning from abroad and a "No Mask-No Service" policy is being undertaken, the Prime Minister said at a parliamentary session on Wednesday.
Dr M Mushtuq Hosain, Advisor at Institute of Epidemiology Disease Control and Research, however, thinks that winter or not, the Covid situation might worsen any time in the coming days. "Winter or cold weather has no special effect on Covid-19. But there is every possibility of a sharp increase of Covid-19 transmission any time in the community. It may happen in the next winter, may again in next summer, unless we try consciously to bring down the transmission," he said.
"Now we are passing through the first wave. If the Covid-19 detection positivity average rate and/or the daily average number of laboratories confirmed Covid-19 cases increase to 50% for consecutive 4 weeks – we can epidemiologically come to a conclusion that we have entered into a second wave of Covid-19 pandemic in Bangladesh," explained Dr Mushtuq.
Suggesting expediting measures according to Bangladesh Preparedness and Response Plan (BPRP) for Covid-19 in Bangladesh, Dr Mushtuq said, "A clear-cut Incident Command system for a pandemic response should be set up, every laboratory-confirmed Covid-19 case must be in supportive isolation, their close contacts traced and placed into supportive quarantine, every citizen should be supported and empowered for maintaining public health and social measures (PHSM) and hospitals should ensure emergency oxygen supply is adequate for a surge situation and enforce functional, 24/7, Infection Prevention & Control (IPC) measures."