Harnessing the power of digital health to improve heart care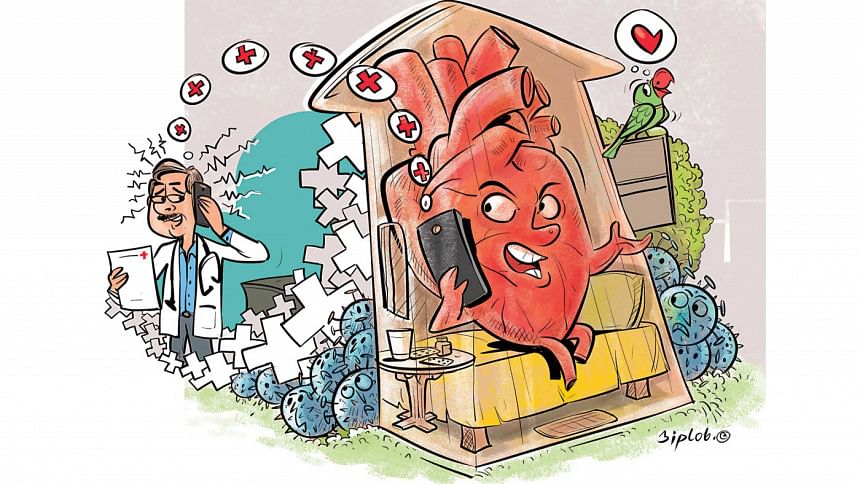 Monir Hossain found himself in a precarious situation as soon as Covid-19 hit the country in March last year. The 70-year-old businessman from Faridpur has been suffering from heart disease for the past five years and as such, regularly visits Dhaka for check-ups.
But the pandemic-induced countrywide shutdown severely limited his access to in-person cardiac care, fearing that he may contract Covid-19 while travelling to the hospital. In turn, most healthcare centres in the capital refused to see patients at the time for the same reason.
It was during this difficult situation that he came to know about telemedicine services.
"I called up a health facility that provides telemedicine and got an appointment for a video call to consult a specialist doctor within one day of registration, Hossain said, adding that he is very satisfied with the service.
So, telemedicine services have come as a great relief for people with pre-existing cardiovascular conditions as it allows virtual access to healthcare for anyone in the country amid the ongoing Covid-19 pandemic.
Telemedicine, a system that enables patients to consult a doctor by means of telecommunication technology such as telephones and video calls, is not a new concept in Bangladesh.
However, Covid-19 has accelerated the pace with which telehealth is growing with cardiac care moving out of hospitals and into homes, offices, and outlying areas to cater to the underserved.
Cardiovascular diseases (CVDs) have always been an increasing cause of concern for Bangladesh and since Covid-19 has a particularly devastating impact on people with such pre-existing conditions, those afflicted are at the greatest risk of succumbing to the rogue virus.
Among non-communicable diseases, CVDs are the leading cause of death globally, accounting for nearly 17.9 million deaths worldwide in 2019, according to the World Health Organization.
The eighth Bangladesh Demographic Health Survey (BDHS) 2017-18 published in January last year showed that hypertension among people aged 35 and above had risen to 40 per cent in 2017 from 26 per cent in 2011.
As per the survey, some three crore people aged 18 and above were hypertensive (with blood pressure above 90 and 140) while 1.1 crore of the same age group suffer from high blood sugar.
Experts say patients with underlying heart diseases need immediate medical attention and early detection and management, particularly for high-risk individuals, monitoring and treatment with real-time response to acute situations could save many lives.
This is where the role of telemedicine comes in as it reaches out all over to cater to the underserved, it said.
Patients with CVDs are at high risk of severe Covid-19 infections as their immune systems are compromised.
"So, during the pandemic, we discouraged them to come to hospitals and chambers for consultation," Dr Abdul Momen, associate professor at NICVD, told The Daily Star.
Besides, most cardiovascular patients require follow up treatments, which were very challenging to carry out amid the ongoing pandemic.
"But telemedicine played a major role here," he said.
This resulted in a significant increase in demand for this form of healthcare, leading to the birth of numerous telemedicine service platforms.
According to the Directorate General Health Services (DGHS), there are government-issued telemedicine platforms in two specialised hospitals -- the Bangabandhu Sheikh Mujib Medical University (BSMMU) and National Institute of Cardiovascular Diseases (NICVD) -- three district hospitals, and three sub-district hospitals among others.
Besides, a number of private healthcare facilities also provide telemedicine services.
"During the pre-pandemic era, an average of three cardiac patients would receive consultation every day but the number shot up to seven or eight amid the pandemic," said Mir Hasib Mahmud, chief executive officer of Best Aid, a telemedicine platform.
"Our services are not usually free but considering the pandemic situation, many doctors provided free consultations and the response was amazing," he said.
And even though the coronavirus crisis is improving, the response to telemedicine service is still good compared to pre-pandemic levels.
Best Aid currently receives around 500 queries each day while 150-200 patients receive consultation, Mahmud added.
There is a large gap between rural and urban areas in terms of the healthcare services available as the former lacks specialist care. However, telemedicine has great potential to help overcome the geographical barriers that prevent equal access to healthcare.
Various experts have noted that the widespread adoption of telemedicine amid the Covid-19 crisis has apparently set the stage for remote visits to become a bigger part of future cardiovascular care.
"The internet-based telemedicine systems would enable a large pool of doctors and hospitals to collectively provide healthcare services to patients in remote areas," said Prof Afzalur Rahman, former director of the NICVD.
However, there are some limitations of telehealth in regards to cardiac care.
Understandably, a telehealth visit may not be enough for someone with severe heart disease as the patient would need to be admitted to a hospital for effective treatment, he said.
Besides, some people find it difficult to use such technology while the lack of access to a stable internet connection also prevents many from utilising the service, Rahman added.