The challenges of childhood diabetes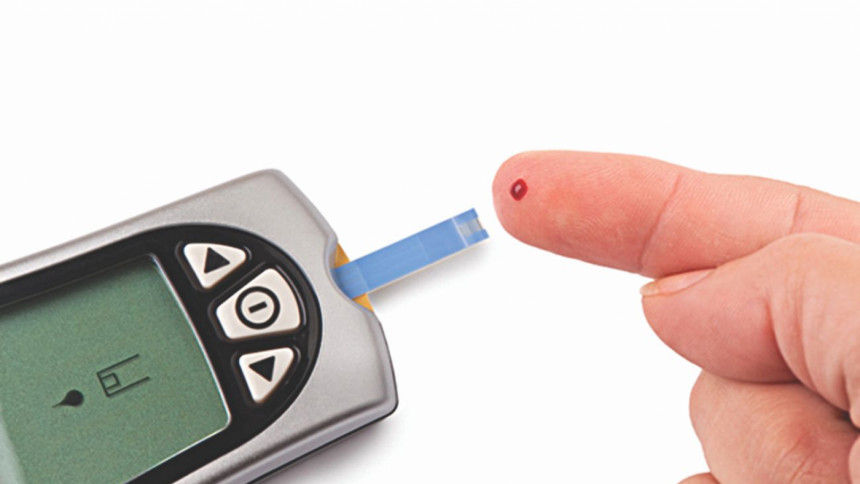 Three-and-a-half-year-old Ashfia Waniya slumped over a desk at the children's ward in a city hospital on November 4, her legs swinging below. She was waiting for her turn to come for a diabetes checkup.
Though she was not to understand yet what the disease is, she feared, like other children in the room, the pricking of her skin—the fear she goes through at least four times a day as a routine combined with a strict diet.  
Ashfia is among nearly 4,800 children registered with Birdem General Hospital, with type-1 diabetes meaning their bodies don't produce insulin which keeps blood sugar level from going too high or too low. So the only way to get a close-to-normal and healthy life is injecting themselves with insulin—every day.
Their blood sugar level has to be closely monitored. Parents constantly deal with the anxiety of having to convince their children to overcome their fear of needles and go through with the procedure and follow through with the routine.
It struck a blow to Ashfia's parents when she was diagnosed with type-1 diabetes at the age of only one year and 10 months. Then a set of guidelines was handed to them; she would have to take insulin twice and be tested for her blood sugar level as many times a day. If anything looks abnormal, she would have to be taken right way to a diabetic centre. Otherwise, she would have to come to the only comprehensive diabetic care facility in the country, Birdem, every three months.
If the disease is managed properly and diet complied with, Bedowra Zabeen, a specialist in children's diabetes, said children can have a long and healthy life just like their peers.
CHALLENGES AND A BREACH OF DISCIPLINE
They can study, play, dance and take part in other extracurricular activities. But the part where it gets tricky is maintaining discipline.
Parents not accepting the fact that their children have the disease, and thus trying to hide it make matters worse and more complicated, said psychologist and counsellor Farhana Ahmed.
Their anxiety over how to keep the issue hidden and unseen is passed on to their children. For instance, during mealtime in school, some diabetic children often skip the recommended and mandatory dosage of insulin before eating so that their classmates don't find out that they are diabetic. This compromises their health.
For a minor child, his class teacher must be aware of his condition to attend to anything unusual such as when the child starts sweating a lot or trembling. In such conditions, the child must be going through "hypoglycemia" defined by a sharp fall of blood sugar and thus needing glucose or sugar immediately to become stable.   
Farhana Ahmed said, "I often compare insulin to spectacles. I tell parents there is nothing to hide."
The social pressure to not get singled out adds to the parents' handling of everyday issues—children's behavioural changes, fear of needles, and food habit.
Bedowra Zabeen said, "Schools put more emphasis on children's education, not health."
Awareness has to be raised in schools where students spend most of their time, she said, adding that teachers should be extra-caring towards children who have special health conditions.
Besides, school-level awareness programmes can help these children get nationwide registration. "The government needs to come forward in this regard. It [registration] is not difficult as we now have community clinics in the remotest parts of the country," Bedowra Zabeen said.
State-level engagement is also crucial for the healthcare of these special children.
EXPENSIVE, DONOR-DEPENDENT TREATMENT
The treatment is expensive since a patient has to stick to medication throughout his or her life.
Ironically, most of the children with type-1 diabetes belong to disadvantaged groups, the physician said. "It is hard to say exactly why it happens, but we [doctors] suppose that viral infections and poor hygiene damage children's ability to produce insulin [in their bodies]."
Research studies also showed that cow milk, if consumed by children at the early stage of their lives, leads to the production of allergens leading to type-1 diabetes, Bedowra said in an interview at her office in the Segun Bagicha branch of Birdem.
Of the registered children, only 300-400 are from financially well-off families like that of Ashfia who can bear the treatment cost.
The rest have been getting insulin and other medical support since 2010 under two programmes taken up by the Diabetic Association of Bangladesh with assistance from World Diabetes Foundation, International Diabetes Federation (IDF) and Danish multi-national pharmaceutical company Novo Nordisk.
Government support is necessary to make the programmes sustainable as, Bedowra said, donors with time may squeeze the funds or stop providing funds altogether. 
There are concerns too that many children go undiagnosed. Apart from two units in Faridpur and Chittagong recently set up by Birdem, there is no facility outside Dhaka for diagnosing and treating children with diabetes.
What happens to the undiagnosed children is not known.
In its latest report published in 2009, the IDF said, "Without insulin, people with type-1 diabetes will die." According to its estimate, 4.2 per 100,000 children have type-1 diabetes in Bangladesh.
The data from one of the programmes, Changing Diabetes in Children, puts the figure at 0.96 per 100,000 children below 15 in Dhaka.
These numbers suggest that a lot of children suffering from diabetes are from outside the capital.
Bedowra said two-thirds of the registered children are from outside Dhaka—some from as far as Satkhira, like seven-and-a-half-year-old Nabil Riyad, only son of Amanullah, a madrasa teacher.
An energetic Nabil often gets minor cuts while playing and walking barefoot. His father was showing the injury marks on his soles to a doctor in the ward. The physician warned Amanullah that the boy should never be allowed to run around or even walk without slippers. Any infection from an injury could prove to be dangerous.
AN ALARMING TREND
While type-1 diabetes can be addressed by raising awareness of parents, children, the government, and society at large, another phenomenon is coming into sight—type-2 diabetes among children.
The prevalence of the disease was rare even a decade ago. It shot up to 14 percent in 2015 from just two percent five years back, according to a study by a team led by Bedowra. The survey was done on 1,369 children and adolescents who received treatment under Changing Diabetes in Children programme at Birdem.
As many as 155 of them were type-2 diabetic. More than 90 percent of them belong to the affluent class, Bedowra said.
Unlike parents of the previous group, "These parents could easily prevent it just by encouraging a healthy diet, activity and discipline," she said, while admonishing a girl of 16 years in her office. The girl, daughter of a businessman in Narayanganj, who didn't want to be named, had long crossed the recommended maximum weight for being a diabetic; she stands at 90 kilogrammes now. The doctor told her that increasing insulin quantity would not help her much if she continued putting on weight.