No more violence against girls and women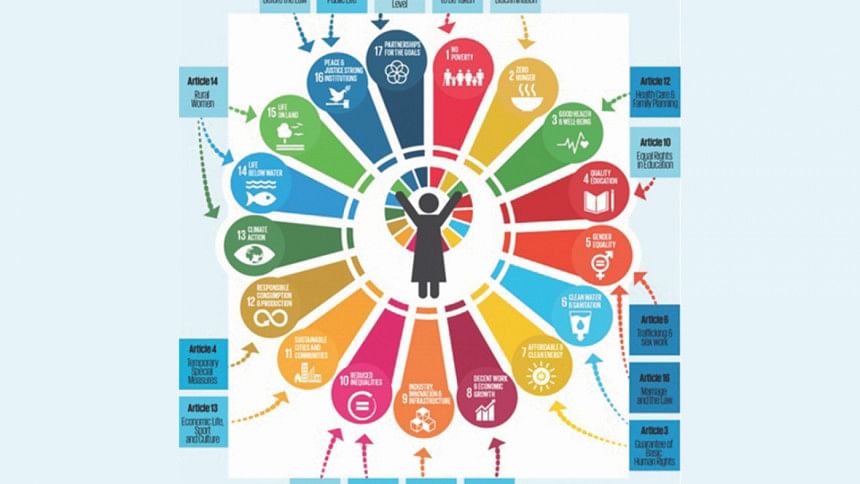 NOT a day seems to pass without new bone-chilling reports of inhumane violence and abuse perpetrated against women and children in Bangladesh, but against girls in particular. Violence against women and girls is one of the most prevalent human rights violations in the world. It knows no social, economic or national boundaries. Worldwide, an estimated one in three women will experience physical or sexual abuse in her lifetime. While Gender-based violence is not new and certainly not unique to Bangladesh, the immediate and long-lasting consequences to the individual, family and society at large are far-reaching and ought to be taken more seriously. The health consequences of violence are enormous and include permanent disability, lingering psychological trauma, unwanted pregnancies and complications associated with forced or unsafe abortions. Exposure to, and fear of, violence deprive women and girls of their rights--to education, health and decent livelihoods. Child marriage alone, which affects 59% of girls in Bangladesh, is one of its worst forms.
Elimination of gender-based violence and violence against children is central to the realization of most Sustainable Development Goals (SDGs). In defining the SDGs, members states agreed on a few that are very specifically dependent upon the elimination of GBV:Goal 3: Good Health and Well-being;Goal 5: gender equality and the empowerment of women and girls, including a call to end violence against women and girls; and Goal 16: peaceful and inclusive societies.
Evidence shows that people who are exposed to violence, especially children, are highly likely to adopt violent attitudes against others into adulthood.
Well before the SDGs, member states had agreed to several UN conventions in recognition of the importance of ending violence against women, girls and children as central to Development:
1945: Charter of Human Rights
1979: CEDAW, Convention for the elimination of all forms of violence against women
1990: CRC, Convention on the Rights of Children
1994: ICPD PoA, International Conference on Population and Development Plan of Action
1995: Beijing Plan of Action
2016: SDGs, Sustainable Development Goals.
 Knowledge and data on the extent of the problem enable communities to better tackle the scourge of GBV. The United Nations (UN) General Assembly therefore called upon the UN Statistical Division (UNSD) to request the UN member countries to establish systems for data collection and analysis of violence against women indicators.
The Bangladesh Bureau of Statistics (BBS) undertook a comprehensive survey to develop the benchmark indicators on different aspects of prevalence of Violence against Women for the first time in 2011 and repeated the survey in 2015. The results of the second report were recently published jointly by BBS and UNFPA.
The survey identified the levels and magnitudes of the violence against women by their husband, ex-husband, intimate partner and non- partner perpetrators and revealed a continuing trend of violence.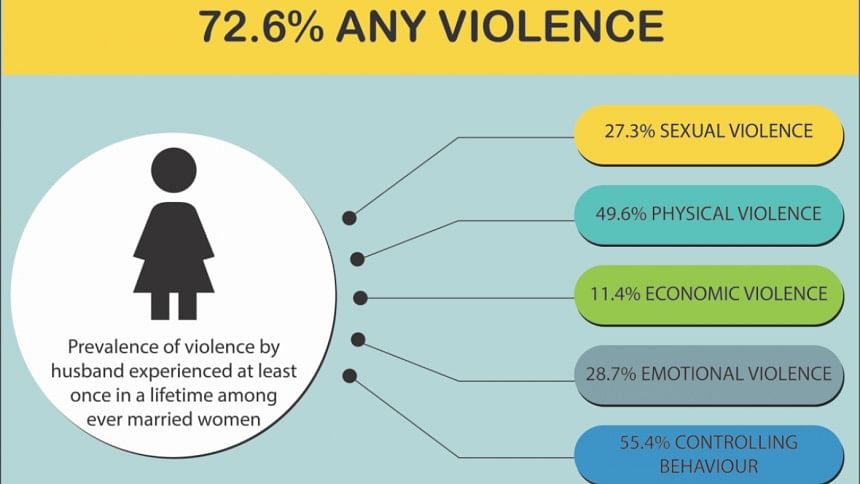 THE COST OF GBV
GBV doesn't just violate the individual rights of girls and women. The impunity often enjoyed by the perpetrators and the fear generated by their actions has an effect on all girls and women and it has far-reaching social and economic implications for a nation as a whole. The economic burden that GBV places on households and nations is not easy to ascertain, but a 2013 study by CARE shows the burden to be significant. The total national cost of domestic violence against women is at least Taka 14,358 crore. This is about 13 percent of the total government expenditure for the year 2010 and 2.1 percent of GDP.  This figure is close to the entire amount that the nation spent on the health and nutrition sector in Bangladesh in 2010. For a fraction of that amount much could be achieved. As more resources have to be invested within families, communities and nations to mitigate the negative consequence of GBV it leads to increased rates of poverty, slower development and economic growth. The money needed to deal with the aftermaths of GBV could otherwise be invested in helping families and communities escape the cycle of poverty.
GBV is multi-dimensional and eliminating it will require simultaneous action on different fronts to be effective. Some examples include: a) changing social norms that make communities indifferent to GBV. Prevention through sustained community awareness and engagement; b) an overhaul to the legal system that blames the victim through proper handling of victim cases with the police including proper recording in Police database system, referral to Court; c) accelerated and impartial Court cases, and punitive actions against perpetrators; d) health system response to GBV.
GBV in humanitarian settings
In emergencies, such as conflict or natural disasters, the risk of violence, exploitation and abuse is heightened, particularly for women and girls. Women and adolescent girls are some of the most affected by unsafe environments and negative coping measures taken by families desperate to survive, including child marriage and girls being forced to abandon education to pursue marriage or income-generating activities or even trafficking. While the impact of a disaster on men and boys is equally negative, for many adolescent girls it is often much worse and irreversible.For a long time GBV as an urgent life-threatening issue during and after emergencies was often overlooked in the global humanitarian architecture. It has since been included as a sub-cluster, along with child protection under the "Protection Cluster".
In Bangladesh, the Ministry of Disaster Manager recognized the need for a GBV Cluster in the national humanitarian structure. Under the leadership of the Ministry of Women and Children's Affairs, the GBV cluster was launched on November 17th 2016, to be co-chaired by UNFPA. This signifies a step in the right direction. Now accelerated action needs to be taken by the humanitarian community in the Country to ensure adequate preparedness and response to GBV as a priority on equal footing as other well established life-saving clusters such as food, wash, shelter and health, including sexual and reproductive health in humanitarian situations.  National and international humanitarian actors need to focus on reducing the risk and incidence of GBV during a disaster. The organizations will work together to ensure that crucial medical, psychosocial, legal and other services GBV survivors require are provided timely.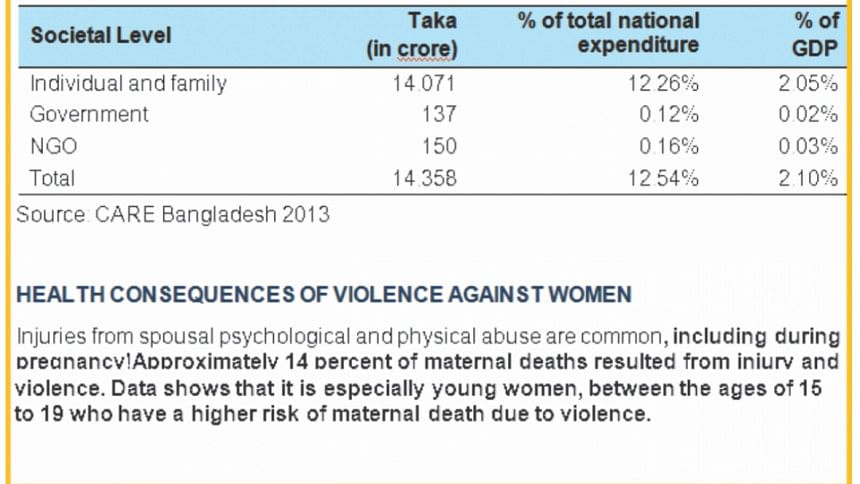 ENDING GBV NOW
Combatting GBV is no easy task, a multifaceted response will be required, in the form of a national action plan with a dedicated budget.
* It will importantly also require a change in social norms to make violence against women and girls unacceptable. This will have to entail strong support from men, men who will stand up and speak out against violence perpetrated against girls and women.
* Change will have to start with our youngest. Only if children, adolescents and young people grow up with the necessary life skills that enable them to have respectful relationships and build a peaceful society without impunity for violence we will succeed in eliminating GBV.
* At the same time it will require continuous investments in girls and women - in their health, education, employment and safety in the homes, schools, work places and public spaces.
* It will also be necessary to prepare and empower women to recognize different forms of violence, and to seek support when faced with abuse or violence. The High Court Division of the Supreme Court defining sexual delinquency to prevent any kind of physical, mental or sexual harassment of women, girls and children at their workplaces, educational institutions and other public places needs to be enforced strongly.
* Some action by national and international organizations to prevent and address gender-based violence is already taking place. UNFPA, for example, provides technical assistance to the Bangladesh Police for effective handling of GBV, cooperates with private sector employers, such as the ready-made garment industry. In partnership with ILO and the Ministry of Labor, this support will be extended to a wider number of RMG factories. Cooperation with Tea gardens employers will also be intensified to ensure the dignity, health and safety of women and girls.
* It is not enough to feel outraged by the harrowing atrocities against women, girls and children reported daily in both Bangla and English news Media. It is time for a concerted action so together we
"Say NO to Gender-Based Violence".