Outstanding Woman In Business
The wonder woman in IT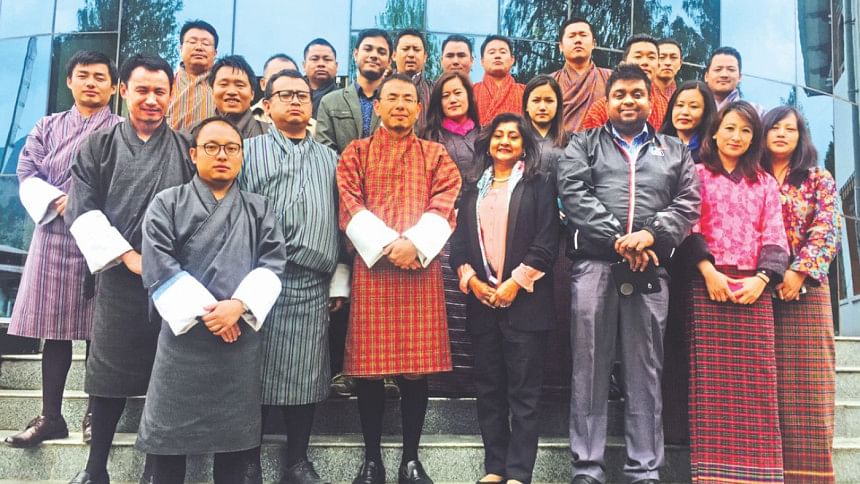 To even own a computer was rare in Bangladesh a quarter of a century ago, as most people did not know much about the modern technology.
But Luna Shamsuddoha had a very clear idea when she began a business dependent on technological advancement as a young entrepreneur in 1992.
Today, Luna's Dohatec New Media is a leading software company in Bangladesh that has fetched worldwide glory. Since then, she has established a few more companies that have all grown from strength to strength.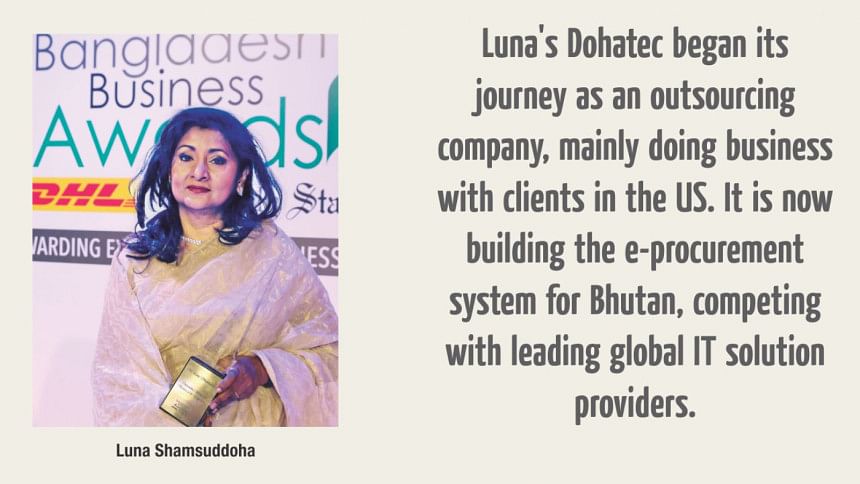 Dohatec began its journey as an outsourcing company, mainly doing business with clients in the US. It is now building the e-procurement system for Bhutan, competing with leading global IT solution providers. It is expected to be inaugurated later this month.
"I feel proud to be developing software of global standards that spreads the reputation of my country worldwide," said the chairperson of Dohatec New Media.
"Technology always attracted me and I love to face new challenges," Luna said, narrating her entrepreneurship journey.
The leading lady has been honoured with the Bangladesh Business Awards 2016 in the Outstanding Women in Business category.
Keeping in line with her attitude towards innovation, Luna formed Executive Centre in 1985, which mainly made presentations for executive purposes. It was also a new idea at that time.
"I lend some money from my husband and started the presentation business; but changed my mind in 1992."
At that time, she established Dohatec and began content management for US companies. She moved into database management later.
"When we started 25 years ago, the opportunity was tremendous and we tried to capitalise it."
In 2007, Dohatec developed Bangladesh's voter identity registration and biometric matching system for eight crore people.
The company also provided Bangladesh army with voter enrolment and identification software. The prototype comprised digital voter entry forms, including photos and fingerprints.
Now the software is widely used for identification, which has also helped building Bangladesh's reputation, she added.
In every step of life, people need their NID cards, meaning, Dohatec's creation is in every hand, she added.
Luna also shared her experience about another development of Dohatec -- electronic government procurement (e-GP). It has digitised the country's procurement system; nearly one lakh tenders have already been awarded through the online system.
These two creations of Dohatec have helped establish accountability and bring transparency in the country, and "no one can ignore it", the iconic lady in IT said.
The firm has also participated in a tender to develop Uganda's e-GP system, which is currently being evaluated. Dohatec also provides software solutions and services to institutions, government agencies and corporations in the US, Canada, Germany and Switzerland.
It has e-commerce and e-government solutions, and the World Bank, the World Health Organisation and the US Postal Service are on its list of clients.
The company currently employs around 200 engineers.
"I am extremely proud of the country's young talents and I am sure they will establish Bangladesh as a digital country before our expectation," said Luna, also the vice-chair of the board of trustees at Independent University, Bangladesh.
There was a misconception that Bangladesh cannot do well in tech related innovations, but now, that mindset has changed. The new generation of entrepreneurs are thinking for the country, which is a positive change, she added.
The company supports the government's birth and death registration projects as well.
In 2001-02, Dohatec developed the United States Postal Service's online mail-tracking system with Harte-Hanks Inc, which is another milestone for the company. It is a fully web-enabled database capable of handling millions of records in a barcode system.
Dohatec is a certifying authority and issues digital certificates, including identification certificates.
The company also won the Bangladesh Machine Readable Visa Project in India that processes 200,000 visas annually.
ICT is absolutely the best medium for work for women to be successful, said Luna, who is serving Janata Bank as a director from June 2016. Earlier, she served Agrani Bank as director since 2009 to 2012.
"Without discriminating any gender, I can say there is no alternative to learning and becoming capable."
She was also the founder and president of Bangladesh Women in Technology, a forum to empower women through technology and encourage girls to study and pursue a career in technology.
Luna has given importance to combating violence against women, especially through ICT. "Without the development of women, nothing will sustain; that's for sure."