MOBILE FINANCIAL SERVICES
Lives changing for better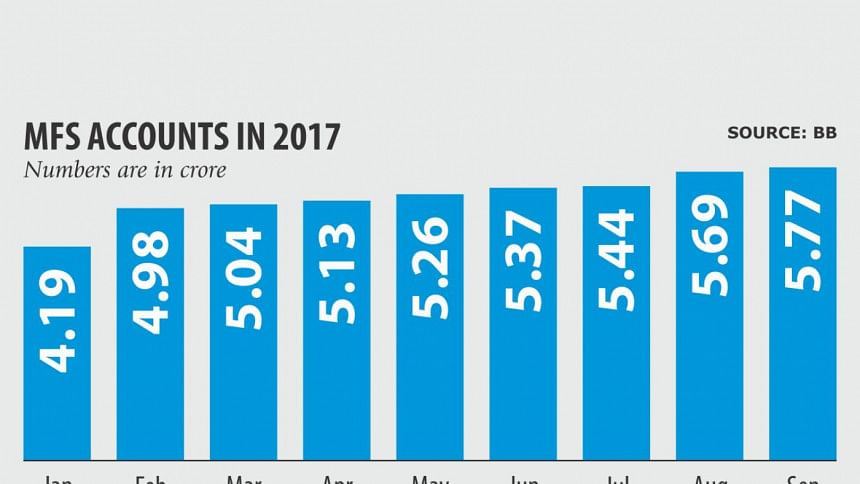 Between 2000 and 2011, Afzal Hossain had to travel more than 300 kilometres to come to Dhaka from Rangpur every month to collect money from his wife Taslima Begum, who worked as a domestic help for a wealthy family in the capital.
Two days would have gone by the time Afzal returned to his village home to look after their house and schoolgoing daughter.
But when bKash, Bangladesh's first complete mobile financial service provider, was launched in late 2011, the situation started to change for the better.
For the last five years,  Afzal does not require to take the time-consuming journey to and from Dhaka to receive the money as Taslima sends it within a few minutes just by visiting a bKash agent 200 metres away from the house of her employer.   
Taslima is just one of the growing numbers of mobile financial service users who have benefited immensely from the service.  
Today, people from all walks of life transfer money and make payments via their phones.
The number of active mobile banking account under MFS platform grew significantly in the first nine months of 2017 on the back of the government increasingly using the payment tool in distributing various social safety net funds.
Mobile banking accounts totaled 5.77 crore in September this year, up 40.73 percent from December last year.
In contrast, the number of bank account stood at 8.37 crore as of March this year, 2.82 percent higher from 8.142 crore in December last year.
MFS accounts have witnessed fast growth as the government is distributing various funds, including old age allowance, student stipend and those of social safety net programmes, said Shamsuddin Haider Dalim, head of corporate communications of bKash.
"The benefits of mobile financial services are not just limited to generating lower transaction costs and greater convenience," he said.
It was found that urban migrants who sent money to rural areas using mobile financial services have had a positive impact on health outcomes and investment in children's education in recipient households, according to Dalim.
Low literacy level coupled with a fear of technology among a section of MFS users are standing in the way of realising the full potential of the service. Some MFS customers are dependent on agents to carry out financial transaction.
Another concern is some unscrupulous people are abusing the platform to make unauthorised transactions, said Dalim.
bKash, the largest player in the MFS platform, has around 3 crore registered mobile accounts. It has 176,000 agent points across the country where the users can cash in and cash out money from their accounts.
The daily average transaction under MFS platform hovered between Tk 800 crore and Tk 1,000 crore in recent months. Monthly transaction stood at Tk 21,549 crore in September this year.
At present, 18 banks are providing mobile financial services.
The government payments through mobile banking channels stood at Tk 503 crore in August and the merchant payment at Tk 137 crore throughout the month.
The small and medium enterprise segment is actively using the mobile banking account for their small transactions, said Abul Kashem Md Shirin, managing director of Dutch-Bangla Bank.
He said some banks have retreated from providing mobile banking services as it is not that much profitable. On the other hand, some banks have continued the service, promoting financial inclusion.
Currently, about Tk 2,500 crore remains deposited in the mobile banking channel, of which 50 percent belong to people in villages.
Dutch-Bangla Bank holds the second position in the MFS market with 31 percent share, said Shirin. Currently, the private commercial bank has 1.3 crore MFS accounts with 1.4 lakh agent points.
On Monday, the BB set the highest deposit limit at Tk 3 lakh in mobile banking account to prevent abuse of the payment tool. Earlier, there was no such limit on deposit.
In January this year, the central bank lowered the ceiling for mobile banking transactions, citing that the facility is being abused by "some vested quarters".
According to the new ceiling, a maximum of Tk 15,000 can be deposited into a mobile banking account each day and Tk 10,000 can be taken out. The previous daily ceiling was Tk 25,000 both for cash-in and cash-out.
The BB also restricted opening more than one account with a single national identity card.
An accountholder can make deposits twice and withdraw thrice in a day. Previously, the limit for cash-in was five and for cash-out three.
Each month, a customer can deposit a maximum of Tk 1 lakh, down from Tk 1.50 lakh earlier. The maximum monthly withdrawal limit is Tk 50,000 through 10 transactions at most.
Previously, the cash-out limit through each agent was Tk 25,000 per transaction. The overall cash-out limit used to be Tk 1.50 lakh in 10 transactions a month.
According to Shirin, the BB has strengthened monitoring on mobile banking activities by limiting account holdings and transaction amount, which will reduce the risk of money laundering.
He said the BB restriction on the transaction volume and the number of accounts held by an individual has temporarily hampered daily transactions.
"But the move will bring transparency in the service in the long run," he said.