A boon for rural people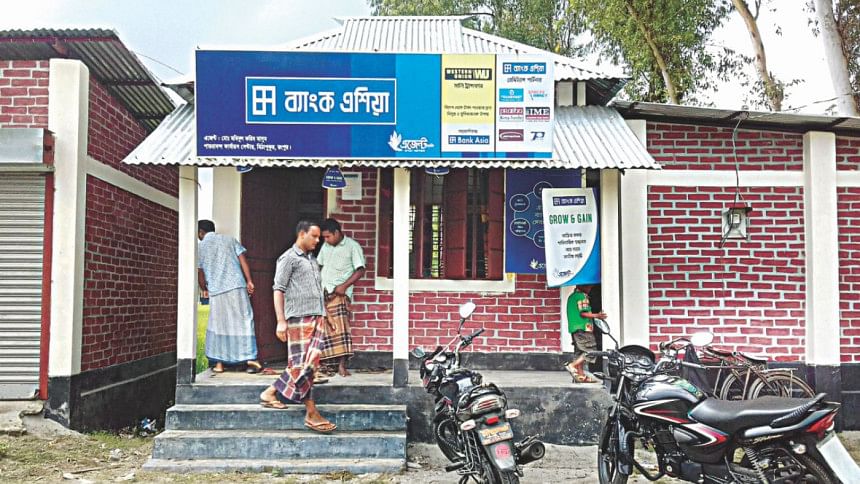 Banks are witnessing a faster growth in the number of female customer accounts than those of males under the agent banking network as the new channel is taking services to people's doorsteps in remote areas.
The number of accounts of females increased 99 percent to 316,916 in September from 159,149 in December last year while those of males grew 87 percent to 722,015 from 385,387.
About 5 lakh agent banking accounts were opened in the first nine months of the year, reflecting the growing popularity of this new form of banking service.
At the end of September, the number stood at 10.38 lakh, up from 5.45 lakh at the end of December last year, according to Bangladesh Bank data.
As of September this year, the agent banking accountholders deposited Tk 922 crore against which three banks lent Tk 78.72 crore through the mini banking channel.
Agent banking is a system of providing banking and financial services on a limited scale to the underserved population by way of agents under an agreement rather than a teller.
The central bank decided to promote this complimentary channel to extend a range of banking services to the unbanked and underserved segments of society, especially in geographically dispersed locations, as well as existing bank customers.
The number of female customer accounts was growing faster under agent banking networks compared to the regular banking channel, said Md Arfan Ali, president and managing director of Bank Asia.
The convenience of agent banking outlets and various kinds of products and services such as loans, deposits, bill payments and foreign remittance disbursement encouraged female customers to open accounts with agent banking outlets, he said.
He said women living in remote areas feel shy to go to banks due to a lack of literacy.
Bangladesh Bank in a new guideline has increased the agent banking transaction limit as part of efforts to accelerate the growth of this new form of banking.
In the first six months of the year, seven banks signed up for agent banking licence, taking the tally to 17.
Of them, 13 are already running agent banking operations while one is working to roll out the service.
Bank Asia is the leader in terms of establishing an agent banking network across the country.
Bank Asia has the highest number of agents, which was 1,192 as of June this year. The bank disbursed the highest amount of remittance through the agent banking channel -- Tk 359 crore in June.
Dutch-Bangla leads in another way -- having the highest number of accounts. As of June this year, it had 575,185 agent banking accounts, which is 66 percent of the whole industry. In comparison, Bank Asia has 201,111 accounts.
The popularity is growing fast in remote areas due to the convenience it offers, said Anis A Khan, managing director and CEO of Mutual Trust Bank.
Instead of opening a branch, Mutual Trust has opened 32 agent banking outlets across the country this year, he said.
The agent banking service became popular mostly among expatriates as they can send money home easily free of cost whereas it costs a lot through other channels, he said.
Earlier in September this year, Bangladesh Bank bumped up the daily cash deposit limit for agent banking accounts to Tk 6 lakh from Tk 1 lakh to promote the service across the country.
In the new guideline, the cash withdrawal limit for business accounts has been set at Tk 5 lakh and fund transfer limit at Tk 15 lakh.
Agents must have a minimum capital of Tk 2 lakh and cannot enter into contract with more than one bank.
Moreover, defaulters, bankrupts, convicts or anyone being investigated over criminal charges cannot provide agent banking service.
The agent banking activities currently encompass 13 kinds of services that include deposit, withdrawal, fund transfer, collection of loan application forms, credit and debit card applications, and monitoring and recovery of loans and advances sanctioned by banks.