Rise High Bangladesh at RUET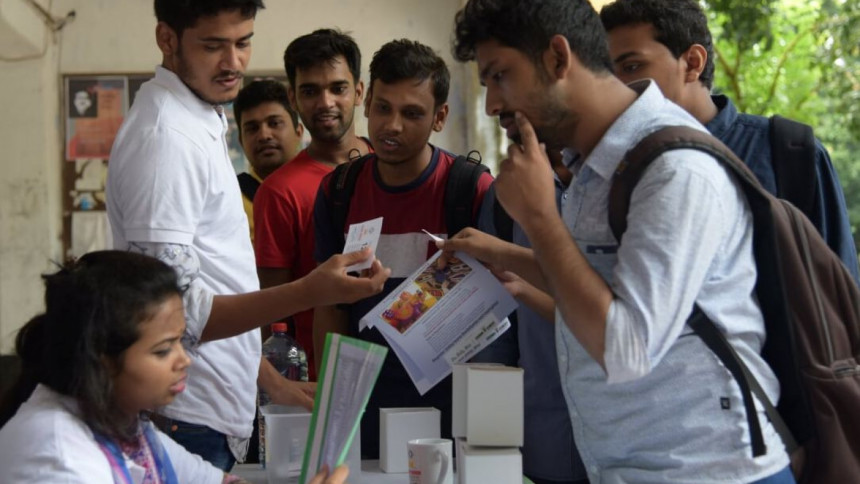 The Rise High Bangladesh season 2 reached to the future engineers of Rajshahi University of Engineering and Technology (RUET) by completing its campus activation programme on October 26.
The Daily Star and Crown Cement jointly started The Rise High Bangladesh journey last year with a view to promoting fresh and innovative export ideas. After getting a huge response and completing one successful season it planned for the second season with the same view.
As the part of the programme the Rise High Bangladesh team started the activation campaign at RUET campus at 9:00 am and continued until 5:00 pm.
They placed a booth in front of the Administrative Building, while the campus premises were nicely decorated with banners and festoons with informative stories.
The students of RUET were looking curiously at the events going on the campus and gathered in front of the booths.
The volunteers were busy explaining the objectives, incentives, and rules of participation. The premises were crowded all the day long with enthusiastic students.
Mosaddek Hossain, a 3rd Year Mechanical Engineering student said, "it is a nice initiative. I was thinking about an idea but I didn't get a chance to explore that. I think this programme will help me out."
Besides the informative stories, there was an interesting puzzle game too held near the booth, which attracted the students mostly. The students were required to pick a clue card with information on a country's imported goods, and they had to guess the country. Successful participants were given prizes.
A winner of the game, Sudipto Chowdhury, a third-year student of Mechanical Engineering department excitedly said, I am so happy getting a prize from the game. And most important part is, The Daily Star is engaging the young generation especially the students into such an economical aspect of our country. I think this will help the students like me to create new business ideas.
Ruet Vice-Chancellor Prof Rafiqul Alam Beg said, this is a good initiative, and it will create a good floor and opportunity for the business-related students. The organisers have to continue these kinds of programmes every year to engage more students from different sectors like our engineering students.