B-SkillFUL: Shaping the Labour Market and Promoting Skills Development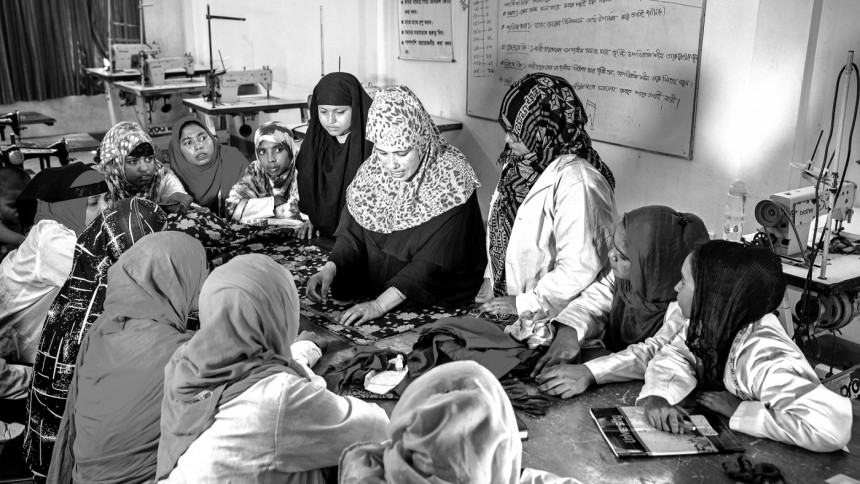 In 2017, the World Economic Forum featured an article claiming Bangladesh to be the "New Asian Tiger" which captured the attention of researchers, policymakers, economists, development workers, and the government. The article mostly relied on the trend and forecast of several economic and development indicators, such as the persistent GDP growth rate (over 6 percent, for more than a decade), political stability, steady macroeconomic performance, and geopolitical support. However, the article also indicated that the non-diverse export market, weak labour market, lack of employment opportunities, and the absence of skilled workers are major barriers in Bangladesh's journey to become a developed country.
According to the Labour Force Survey 2016-17, the country has a working-age population comprising of a staggering 109.1 million, of which only 60.8 million are employed. Among the remaining working-age population of 48.3 million, 45.6 million are unemployed and discouraged workers, where discouraged workers refer to those who are not even looking for any job opportunities. This sub-population is a matter of rising concern for Bangladesh. In addition, despite there being 20.1 million young individuals in the labour force, more than 12 million are "Not in Education, Employment, and Training (NEET)" and another 8 million are discouraged.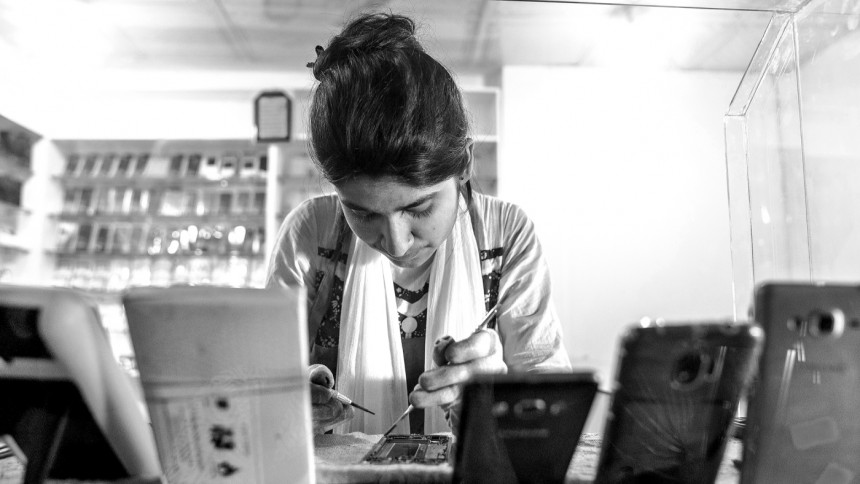 Unemployment is one of the major reasons behind poverty in Bangladesh. According to the latest Household Income and Expenditure Survey (HIES) 2016, Bangladesh's upper poverty line has been recorded at 24.3 percent and the lower poverty line (or people living in extreme poverty) was recorded at 12.9 percent. Several studies show that unemployment, lack of decent jobs and limited scope for employment have induced the rise in poverty in Bangladesh.
There is a clear mismatch between the growth in labour force and associated sectors. An analysis of the last two labour force surveys shows that between 2013 and 2016-17, jobs in agriculture sector had declined by 1.1 percent annually against the sector output growth of 3.2 percent. In comparison to that, jobs in the industries sector grew by only 0.5 percent while the sector output growth was at a robust 9.8 percent. Additionally, jobs in the services sector grew by approximately 4 percent against output growth of around 6 percent. These scenarios clearly exhibit the weak growth in jobs with respect to the growth of outputs in the sectors, and the "growth elasticity" (change in the growth rates of jobs with respect to the change in growth rates of the GDP) suggests that jobs are showing an overall declining trend in comparison to the national growth of the country.
Furthermore, there is also a mismatch in the required skills to perform optimally amid the new technological waves in industries. Although data on skills mismatch in Bangladesh are limited, one important source of information, a tracer study conducted by The World Bank (2007), provides statistical evidence indicating that the skills imparted by much of the Technical and Vocational Education and Training (TVET) system are not what the market requires. The study suggests that 47 percent of graduates from formal TVET programmes report being unemployed when surveyed even two years after their graduation. There are significant pieces of evidence in academic and policy research studies that show that skills and education do not reflect the demand of the job market in the economies of developing countries and Bangladesh is no different. In an era of technological revolution, such as Artificial Intelligence, the nature of jobs is increasingly becoming high-tech and service-oriented and is focused on participation of skilled labour force in the workplace (Bresnahan et al., 2002).
With the vision to reduce the skills mismatch in the labour market and eradicate poverty through generating employment, Swisscontact Bangladesh has been implementing a project titled "Building Skills for Unemployed and Underemployed Labour (B-SkillFUL)" since November 2015. With assistance from the Swiss Agency for Development and Cooperation (SDC) and the European Union (EU), in the last four years, B-SkillFUL has provided training to nearly 40,000 poor and disadvantaged men and women in almost 18 different occupations. All these occupations have been selected through demand and skills forecasting disaggregated by regions, industries, and sex of the beneficiaries. Thus, the skills training provision of B-SkillFUL and selection of occupations represent the demand of the industries including manufacturing firms such as ready-made garments, light engineering, handicrafts, and many more. The project also supports trainees to gain employment with a minimum salary of BDT 5,000 in the form of both self and wage employment. The project has been implemented in six districts across Bangladesh, where people living under and/or near poverty thresholds are relatively higher. To be considered a potential beneficiary of B-SkillFUL through skills training, an individual is required to fulfil the criteria of the poverty threshold (upper poverty line of income of USD 2.5 per day, according to World Bank) and be disadvantageous in socioeconomic aspects.
B-SkillFUL's key focus has been to develop a labour force in the informal sector. Over 85 percent of Bangladesh's labour force are working in the informal economy, which is not regulated by welfare, social security, unemployment benefits, labour rights, and other labour market institutions such as minimum wage. B-SkillFUL has facilitated the training provision of trainees through private training schools or training provision centres. With B-SkillFUL's support these schools have also organised apprenticeships or on-the-job training known as Workplace-Based Training. Additionally, the project has sensitised over 3,000 informal small and medium enterprises (SMEs) on labour rights and decent work issues. B-SkillFUL has worked in partnership with Informal Sector Industry Skills Council, Bangladesh Women Chamber of Commerce & Industries (BWCCI) and National Association of Small Cottage and Industries of Bangladesh (NASCIB). These partners have provided the labour rights training to informal enterprises and followed up on their progress. The partners have put significant efforts into this collaboration as they have the same targets and mandates to achieve as part of their mission with the Government of Bangladesh.
 In alignment with the demand for skilled workers in the industries and the future of work in the labour market of Bangladesh, B-SkillFUL has focused on bolstering employment scope for women in atypical jobs. These jobs include occupations such as mobile phone servicing technicians and electricians. The project has also organised apprenticeship programmes for trainees to provide them with real-time industry exposure.  More than 50 percent of the students trained under the project are female; and of the total B-SkillFUL female graduates, more than 30,000 have been employed. To boost the female beneficiaries' enrolment and retention, the project has also explored innovative ideas, i.e. introducing female hygiene products, separate washrooms at training centres, and providing counselling to the guardians of the female beneficiaries.
 From the experience of working with the training centres and their job placement offices, B-SkillFUL has observed that the centres alone cannot ensure sustainability in the employment of trainees. There is a need for an additional buy-in of the enterprises and that is why building and maintaining regular relationships with the enterprise employers are key factors in assuring sustainable employment. There should be measures in building and maintaining relationships with these employers, sensitising and encouraging them to improve enterprise productivity by investing in skills development initiatives and improving the technical capacity of the labour force in their workplaces. Nevertheless, as these small businesses lack capacity to create decent workplaces, despite their positive awareness about it, they will require technical assistance and financial support to convert this awareness into action. 
Considering the recent coronavirus outbreak and the subsequent economic slowdown, the current skills development landscape is experiencing a paradigm shift. In a post-COVID economy, the need for efficient enterprises and a technically enabled labour force will increase at an exponential rate. The time calls for initiatives to support enterprise growth along with efficient employment generation, such as increasing growth through diversification of products and better integration of training and labour markets. At the same time, both private and public institutions need to demonstrate sensitivity to areas like decent work, institutional accountability, and qualitative improvement in labour rights, which are critical to shaping the future of the Bangladeshi labour force.
 B-SkillFUL has successfully ensured labour market insertion for thousands of poor and disadvantaged individuals through skills development training and subsequent employment in SMEs. The project has been supporting Bangladesh in achieving SDG 8, Decent Work, and Economic Growth. Building on these achievements, it requires a significant stride from the enterprises to take lead on the next generation of skills development initiatives that include initial skills development and upskilling of their employees. There should be initiatives from the government and development partners to further support these thriving enterprises to modernise and upgrade their labour force management, production processes, and product development, and promote diversification to introduce a systemic incentive-based model on skills development schemes.
Md Nasir Uddin Rana, Jannatul Ferdous and Fatema Tuz Johoora are development consultants at Swisscontact Bangladesh. The views expressed in this article belong to the authors alone, and do not necessarily represent those of the authors' employer, donor organization, committee or other groups or individuals.