Why we need to talk about mental health and menstruation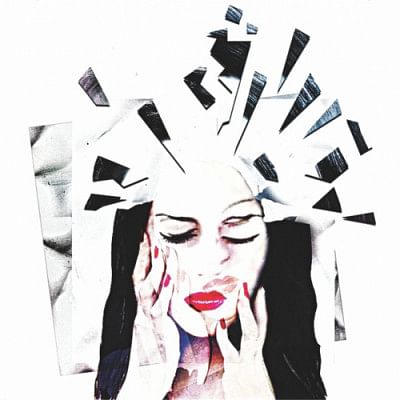 She feels energetic and determined to do all her work. She has got the urge to work hard and give her best. She is proactive about her submissions and feels confident about her ideas. Her performance chart has reached its peak and she has never felt so positive.
But soon after, sometime in the following days, she doesn't feel very upbeat. Fatigue creeps into her body and laziness wins over. Her temperament is often on the edge now and she suddenly seems critical of everything around her. At one point of time, she might have even felt a little too low and those skin breakouts have begun to take their toll on her. To add to her discomfort, she starts experiencing lower abdominal pain. 
It became clear that it was that time of the month. She was on her period.
These mood changes are so subtle that they are not even cared for. The changing levels of hormones in the menstrual cycle are responsible for the emotional ride but sometimes the severity of mental conditions can be alarming and they may reflect a mental disorder.
Premenstrual syndrome (PMS) and Premenstrual Dysphoric Disorder (PMDD) are the main mental disorders linked to menstruation. While PMS involves mild symptoms and is more prevalent, PMDD is more severe and is noted in 3-7 percent of women. Dr Fahmida Ahmed, a psychiatric consultant of Modern Psychiatric Hospital in Dhaka, said, "Symptoms of PMDD branch out to mood, behavioural, and physical symptoms. The diagnostic criteria for PMDD include different classes of symptoms but the most important criterion is the duration in which the symptoms are notable. PMDD symptoms are present in the final week before the onset of menstruation and they start to improve after the onset. Symptoms are minimal or absent in the week after menstruation is over." Dr Ahmed mentioned some of the major symptoms of PMDD which include mood swings, tearfulness and increased sensitivity to rejection; marked irritability or increased interpersonal conflicts; increased anxiety or tension; lethargy; marked change in appetite; hypersomnia or insomnia, etc. Both PMS and PMDD should be dealt with medical supervision and not just with consultation of a gynecologist but a psychiatrist as well. While medications can suppress your symptoms, advice from a psychiatrist will help you to deal with them, thus providing comprehensive treatment.
However, Dr Ahmed also had this to say: "Any kind of mental distress often goes unreported in our country. Had people been more cognisant about the mental health implications and consulted psychiatrists for treatment, their distress might have been better managed."
It is no hidden fact that seeking treatment for menstrual complications and mental issues in our society is deemed unnecessary and even mocked. While the ever-so-natural phenomenon, menstruation, is considered a taboo topic.  So this stigma emanating from the community makes it extremely difficult for young girls and women to own their physiology and share their discomfort. People are quick to misuse the term PMS without even realising its seriousness. Even some women don't support a fellow woman who is going through severe menstrual cramps and they instead call it an "overreaction". The biggest challenge lies in the lack of opportunity to talk about menstruation-related health issues—more so of the mental kind. "Young girls, especially in a conservative family, are deprived of basic information about menstruation. So at the start of puberty, they can get scared about the sudden change and not have anyone to talk to about it," said Dr Ahmed. Hence, she suggested that counselling should start from the family and while doing so, extra emphasis must be put into mental stability and menstrual hygiene.
Mood fluctuations are intertwined with the menstrual cycle and can be troublesome for women. Hence, the absence of understanding of these changes  of the family, friends, peers, and society as a whole serves as a barrier and builds up and takes a toll on the mental state. Women need to have an environment where they can relieve themselves from mental burdens and receive the support they require. We, as a society, owe it to them and their good health. This does not mean that we will have to invade someone's privacy. It merely means that we need to acknowledge first and foremost that menstruation is a natural process and that its mental health implications are just as important as any other. By dissolving the stigma around menstruation and mental health, we can make way for solutions and get rid of the social obstacles that should not have been there in the first place. 
Noshin Noorjahan is a contributor to The Daily Star.