Bangladesh Towards fulfilling the Dream of the Martyrs
Bisramganj hospital for freedom fighters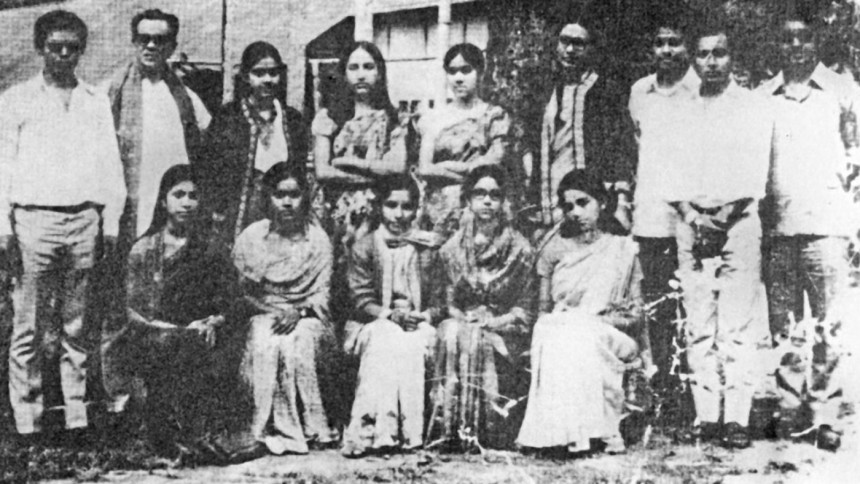 When we look back at the war of independence, it is filled with stories of heroism on the battlefield and the war effort on the diplomatic front. It was a people's war and both men and women participated in it. Yet the history books mostly recount the battles and the brave men who commanded in the field. Strangely enough, we often forget that women too made great contributions to keep the war effort going. Many amongst us do not know that there was a field hospital set up on the orders of Sector Commander Lt. Col. Khaled Musharraf at a place called Bisramganj. Captain Akhtar Ahmed (later promoted to Dr. Maj. Akhtar receiving the gallantry award Bir Pratik), the regimental medical officer of 4 East Bengal was put in charge of this field hospital where wounded freedom-fighters could receive proper medical treatment.
Equally unknown is that there was a small group of women who made their way, over the border through enemy lines, to join Dr. Akhtar to help the fighters recuperate from their wounds. Their contribution was no less than the men fighting on the front. Bisramganj, which means a 'place of rest' was initially located close to the border and the area for the hospital was donated by an aged gentleman named Mr. Habul Banerjee, a former revolutionary who had been involved in the anti-British movement. So with his aid, a rudimentary hospital was set up about 10-15 kilometres from Melaghar headquarters by Captain Akhtar and his initial team which included Sayeeda Kamal (Tulu), Minu Billah, Sultana Kamal (Lulu), Asma Nisar, Rehana Amin and Khuku Ahmed. In time others joined and the medical facilities were upgraded and expanded. It was fascinating to listen to these volunteers speak about their experiences 48 years later at an event organised by Professor Ahrar Ahmed at Gyantapas Abdur Razzak Foundation in Dhanmondi on March 18. These women had come together to talk about those extraordinary times and to interact with the small gathering of people who had come to hear them speak. They narrated how they left the country risking their lives and carried out their service amid the many obstacles at the hospital.
KHUKU AHMED
Khuku Ahmed crossed over to India on April 19 to join her husband Dr. Akhter Ahmed, BP. Dr. Akhter had set up a one-bed hospital to start with. She was alone then and had not started working. Her husband had sent her to Kolkata. When others had joined the hospital, she came back and the hospital had been expanded to around 10 beds. There she found Lulu, Tulu, Shamsuddin, Dalia already present. There were so many experiences, but one stood out and has stayed with her over the years. "It was May 9 and we were all resting when shells started landing near Sonamura where the field hospital was situated. We were in a state of panic. We started moving forward in the midst of shells landing near us. After walking about half a mile, my husband told me to stay at a house. I didn't know these people. The gentleman was a postmaster and he asked me to stay with them because my husband would have to go to the front to tend the wounded. The Pakistani forces were getting closer and mortar shells landed near us every day. They overran the bunkers set up by freedom fighters. It was a frightful time because we were in a combat zone where the sounds of war were omnipresent. Then we were told that it was not safe for us to remain as it was the border area and we needed to move to the village and I went with them. I had no news of my husband and no way to inform him that I was leaving this place. After going a little way, a shell landed in front of us setting everything ablaze and we had to take shelter in a nearby house. As it was impossible to go forward, we returned to the original area." Later the group went to a place called Darogabagicha which was a 4-tent facility. "That's when Padma joined us. Sultana Kamal, Sayeeda Kamal, I, Dalia, Shamsuddin, Padma and we lived in those tents. Trenches were dug around the tents which were sprayed with carbolic acid in the evenings so that snakes could not come in. We were in a jungle and we stayed there for a month. From there we went to Bisramganj where a 200-bed field hospital was set up. There Minu, Reshma, Asma, Nilima, Anupoma joined me. Lulu and I worked in the surgical ward, while Minu and Tulu worked in the medical ward. We divided up the work amongst us and worked as a family."
SAEEDA KAMAL
When work started at Sonamura hospital, it was a very rudimentary set up. Sector commander Khaled Musharraf was very enthusiastic that this work be done and visited the field hospital regularly to find out what was needed. "Initially there were three of us. Lulu, Khuku and I and none of us had any medical experience as I was a student of Charukola Institute, Lulu studied at Dhaka university and Khuku was a college student. We literally got on-the-job training by Dr. Akhter on how to bandage, give medication to patients, assist doctors during operation, etc. I remember one time when Dr. Akhter was doing an operation with nothing but his gloves. There was no anesthesia to make the patient unconscious. And these were war wounded, where some had limbs blown off and others had been hit by bullets. Dr. Akhter used to probe the wound to extract a bullet with nothing but his hands. One day, I was assisting him during an operation on a young freedom fighter who had sustained injury on his jaw that had been hit by a bullet. Dr. Akhtar was sewing up the fighter's jaw without anesthesia since there was none and somewhere down the line I lost consciousness." There is a first time for everything and one can understand what a shock it must have been for an untrained hand to do the work that was required of her.
After some time, the field hospital shifted from Sonamura to Darogabagicha and living quarters for the field hospital attendants were basically tents that served as hospital-cum-living quarters. "Polythene was laid out on floor, then mattresses were laid out and pieces of clothes were wrapped up to make pillows. We would watch worms crawl around in the dirt and when we ate there were often dead insects which we simply discarded and finished our meal thinking nothing of it." After spending a month at Darogabagicha, the hospital moved to another location and we got to work at a 60-bed hospital. Medical and surgical wards were separate. It then became possible to work in shifts although work was very hectic. Because it wasn't simply about tending the wounded, rather the villagers used to come as there had been an outbreak of malaria in the area. "Thanks to Dr. Akhtar's supervision, all of us who worked in the hospital had become adept at handling different emergencies and that comes through from the fact that not a single patient died in the hospital despite having to work under difficult circumstances where medical supplies were not always guaranteed and there was a shortage of skilled medical staff and no regular electricity. There were times when operations had to be done at night and this was done using hurricane lights."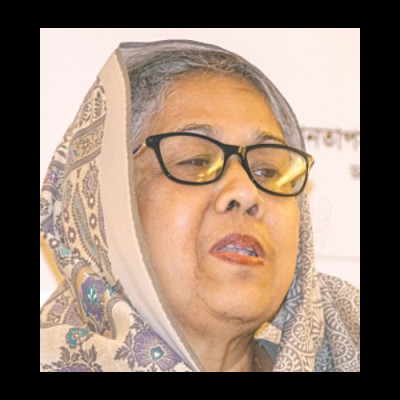 ASMA NISAR
"I was studying for my Masters final when the war broke out. My younger brother Habibul Alam (Bir Pratik) had already left for the front. I had asked him to take us with him but he had wanted us to stay and work in Dhaka. We witnessed the capture of a great many freedom fighters in the city in August. Our house was in Eskaton area and we were anticipating that any day, the Pakistani army would raid it. Kabil, a freedom fighter, informed us one evening around 2AM that we needed to move immediately because Azad's entire family had been killed. My father was the only male member in our house. My sister and I moved our father to a neighbour's house for his safety. No sooner had that been done, we heard the sound of boots outside. My sister opened the door and we heard Pakistani military personnel asking where Alam was. They were told he was at the hostel. Our house was where arms and ammunition were stored and also it was a safe house for freedom fighters. My father was an engineer who had a special storage made under the floor of the kitchen where the arms were kept safely and this was covered with a stone slab. Kitchen utensils were kept on the slab to cover up the area so as to avoid suspicion. Luckily, the Pakistanis left without another word but it was evident that we had to leave as soon as possible. Then we came to Bisramganj hospital with the aid of a freedom fighter named Shahid. We came to be with Dr. Akhter who was truly a big brother to us all. Our brothers fighting on the front used to come visit us at Bisramganj from Melaghar. There was an orchard near the field hospital and we used to go there on the pretext of bathing, although we were forbidden to do so. The real purpose was to steal fruits because although we had rations for three meals a day at the hospital, the fighters who used to visit us didn't have enough to eat. The fruits we took were for them. I was assigned to the medical ward. Like others, I learnt new skills that was required to treat patients and that's how I, like others spent our time at Bisramganj."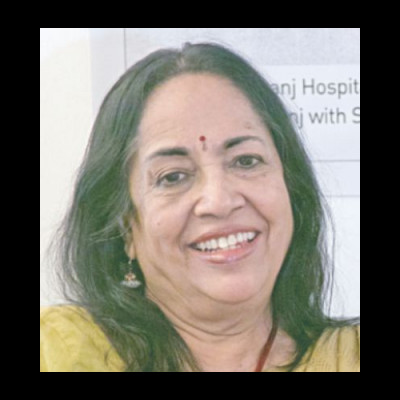 MINU BILLAH
"I was a 1st year undergraduate student at Dhaka University studying psychology when the war broke out. The non-cooperation movement began in March and we all boycotted classes. My whole family got involved in the war effort. My eldest brother-in-law, Shaheed Altaf Mahmood sang the immortal song "Amar bhaiyer rokte rangano Ekushey Februrary". My sister and brother-in-law lived with our family opposite Razarbagh police line. My brother-in-law was involved with the Crack Platoon and he, along with other freedom fighters of the same unit were subsequently caught and killed by the army. We were lucky to be alive because the entire area was set ablaze. Curfew was declared on March 26 and we left for the village and came back some time later. In the meantime, Sultana and Sayeeda, both childhood friends had both crossed the border. So,
one day I told my mother that I wanted to go too. My mother wasn't particularly enthusiastic as she was worried about my safety. Then one day, an army jeep stopped at our door. They wanted to know from my brother where I was. When asked why, he was informed that I needed to go to the Cantonment to perform dance along with other artists. My mother asked my brother to tell them that I had fever. This excuse sufficed for the second day and on the third day, my mother put me in a burqa and sent me to the house where Sultana and Sayeeda used to stay, and from there I was sent to the village. My mother finally realised that it was dangerous to keep me and allowed me to cross the border over. I travelled with Ahrar Ahmed, his brother-in-law Jawadul Karim (who later became press secretary to Bangabandhu) and his wife. We were part of a bigger group and each member was told that we are going to attend a wedding in Comilla if stopped by any Pakistani patrol along the way. I was in a burqa. We were halted by a patrol and I had to remove my burqa. I was asked where I was going. My brother answered we were on our way to a wedding. A young man in the group had boot-like shoes on and he was asked the same question. The situation was tense but luckily we were let go. Finally we arrived at Chargachha where we were met by Nazrul Islam who informed us that there was a problem at the border and we could hear the sound of shelling from there. So we spent a day and a half there. Then we took a boat and got to a place where we there were freedom fighters dressed in lungis armed with sten guns;  Pakistani troops were also nearby. We travelled by boat at 2.30 in the morning passing the Pakistani troops. We passed a knee-deep stream where hundreds of refugees were crossing while there was a hail of bullets flying overhead. I have no idea but somehow we managed to pass through this combat zone on a boat to reach the border. We travelled, totally exhausted, on foot in the wee hours of the morning and found ourselves in Agartala. Our group consisted of 15-16 people and we trudged along the road and suddenly came across Dr. Akhter, who had been in the army. He had a thick shock of hair and I was somewhat intimidated by his look. I grabbed my brother's hand and asked "here too there is army? I will go no further". He reassured me that this was Agartala and there was nothing to fear. He picked us all up on his Mazda pick-up and took us to the hospital. It was great to see Sultana Kamal, Tulu and Khuku. Then we got down to work. Most memorable is the way Dr. Akhter taught us how to do things. I learnt how to give injections using distilled water. We treated not just the freedom fighters. One day a peasant came with a bullet wound. Dr. Akhter simply put the man on a stretcher and applied chloroform since there was no anesthesia and cut it out with his fingers. That was my first experience of seeing a surgery conducted in the field.
One thing that is not widely known or acknowledged is the vital role our mothers played – in encouraging their girls to join the war effort in various ways. Sufia Kamal sent her two daughters, Sultana and Sayeeda over to India as did my mother. There is Milia Ali who now resides in the United States, she and her sister Sonia went over too. There are many others who did the same and it is sad to see that these stories have never been told or acknowledged. Mothers are strong and brave and yes, they sent their daughters to war, not knowing where they will end up but such was their conviction that our mothers did not hold us back.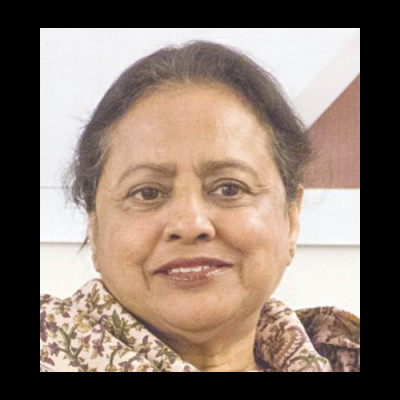 RESHMA AMIN
"Everyone has already spoken and covered most of what we had gone through during the war. When the noncooperation movement started in March, I was then studying in Chhayanaut and we were told that we must protest Pakistani atrocities through our songs. We sang our songs of protest on March 23 at the Shaheed Minar and the mayhem started on the night of March 25. After my brother left for the front, we sisters wanted to leave too. But we were told if all of you leave, who will help us here? We had by then learnt to look after arms and how to throw grenades. My older sister Asma used to do most of the nursing of freedom fighters who came to our house. One of them was martyred freedom fighter Shaheed Jewel and we had decided that if he recovered from his wounds, we would cross the border with him. Unfortunately he got caught with others on August 29 and that was that. Our house was identified as a safe haven for freedom fighters and I insisted on going with my father to the border. Captain Nurul Islam Shishu's brother Sunny said we should travel to Dr. Sujit Dey's house in Agartala. My father taught us that in case we are stopped en route, we would say we were going to visit our grandmother at Bolta. We were not stopped and reached the border. We met up with a lot of people who told us about this hospital that had been set up where we could make ourselves useful and we travelled to Bisramganj. The operation theatre was a small thatched hut with a bed made of bamboos. There was no electricity and hurricane lamp light was used to light up the theatre in the evening. One day we got a seriously injured man, Dr. Mobin would be operating. I wanted to watch the operation. The doctor wasn't very enthusiastic saying that I would faint watching all the blood but I was adamant. The patient was operated upon by Dr. Mobin, the young man's knee had been was blown away. From the back ligaments were hanging out and his ankle was also gone. The muscles had turned into minced meat and the doctor somehow patched him as best he could. It was a horrendous experience but I kept my composure. From the next day our duties were allotted and I was stationed with the surgical wing. And like the others, we learnt to do everything, watching others do them. There was an assistant named Patwary who helped us get the hang of things – what were forceps, how to administer injections, prepare charts, what and when to feed patients, etc.
SULTANA KAMAL
"Long before we two sisters crossed the border, we were involved with the war efforts. We left on June 16 with my mother's blessings. Shahadat Chowdhury had come back and took us. Our group consisted Sayeeda, myself, Habibullah's entire family, Milia Ali, Nasreen, Shilu (whose husband had left earlier), Shahadat Chowdhury and Mahmudur Rahman Benu (who used to come and go like Shahadat to help with operations). Our cover was similar to that of others that we were going to attend the wedding of someone in Comilla. It took us two hours to cross Daudkandi by a big non-motorised country boat. We got off at a place called Chandina where we took a rickshaw. The journey was totally uncertain because we had no idea what was in store for us. All we know was that 'Doc' Akhter had packed an ambulance full of medical equipment and opened up a dispensary or something across the border at Sonamura. My older sister had met him after the '70 cyclone during relief work but I had not. You have all heard the stories from others about what happened there. Dr. Akhter was given a small room at Sonamura to treat patients. And another room was given for him to stay in. Neither Sayeeda nor I were willing to go to Kolkata. We had crossed the border to take training and participate in the war and here I wish to say that I am eternally grateful to Dr. Akhter who let us remain and be part of the hospital. The sector commander came to visit us and told us he was encouraged by our presence and he made arrangements for us to stay, get rations and a host of other administrative permissions that had to be obtained. Khaled Mosharraf told us that he had sent Khuku to Kolkata but now that we were here, she can come back to join us. Soon others joined us and we formed a team and the small medical arrangement at Sonamura got up and running. Because Sonamura was within the firing range of Pakistani artillery and our presence endangered the local populace, we were transferred to Darogabagicha. We had no pillows as the others have already said. Somehow we got some money and made one pillow which my sister and I used to split and share at night. Dr. Akhter used to both fight and serve as a doctor in two different areas. When we arrived at Darogabagicha it was already the rainy season. One couldn't walk because of all the mud. Gradually, bamboo huts were built for us to stay in. Circumstances were difficult but I would like to say that we were able to play our respective roles because we believed in our struggle and we never stopped believing that one day we would get an independent nation to call our own. We must always remember that our liberation came through the sacrifice of our people who spilled blood for independence."
The writer is Assistant Editor, The Daily Star.