Are we prepared for an earthquake?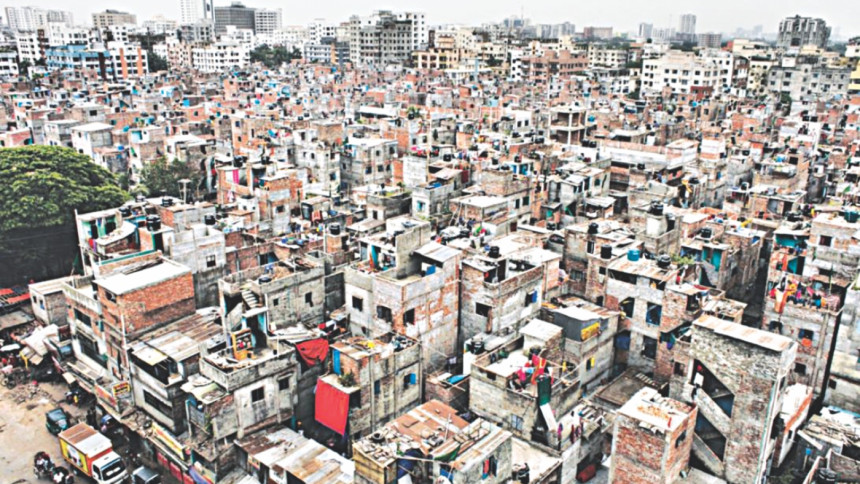 Two earthquakes had hit Haiti and Chile with a gap of over a month in 2010.
The 7.0-strong earthquake that rocked Haiti on January 12 claimed more than 300,000 lives with thousands of survivors displaced. Chile's earthquake was far stronger (8.8 magnitude) than Haiti's earthquake, yet the casualties and other damages in Chile were fewer than those in Haiti as the death toll in Chile stood at a little over 500.
What was the reason behind this?
"The reason behind the difference is better preparedness. After 1960's earthquake, the Chilean government took measures towards robust construction standards and that makes the difference," Mehedi Ahmed Ansari, a professor at the department of civil engineering of Buet, told The Daily Star.
He also said at least 90 percent of casualties can be prevented if the buildings are constructed properly.
Dhaka's situation is so bad that various studies have predicted that if a big earthquake hits Dhaka, the scenario will be beyond description.
Densely populated, Bangladesh sits at the juncture of three tectonic plates: the Indian plate to the west and southwest, the Tibet sub-plate to the north, and the Myanmar plate to the east.
Moreover, the plate boundary between India and Myanmar passes through Bangladesh and these tectonic blocks were responsible for many earthquakes in the past.
EARTHQUAKE VULNERABILITY
According to the Rajdhani Unnayan Kartripakkha (Rajuk), nine out of 10 buildings in key areas of Dhaka city have been constructed flouting their approved designs.
Rajuk surveyed at least 2.04 lakh buildings, which are three-storeyed or higher, on its 1,528 square km area jurisdiction.
A study titled "Dhaka Profile and Earthquake Risk Atlas" estimated that an earthquake with a magnitude of 8 along the Madhupur Fault may have the greatest impact on the city.
It said that the estimated losses will be worth USD 5.7 billion with more than 50,000 fatalities. Over 2,00,000 would be injured and 1,80,000 buildings damaged, the study said.
A comprehensive study titled "Multi Hazard Risk and Vulnerability Assessment Modelling and Mapping" conducted by the Department of Disaster Management in 2016 shows the Sylhet division is the most vulnerable followed by Chattogram and Rangpur divisions.
The report said Dhaka division is also in the moderate earthquake intensity zone.
Apart from this, a number of studies have made predictions based on different seismic models and geographical history that Dhaka city is at risk of a strong earthquake, measuring 7 or higher on the Richter scale.
GOVERNMENT'S INITIATIVE
The government has taken up a number of programmes to build earthquake response capacity.
A good amount of search-and-rescue equipment has been bought with support from bilateral and multilateral donors. The fire-fighting capacity of Bangladesh Fire Service and Civil Defence (FSCD) has also improved.
Besides, the government has prepared a contingency plan for all the stakeholders' concerns including fire service and civil defence and other utility services, according to officials of Department of Disaster Management.
It has also drafted the debris management plan and dead body management plan. Moreover, it is setting up a national emergency operation centre to coordinate the rescue and search operation in case of any emergency, they said.
"But the main challenge is implementation of building code," said Netai Chandra Dey Sarker, assistant director of Department of Disaster Management.
In the case of an earthquake, awareness and knowledge on earthquake are key. Therefore, people should be trained so that they know what to do in the event of such a disaster, he said.
Md Mohsin, additional secretary of the Ministry of Disaster Management and Relief, told The Daily Star that there will be good improvement when the building code is finalised.
"We have already purchased equipment worth Tk 150 crore. We have taken up another project of Tk 1,000 crore to procure more equipment. Apart from these, retrofitting of vulnerable buildings will start soon."
FSCD officials said any rescue operation carried out in Dhaka city will be difficult due to a lack of social awareness and inadequate road access.
Officials said although the FSCD is the designated authority for running rescue operations during disasters, it is not possible to carry out the operation smoothly without strong coordination among all related stakeholders.
"Now we are training volunteers. So far, we have trained 46,000 volunteers. We have a plan to provide training to 62,000 volunteers," said Brigadier General Md Sazzad Hussain, director general of FSCD.
He also said they regularly operate drills in different parts of the country to make people aware of earthquakes.