Bangladesh's tech: from importer to manufacturer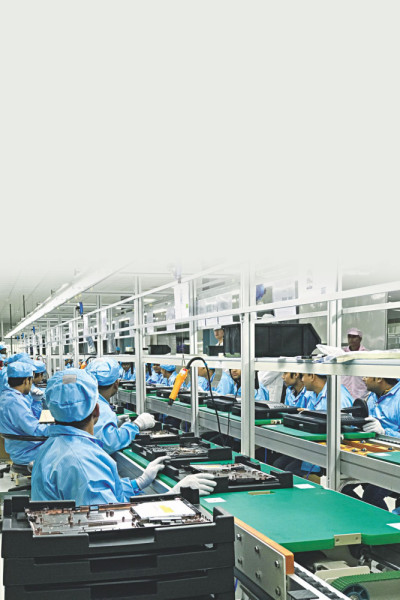 Bangladesh is emerging as a digital device manufacturing country in the global technological sector. One of the technology conglomerates of the country has already started assembling gadgets and some other companies are soon to follow. Apart from the local brands, some global brands are also considering establishing mobile handset plants here, and have already applied to the telecom regularity for their approval to build this hi-tech plant.
Famous local brand Walton is the pioneer in this case, and they have kicked off an assembling plant in September last year in Gazipur. While another local company, Aamra Holdings with their brand 'WE' is also setting up another plan in the capital's Mirpur area, and the factory will start working within a short time.
Market leader mobile handset company Symphony also signed a deal with one of their foreign partners to set up a factory adjacent to Dhaka.
Global top brand Samsung also established infrastructures for their plant in Narshandi and they will move on to assembling within a few months. While another global brand LG, has also started its office and is planning to build its own plant. Chinese brand Transsion Holdings, has also selected a place for mobile handset plant in Gazipur.
OK mobile, a local brand also took initiative to assemble mobile sets with a government company Telephone Shilpa Shanghai few years back and now they are finally making it happen.
In order to help these initiative, the government have reduced customs duty on mobile parts [intended for assembling locally] whopping 36 percentage points to 1 percent, and doubled the duty on handset imports to 10 percent in current budget.
The Bangladesh Telecommunication Regulatory Commission issued a directive on handset assembly locally in September and already they have received six applications for assembling plants from different companies.
In 2017, about 3.4 crore handsets were imported, up 9.6 percent year-on-year, according to Bangladesh Mobile Phone Importers Association (BMPIA). The total value of the imports was about Tk 10,000 crore. The market size was about Tk 8,000 crore and total import was 3.1 crore in 2016.
Last year the industry also imported 90 lakh pieces of smartphones and this number will grow further when 4G service is launched.
The government hasdeclared that Bangladesh wills to not remain an importing country, rather the country will manufacture mobile devices and export to other countries. Matching with this promise some companies even plan to export to other countries, after meeting the growing local demand.
The writer is a Senior Business Reporter at The Daily Star.