Cricket: The year of Bangladesh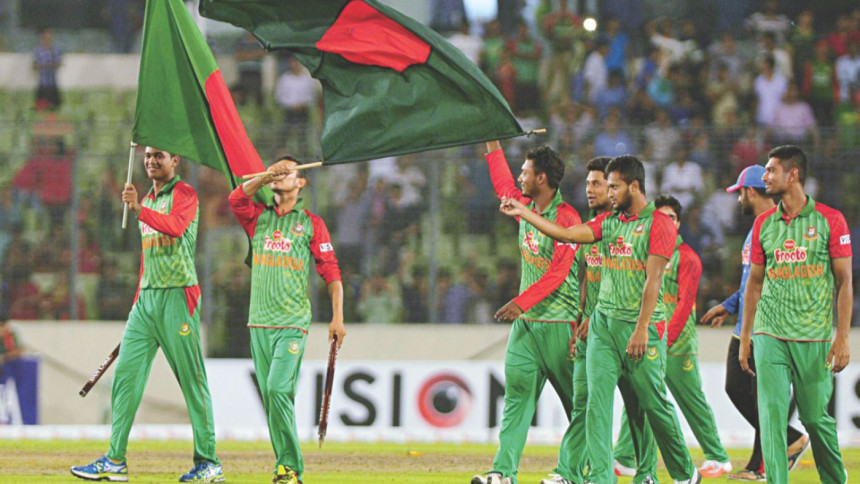 In this era, success in competitive fields is heavily measured by its commercial value. Sports are no different, and everybody knows that cricket has evolved from a strictly amateur game into a multibillion-dollar industry these days.  It is no secret that cricket became the number one sport in our country long ago and it would be no exaggeration to say that all the remaining sports combined cannot equal cricket when considering the generation of revenue.
With their popularity, it's no surprise that cricketers are the most in-demand when it comes to commercial endorsements. That demand has risen hand in hand with the Tigers' performances in 2015. Just ask new pace bowling sensation Mustafizur Rahman -- the best find for Bangladesh this year, if not for world cricket -- how much his account swelled. In just one year, his world changed forever and there's no doubt he has made a lot of changes to his lifestyle and the baby-faced left-arm pacer from Satkhira has probably epitomised best what the Bangladesh cricket team achieved and the big steps they took to be reckoned as a force in world cricket.
Looking at the billboards across the country, you cannot imagine a road which isn't adorned by the posters of cricket stars. All those monetary successes didn't come automatically, to achieve it the players had to upgrade their brand value and that only happened due to on-field successes. And on the field, 2015 was a year not only worth remembering, but also a year where they achieved something they had never before accomplished; accolades from pundits lauding 2015 as ' a year of Bangladesh'.
We all know the popular phrase "Rome wasn't built in a day". And without a doubt today's success in Bangladesh cricket was not built in a day as various milestones had to be met in the long journey since Bangladesh won their sixth ICC Trophy in Malaysia in 1997, a win that saw them qualify for the 1999 ICC World Cup, which paved the way for them as they drew the cricketing fraternity's attention by defeating Pakistan for the first time. One cannot forget Bangladesh's defeat of world champions Australia in Cardiff through a now-disgraced Mohammad Ashraful's run-a-ball century. The performances under the leadership of Habibul Bashar in the 2007 World Cup ensured they got a strong footing in the world cricket map.
Bangladesh then whitewashed New Zealand at home twice in 2010 and 2013 which cannot be ignored. Besides that there were numerous individual and team successes which enhanced the gradual improvement of Bangladesh. However, it seemed that a slow-moving Bangladesh suddenly made a big leap to make sure the 'Tigers' name would be pronounced with respect; especially in the 50-over version of the game.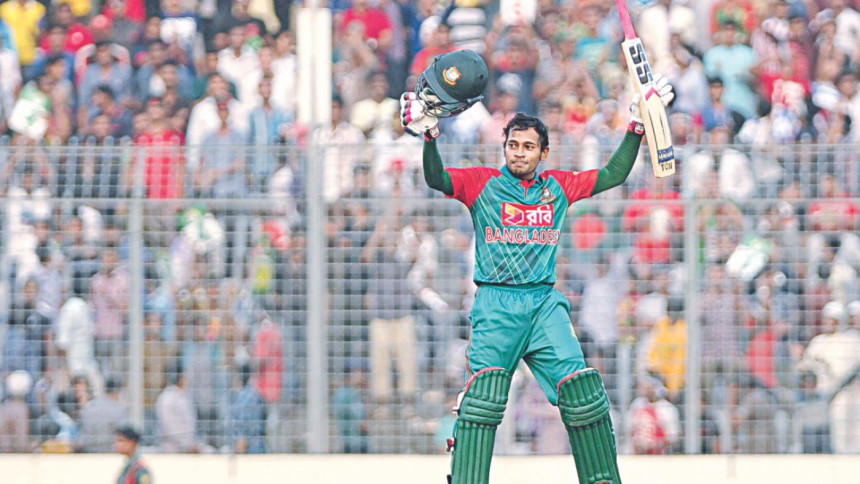 On March 9, 2015 what Bangladesh achieved at Adelaide was just the beginning of forging a new chapter in the annals of Bangladesh history under the charismatic leadership of Mashrafe Bin Mortaza. Mahmudullah Riyad's century and Rubel Hossain's four-wicket haul took Bangladesh to the quarterfinal of the 2015 ICC World Cup after they had knocked out England by 15 runs. That's not just a statistic, but it showed that they had a new-found belief, which actually led to the historic year 
they were about to embark on.
Those who were fortunate to be there during the World Cup in Australia-New Zealand know how much affection and love the Tigers gained from the supporters of two well-known cricket nations because of the brand of cricket they had played in the mega event.   
This incredible success story could not be written without mentioning a certain name, who is none other than the man from Narail. Mashrafe exemplified what a captain can do for his team. It all began in late 2014 when Mashrafe took charge and brought a breath of fresh air into an otherwise dismal year as the Tigers whitewashed Zimbabwe 5-0.
Then, after all the hard work under the leadership of Mashrafe and coach Chandika Hathurusingha -- who gave the players much-needed self-belief -- Bangladesh made headlines in the World Cup before losing the much-talked about game against India in the World Cup quarterfinal in Melbourne.
There were doubts whether the World Cup success was a flash in the pan, but again it was the brave-heart, Mashrafe, who took his team to new heights and showed the world that his team was hungry for more success. The result was that Tamim Iqbal and Mushfiqur Rahim slammed hundreds in the first ODI against Pakistan in the first home series after the World Cup; which was also Bangladesh's first win over Pakistan in 16 years. The rest, as they say, is history with Bangladesh winning series against the three giants of Pakistan, India and South Africa in a row.
The perception of opponents that Bangladesh could only defeat them when they had a bad day, has completely changed in the year gone, which was something to be cheered. Bangladesh became a hard nut to crack, especially in their own den and by beating three top sides in the space of four months they secured direct entry to 2017 ICC Champions Trophy in England. Bangladesh had proved beyond any doubt that they know the craft of how to win 50-over matches against any team in the world.
How did they perform in five-day cricket? Since they began their journey in 2000, Bangladesh is yet to gain respect from their opponents like they garnered in the 50-over version. Still the past year was not at all barren for them and it could have been much better if Australia had decided to go on with their scheduled tour. It's true that rain affected most of the season but drawing four Tests out of five boosted their morale and there were some positives from individual performances also. A record 312-run opening partnership between Tamim Iqbal and Imrul Kayes in the drawn Test against Pakistan in Khulna cannot be forgotten anytime soon. In another format where they are still searching to find their footing, Bangladesh won two T20I matches out of five.
In the end, the most important thing on the battlefield is whether you can earn the respect of your peers and without any doubt Bangladesh garnered the most valuable success through their exciting brand of cricket.
Whether it's about an individual or team performance, a discussion cannot be completed with the names of Bangladeshi cricketers and Mashrafe Bin Mortaza-led Bangladesh team. The mystery cutters of 20-year old Mustafizur is a mystery for world cricket; if you have doubts simply ask stalwarts like MS Dhoni, Kumar Sangakkara and Chris Gayle, who all fell prey to his deliveries.
In the year 2015, the Tigers roared and it was heard all over the world.
The writer is a senior reporter for the sports section of The Daily Star.