Engage more young people in CSR Speakers emphasise at CSR Dialogue: Khulna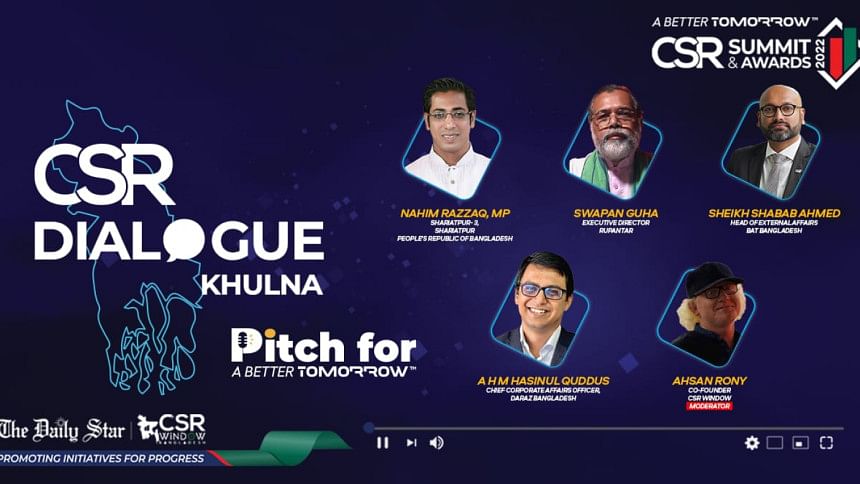 Speakers at an online discussion recommended engaging more young people in Corporate Social Responsibility (CSR) initiatives to make those projects more effective and sustainable.  
The event titled 'CSR Dialogue: Khulna' was held on September 3, 2022. It was part of a joint initiative of The Daily Star and CSR Window known as "A Better Tomorrow: CSR Summit and Awards". The annual nationwide programme aims to create dialogues for future development and sustainability solutions and recognise corporations for their innovative and world-class CSR initiatives, social projects and programmes implemented for sustainable impacts on society.
Lamisa Saba from Team Bertho kicked off the discussion by sharing their initiative 'Reimagining Role Models'. Through this project, they are planning to highlight the stories of exceptional teachers so that students can find role models in them. This will help build a strong teacher-student relationship, opined Lamisa Saba. Their target is to reach more than 20 schools in a year. She sought support from CSR projects to carry forward the effort.
Applauding the initiative of Team Bertho, Swapan Guha, Executive Director of Rupantar, said that CSR projects can play a big role in providing support to innovative educational projects. He also highlighted the impacts of climate change on education in Khulna area and requested corporate organisations to come forward to help the affected educational institutions. He emphasised the importance of engaging and empowering the youth through CSR.  
"Organisations should work for the betterment of society. Societal development will lead the growth," opined AHM Hasinul Quddus (Rusho), Chief Corporate Affairs Officer of Daraz. He talked about their new initiative 'donation card'. Daraz will feature various social initiatives on its site and interested persons will be able to donate funds to their preferred projects. The donors will also get regular updates on the impacts of their contribution. Daraz is also going to plant trees in 8 schools to celebrate its 8th anniversary.  
Sheikh Shabab Ahmed, Head of External Affairs of BAT Bangladesh, suggested focusing on schools to promote leadership among young people. He also highlighted the importance of ensuring the sustainability of CSR interventions. "Depth of activity is more important than the width of activity. Instead of doing many projects, we should focus on impactful projects that will contribute significantly to society," he added.  
Shabab Ahmed also talked about various CSR projects of BAT Bangladesh that include planting more than 12 crore trees in 22 districts, establishing water treatment plants to supply pure drinking water and providing solar home system units free of cost to rural households.  
"We need to encourage local corporate houses to undertake CSR initiatives. There should also be an evaluation and monitoring system to ensure compliance in this regard," said Nahim Razzaq, a Member of the Bangladesh Parliament. He urged corporate companies to partner with youth initiatives through CSR projects and help them evolve into sustainable organizations. He also suggested establishing a structural incubation system to provide long-term support to new initiatives.