Tonima Tasnim Ananna's visionary aspirations
How the Bangladeshi astrophysicist made it to SN 10: Scientists to Watch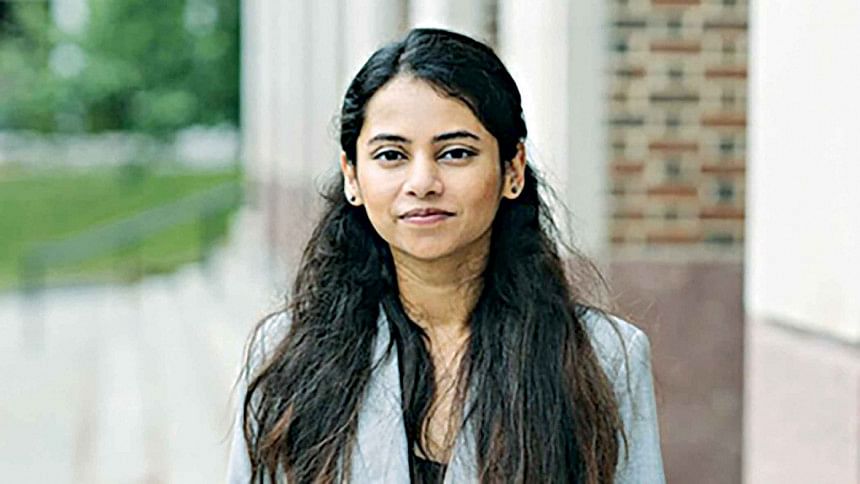 The underrepresentation of women and girls in leadership positions and higher education in fields of science remains a systematic problem. However, over the last few decades, the scenario has changed significantly. Now, more than ever, women around the world are shattering centuries of misbeliefs and making noteworthy contributions in science.
One such young woman is Bangladeshi astrophysicist Tonima Tasnim Ananna, who recently topped the 2020 edition of Science News (SN) magazine's SN 10: Scientists to Watch, for her outstanding work and research on black holes. The American bi-weekly magazine is devoted to articles about new scientific and technical developments, typically gleaned from recent scientific and technical journals.
The scientists for this list were nominated by Nobel laureates, elected members of the U.S. National Academy of Sciences or previous SN 10 scientists. SN then chose ten people by reviewing their research content and impact in their respective fields.
Tonima's interest in astronomy grew from an early age when her mother told her stories about the Pathfinder spacecraft landing on Mars when she was just five years old. Since then, Tonima dreamt of becoming a scientist. "I wanted to be a 'scientist' without really knowing what the job entails. I could not visualise being anything else," she shares.
She attended Bryn Mawr College for her undergraduate education in Pennsylvania, USA. Bryn Mawr, being an all-women college, shaped up Tonima's perspective as a feminist and helped her to truly mature as a person.
Currently working as a Postdoctoral Research Associate at Dartmouth College, Tonima was an intern at NASA and CERN. She travelled to the European particle physics laboratory near Geneva, and spent a year at the University of Cambridge.
"When I went from Bangladesh to the US, I had to change the way I study because the requirements for doing well were different," shares Tonima. The same happened when she went to England for a junior year abroad programme. "Although the exam-based approach in England was closer to what we have in the subcontinent, when I started learning to research, things were quite different from the way we do coursework and take exams. I had to keep adapting, as I faced new challenges. I learned that not everything may be a success at first. We need to allow ourselves to fail a few times and try to learn from our mistakes," she adds.
Tonima has successfully captured the most complete picture yet of black holes across the universe, with the help of artificial intelligence. For her PhD from Yale University in 2019, her goal was to create a model of how black holes grow and change across cosmic history.
The first project for her PhD thesis was to understand whether the objects detected through X-ray telescopes were black holes or star-forming galaxies, then distinguishing and calculating the distances between light coming from the galaxy and the area surrounding the black holes to their sources. Her second project was to gather data from telescopes to understand how the supermassive black holes grew, the environment in which they reside, and the impact they have on their host galaxies.
When asked about her goals as a scientist, Tonima shared that it is to further our understanding of the universe. "I want to make contributions that make other people's work easier, and I want profound 'eureka' moments in my career," she says.
In her career, Tonima is deeply inspired by noted American physicist Richard Feynman and also by her PhD advisor Professor Meg Urry of Yale University. "In life, I look up to Begum Rokeya for her abrasive vision," shares the young scientist. "I am inspired by my parents for their fighting spirit and my life partner for being a true feminist."
Although women's education in Bangladesh is prioritised in most parts of the country today, household and familial responsibilities are still barriers for women who want to go out and work. "Time and again, I have seen female relatives give up on careers that they have worked very hard for to pay attention to their families, while no one ever expects or demands this type of sacrifice from men," says Tonima.
She asserted that unless we make a major shift in household dynamics, there won't be more Bangladeshi women aiming to build careers in science. According to her, the lack of research bases is also a major reason for Bangladesh's low contribution to science. Tonima believes that we need to be more supportive of our younger generation when they want to pursue unconventional career paths. Her outstanding work will inspire aspiring scientists across the globe for years to come.
The author is a freelancer and a night owl who loves binge-watching, reading and writing. Write to her at [email protected]